April Wrap-up: Here's a List of Some Notable Events that Happened in the Nigerian Music Industry
SHARE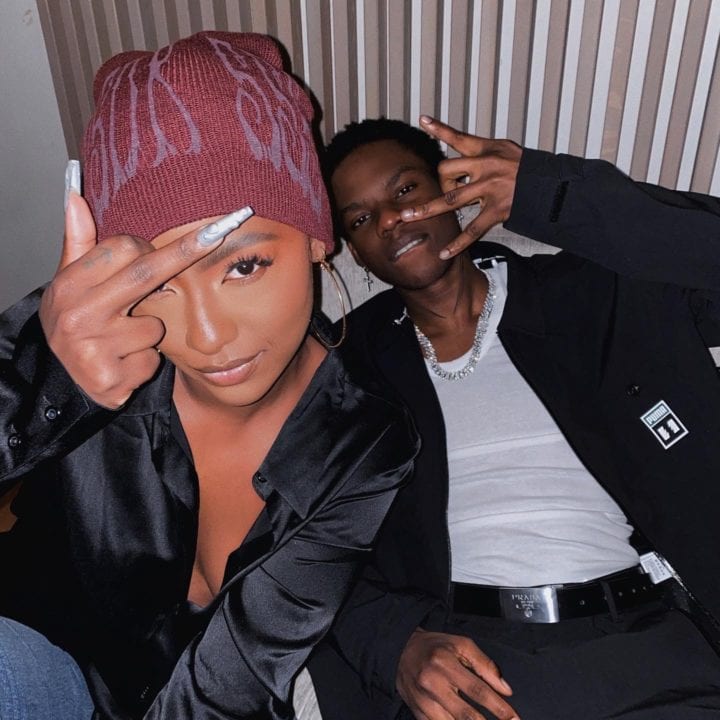 The month of April marks the first month of the beginning of the second quarter of the year 2021. It was a month that got quite a bump in activities where the fast-rising, global dominating Nigerian music scene was concerned and given the flurry of events, it can be said that the industry is fully back in the race for another year of chart-topping hits. As a result, we take a walk down memory lane to cover the past 31 days and take a look at some notable events that happened in the Nigerian music scene in the month of April. 
1. Notjustok April Fool's Prank
 The first of April makes April Fools, the universal jokes day and at Notjustok, we decided to buy into the lightheartedness of the celebration and pull a simple music-related prank. The internet-oriented prank which had quite the ripple effect, causing Jay Z's name to trend, began to unfold when Notjustok reported a hypothetical album with Jay Z featuring African heavyweight musicians such as Olamide, Nasty C, Sarkodie and more. 
ALSO READ: Jay-Z to Release Africa-themed album featuring Sarkodie, Olamide, Nasty C &  More | View Tracklist
---
2. Don Jazzy Opens up About Himself
The don of Mavin may be much loved by Nigerians but not much is known about him. However on the 3rd of April, he opened up about the fact that he's been married before. Two days later, a lengthy interview where Don Jazzy spoke about his background to Ebuka Obi-Uchendu was published by Bounce Editorial. 
ALSO READ: Don Jazzy Talks Mo'Hits Split, Love Life and More With Ebuka, the Recap
---
3. Banky W and Adesua Open Up About their Miscarriage Experience
On the 5th of April , Adesua Etomi and her musician husband, Banky W, shared at the Waterbrook Church as well as on the singer's YouTube page, their experience of miscarrying a baby. It was a revelation that earned the couple admiration from many members of the public who also shared that their story had inspired them to shed the stigma that surrounds losing a baby. 
ALSO READ: Banky W And Wife, Adesua Etomi Narrate Their Miscarriage Experience | Watch
---
4. Made in Lagos the Aba version
The Nigerian music industry has fought many battles, one of which is music piracy. Thanks to music streaming, this battle is near done with. However on the 6th of April, members of Wizkid FC, raised the alarm on a clone version of their beloved Wizkid's Made in Lagos, uploaded by a Wisekid who was, in turn, benefitting from streams of the original album. 
ALSO READ: Wizkid Fans Raise Alarm on Artiste Who Scammed "Made in Lagos" of Millions of Streams 
---
5. Davido, Wizkid, Burna Boy and Mr Eazi on Forbes
To tweak the words of rapper Jay Z on his record, Family Feud, what's better than two Forbes' entries from Nigeria? Well, the answer is four as seen when Davido, Wizkid, Burna Boy and Mr Eazi all made the Forbes 2021 African Icons List. Prior to this Davido and Mr Eazi made the publication's 30 under 30 list in 2018 and 2020 respectively. 
ALSO READ: Davido, Wizkid, Others Make 2021 Forbes African Icons List
---
6. Nigerian Musicians Mourn the Passing of DMX
When American rapper, DMX passed on the 9th of April, it was to worldwide grief and Nigerians were not left out with musicians like Burna Boy, Davido, Vector, M.I among other reacting to his death on their social media accounts. 
ALSO READ: #RIPDMX: Burna Boy Reacts To The Death Of The Rapper
---
7. South-African Rapper, AKA, Loses Fiancee
Multiple times collaborator with Nigerian artistes and South-African rapper, AKA, suffered a tragedy on the 11th of April when his fiancee, Nellie Tembe died after falling from a building. 
ALSO READ: AKA 22-year-Old fiancée, Anele Tembe Dead, After Cape Town Building Fall
---
8. Tiwa Savage as the Star Girl of Allure Magazine
The African Bad Gyal was one of the cover stars for the latest issue of Allure Magazine where the singer who looked as stunning as ever, was described as Nigeria's Queen of Afrobeats.
ALSO READ: Tiwa Savage Is All Shades Of Beauty As Allure Magazine's Cover Girl
---
 9. Davido's Fall Sells Over 1.5 Million Units & Davido hits new milestone on Instagram
On the 22nd of April, Davido's Fall unlocked another milestone after successfully selling 1.5 million hits worldwide to become the biggest afrobeats song of all time. The milestone meter didn't stop running as the next day, Davido's follower count on Instagram hit 20 million, making him the most followed African musician on the continent. 
Read here to find out where other African megastars lie on the 2021 list of African musicians with the most followers on Instagram.
10. Producer Sarz, loses his father
Incredibly versatile music producer, Sarz took to his Instagram page to announce with a touching note, the death of his father on the 23rd of April. 
ALSO READ: Music Producer, Sarz Loses Father
---
11. Wizkid's Drake-featured Come Closer sets New Record on Pandora
Wizkid's Drake-assisted hit, Come Closer closed yet another lap on the 25th of April. This time, it was on the music and podcast streaming app, Pandora. This happened after his song became the most streamed African song on Pandora in the US. Prior to this, the same song, had become certified Platinum in the UK and Gold in Australia.
---
ALSO READ: Wizkid And Drake's 'Come Closer' Sets African Record On Pandora
12. Eedris Abdulkareem and Festus Keyamo Online Scuffle
Thanks to the internet, we live in a world where receipts could mean screenshots and blows could be thrown orally over the worldwide web. It was one of such that happened when Minister of State for Labour and Employment, Festus Keyamo, accused singer, Eeedris Abdulkareem of double standards. He then proceed to produce receipts in form of screenshots in which the singer slash activist seeked to join President Buhari's Administration. 
ALSO READ: Festus Keyamo Calls Out Eedris Abdulkareem Over Alleged Blackmail, Drops Receipts
This scuffle ensued when Abdulkareem mentioned and disparaged Keyamo in his new song, Jagagaja Reloaded.
---
13. Victony Suffers Ghastly Car Crash
Fast-rising singer, Victony, full name, Anthony Victor has been on the minds, hearts and internet timelines of Nigerians after he suffered serious injuries from a crash that left his friend, Doyin, dead. 
Currently, an online crowdfunding project has been set up for the singer with the aim to foot his hospital bills as he was set to undergo surgery. 
ALSO READ: Rising Music Act, Victony Involved In A Ghastly Motor Accident | #PrayForVictony
---
14. Bose Ogulu Gets Featured on Billboard Magazine
For us at Notjustok, Burna Boy's mother and star momager, Bose Ogulu has always been an industry shaper to look out for and Billboard Magazine agreed likewise when they joined the league of magazines to acknowledge her management powers. This happened on the 27th of April when she made their Billboard 2021 International Power Players list. 
ALSO READ: Bose Ogulu Makes Billboard 2021 International Power Players List
15. Runtown, Tay Iwar, Teni, Blaqbonez, Peruzzi Had Notable Project Releases.
Runtown served up summer-inspired evergreen jams on his 6th studio album, Sound God Fest Reloaded. 
Peruzzi proved himself to be the Huncho with his sophomore album, Rum & Boogie a double offering heavy on love and liquor-soused party vibes. 
Teni D Entertainer also unveiled her debut project, Wondaland, a 17-track-long journey through an afropop-inspired sonic theme park. 
Tay Iwar introduced himself to his new fans and re-upped his fans' love by dropping an incredibly catchy soul and afropop on his 5-track Love and Isolation EP. 
Blaqbonez then rounded up the month with his 9th project, Sex Over Love, offering his rapping and singing skills upon a 14-course platter after much-earned self-lauding. 
16. Notable Co-signs Afrobeats got From Around the World
The march to global domination continues to thrive and in May, several international co-signs were given to some Nigerian acts in the month of May. American rapper, Snoop Dogg was seen in a video jamming to Wizkid's Tems-assisted Essence. American media personality and cosmetics mogul, Kylie Jenner also caught the Essence bug when she was seen enjoying the song on her Instagram story. Manchester United forward, Marcus Rashford MBE, while chatting with fans on Twitter also revealed that Burna Boy was his favourite Nigerian musician. Then on the 29th of April a cute clip of Adele singing a line from Tem's standout single, Try Me, hit the internet. Just today, American singer, Justine Skye released her single, Twisted Fantasy featuring Nigerian musical sensation, Rema.
---
Which of these events that happened in the Nigerian music scene was your highlight of April? Share it below in the comments section as we all anticipate the month of May.