The 21 Artists to Watch in 2021 | #TheList2021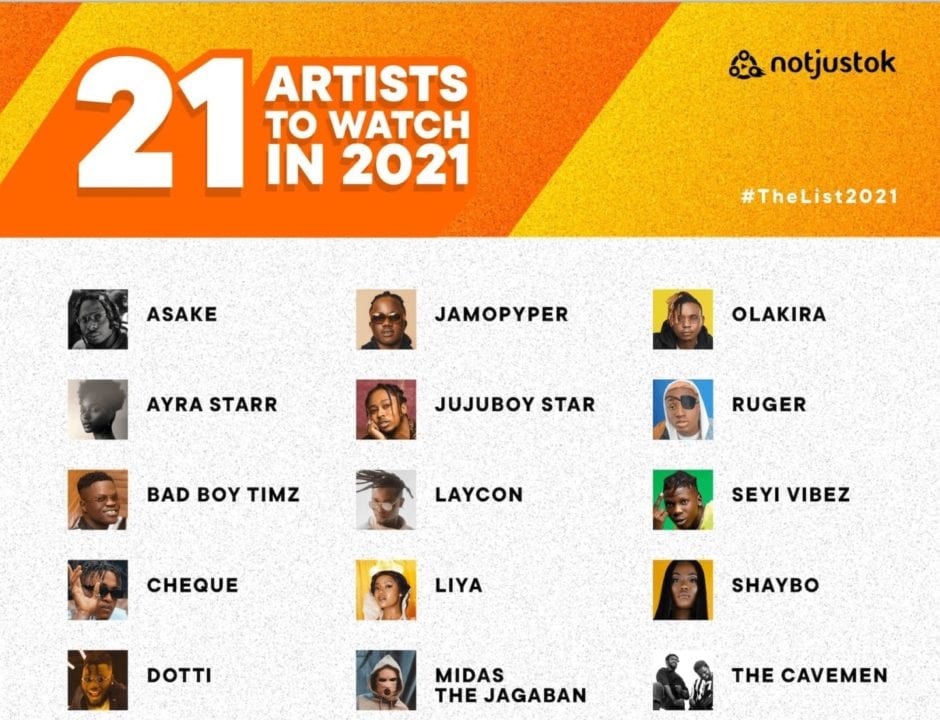 The 21 Artists to watch: A 2021 Prediction
The Nigerian music industry we have all grown to know and love is in the actual sense yet a millennial and is still a way from being three decades old. In that time, it has grown from producing local entertainers to global megastars. The rate at which these stars are produced is next to exponential as seen in the previous year which had quite a handful of breakout acts such as Bella Shmurda, Omah Lay, Bad Boy Timz, Zinoleesky, among others. And as a result of this lucrative standing of our homegrown music industry and its rapid incline, our sounds now enjoy global attention which is only bound to multiply. In that light, here are 21 artists to watch in the year 2021 in alphabetical order:
His unusual stage name may not necessarily ring a bell just yet, but his Amapiano hit, Mr Money is definitely well known to the numerous bodies and minds that danced and sang along to the energy-giving record after it hit the airwaves in the last quarter of 2020. 
It was in fact not only just a song that got decent plays but in a year where clubbing was outlawed, it also became an instrument that fuelled the #EndSARS protests by energising the people that marched. 
Asake also has a string of singles the least of which is not his Gegeti collaboration with DJ Exclusive and Young John. All in all, these singles show an artiste who is gunning for gold. Coupled with the fact that he started to churn most of them out in 2019 and secured a hit the year after, gold might really just be in the picture for him.
Ayra Starr is Mavin Records' latest signee, at 18 years of age, she is poised to be the music queen of the internet-weaned, self-sufficient generation z. Coupled with the backing of the powerhouse record label, Mavin and the talent she has displayed in her 4-track EP, Ayra Starr, she has what it takes to relentlessly apply pressure till she makes our ears her oyster. 
Ayra Starr may have relatively come out of thin air but these earlier mentioned reasons make her blend of Afropop, afrobeats and alte all the more likely to make her into the next big artiste in 2021. 
ALSO READ: Ayra Starr is Mavin's Latest Card in their Game of Global Domination 
Last year, Bad Boy Timz made his mark with a doubly-remixed song to his hit; MJ and then sealed his foothold with Have Fun after his verse became the highlight on Olamide's smash hit, Loading.
While some argue that stars are born but made, Timz shows every indication of being a born star as he played the lead role in the visuals for Loading with natural vivacity and swag. 
The breakout wonder with a Headies nomination for Rookie of the Year, is set to ensure that he continues to 'shock won bakan' and remains on everyone's lips and he has announced that he will be releasing his debut studio album, The Birth of A King, this year. 
On the Hollywood titled outro of his debut project, Razor EP, Cheque vowed that he would be unstoppable in his quest to attain his dreams. Not too long after, he made good on this vow when with the first track on that same EP, Cheque zoomed from being a Penthauze new signee to being an internationally recognised artiste in just one year. 
Cheque whose vibe is a mix of afropop and trap, delivered seamlessly on his EP which produced Zoom that was not only a chart-topping hit but got him a remix with two heavyweight features in the persons of Davido and American rapper, Wale. 
With these wins, Cheque helped emphasise the potential a genre like Afro Trap has and made a name for himself as an artiste to ignore at your loss. 
When Dotti left the MTN Y'ello Star stage, he did so as a winner, bagging a scholarship to Berklee College of Music, N5 million and a recording opportunity at a prestigious studio in New York with equally prestigious musicians. 
But other than these prizes, he'd also won a majority of the hearts of the audience as he'd won by a landslide of viewers' votes and had been a fan and judges' favourite from the start of the show. 
The fact that Dotti's soothing vocals coupled with his songwriting skills will also be receiving further training by masters in the game, will not only help him better his craft as an artiste but make him a formidable force in 2021.
Female Ghanaian musicians just may be the latest big things in the country, last year after a spot-on prediction, Amaarae made the continent proud. Now, all eyes are on the ambient pop singer, Gyakie, daughter to highlife legend, Nana Acheampong, who is one-half of the Lumba Brothers. 
Gyakie may still be buzzing under but her 4-track EP Seed consisting of Afropop and Ambient RnB vibes bears her standout single Forever which is now topping charts and letting the world know about the irresistible and sultry voice of Gyakie.
In 2020, Jaido P hit the scene with a track that had all the strappings of a smash hit, Tesinapot. He even collaborated with street hop icon, Olamide to ensure that it wasn't found lacking on any end. Sadly, while the song had gotten him out there, it hadn't reached its maximum potential. This indicates that if for nothing else, this year, Jaido P will be out to get the full recognition that wasn't given to his street hop Lamba last year.