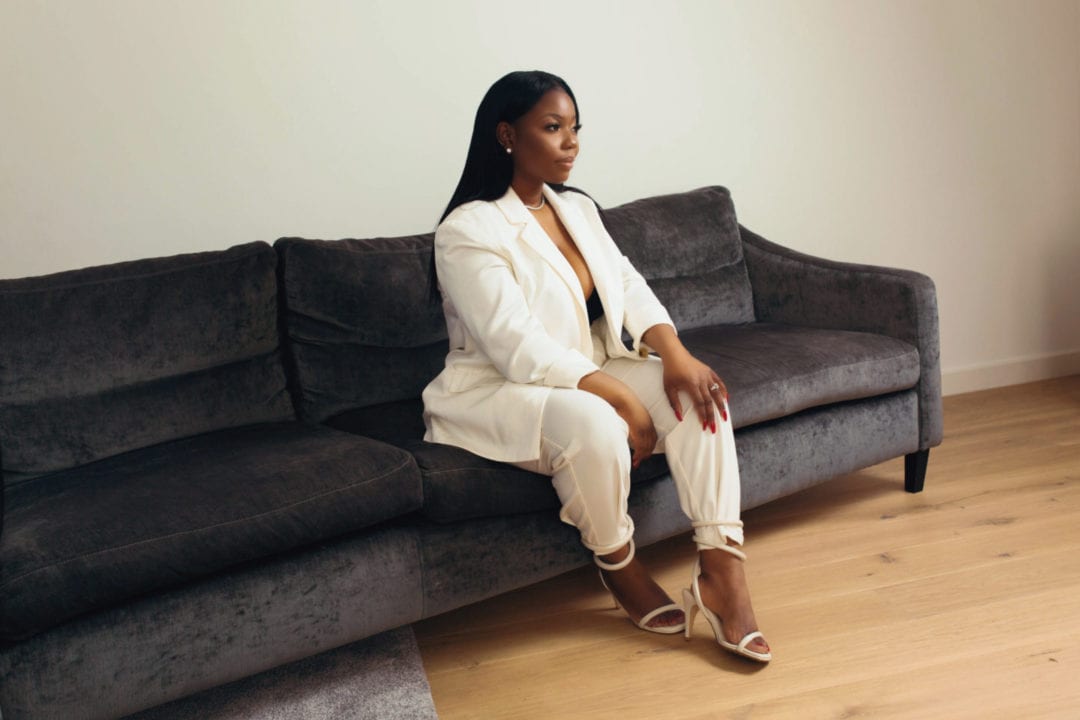 'Audacious,' that's one word that soon starts to float about in my mind barely 10 minutes into the Zoom call with Olukorede Ogunyomade alias Kimani Moore. She'd opted to have the chat with me with her video off but this was not because she was shy, a stickler for doing it big or going home, Moore had simply given reason for this by stating her hair wasn't made. 
Despite the solely auditory mode of communication, it wasn't a strain whatsoever to follow her through her spirited narration of the journey she'd gone on from discovering her skills for talent management in the UK where she was raised, to brazenly applying said skills to the male-dominated Nigerian music industry. 
ALSO READ: International Women's Day: Celebrating 10 Women Behind the Music We Love
The month of March is one that has been set aside to celebrate women and acknowledge how far they've come on their march for equality as well as to evaluate the work that needs be done. In that light, Notjustok has decided to join in this celebration of women and their achievements by speaking to four women who very much like the theme for the year's International Women's Day, have chosen to challenge the status quo by creating a seat for themselves at the majorly men-catered table that is the Nigerian music industry and by so doing, create a path for other women to follow. 
Kimani Moore is one of such women, spreading the gospel of the new age of African creativity by managing some of the best Nigerian musical talents thereof such as Odunsi the Engine and Tay Iwar as well as the designer, Mowalola and hyphenate creative, Detoblack and Notjustok had a sitdown with her to discuss her becoming story, from becoming a bossy baby to being the music executive for the cool kids. 
Happy Women's History Month, Kimani. As a female talent manager in a male-dominated industry, how do you feel to be where you are, doing what you're doing?
I feel happy doing what I'm doing cause I just do what I want to do for the most part of life. I know that it's male-dominated but I've never focused on that. I've just always been focused on making sure I and my clients win. And it's sort of become what I use as my benchmark for how well we're doing as a company or how well my artistes are doing. We set our standards very high and go for that. I don't really watch whatever anyone else is doing, male or female. 
Would you say you face any challenges that are unique to being female in the industry, and if yes, can you share these challenges? 
Firstly, being a female who's a manager in the  Nigerian music scene, I found some challenges being someone from the diaspora. I was born in Nigeria but I was raised in the UK. So when I came back to Nigeria, I tried to do things the UK way. That doesn't work in Nigeria. 
So my first year was extremely hard and I was extremely frustrated. I'm sure people thought I was insane because I was very frustrated, I didn't understand the dynamics of how things work in Nigeria. Then I think it can be very egomaniac as far as men are concerned. But you have a handful of guys in the industry that are supporters of women, they want to see women win. They put women in positions,  they stand behind them, beside them, in front of them, they are for women.  I think where I got lucky was that I had a few of such men around me and it helped and guided me into the right spaces and I was able to navigate what I needed to do and how I needed to get things done. 
Also, with the type of artistes and clients that I have, they're very left. So that was another major issue. For example, with Odunsi, one of the main things that we had an issue with was that people would email and call and tell us how they wanted to do an interview or wanted him to come for an event and we'd say no and they'd not understand why we said no because it was something everyone was doing and that was exactly why I was saying no. 
ALSO READ: International Women's Day: Nigerian Music Stars Celebrate With Women Worldwide
That can basically have you becoming like a black sheep and I felt that a lot when I started but it was very important to have men around me that were not intimidated by my outspokenness-- I say what I feel in the moment, I don't mince my words and in a way, you can say I handle business like a man. 
For instance, I had a negotiation with a client once and he was trying to rip me off but I asked if he would be happy if someone tried that to his wife. Then he said "But you women you don't need much."
It was a conversation that opened my eyes to the fact that when you come into a negotiation as a woman, they expect that you're going to take the minimum (pay) and be happy about it. 
I've walked away from a lot of deals on behalf of my client because if you go in and accept the bare minimum other people will think they can come to your door and give you scraps. And I don't believe my clients deserve scraps neither do I deserve to deal with people trying to bring scraps to my table. 
Then there's understanding that a lot of men in the industry, not as much anymore, have this idea that as a female manager you should feel privileged to be in the conversation. 
ALSO READ: 6 Things to Give Up This Lent as Sung by Nigerian Musicians
What changes would you love to see in the industry?
I feel like the changes I wanted to see are happening. I'm seeing a lot of artistes take control of their careers themselves. I'm seeing that it's not a one-shoe fit all module anymore. People are doing things differently and that's what I wanted to see when I first came into the industry. I'm a bit of a table shaker and I wanted to see that for our industry because I believe we have the power. And right now we're in that space where a lot of artistes are doing what they want to do and it's working. Tems is a good example of an artiste doing her own style and now look at the success she's having by being her authentic self. 
Bad Boy Timz as well, I'm a huge fan, I think he's amazing from his sense of style, his hat, how he still has his job, and posts that he's still working. That's what we need, people to be their authentic selves and that's what this new generation of artistes are doing. They don't care about the rules. 
Right now you're the talent manager extraordinaire for independent artistes. Are you strictly for indie artistes? And if yes, why?
No, I'm not strictly so. I think artistes can be signed to labels if the deals make sense. Artistes just need to understand that the ball is in their court and they have the power. 
You're very involved with artists and creatives that represent the new age of African creativity. What influences your stand and what do you think about the global co-sign African creatives are getting?
I think it embodies who I am as a person, I'm just a bit of a rebel, that's why I champion other rebels but I use the skills that I can use to do that which is business. And they (the creatives) are getting the recognition because they're fire. I feel that Africans are built differently and are just resilient, we make something of nothing. That's why I champion people that are different and those that are pushing the boundaries and ask questions.
We need innovators, that's what progresses the world. The artistes and clients I work with, they're innovators and that's why the world is accepting them.
Tiwa Savage and Her African Bad Gyal Supremacy: Here Are 9 Times She Established Her Reign
Let's take it back to before there was a Kimani Moore Entertainment, how did you discover your flair for talent management and how has the journey so far been? 
It goes back to when I was a kid, I was really bossy then. We would do fashion shows with my godsisters and then I'll force my mom and dad and theirs as well to sit down and I'd make them practice and we'd put on a show and they must clap after. 
I've been like that since I was a baby and then I went to a uni that seemed to be crawling with creatives, everyone was doing either fashion or music or something. And people didn't know how to turn that into money and that was something I knew had to do because I've always been business-minded. So I started working with them. 
In 2012/2013 I was the P.A  for a guy called Mr. Silva, he used to be one of the proper Afrobeats artistes. In uni, Silva used to do all the shows and everything got hectic and I was just his friend. Then I told him 'You're really disorganised, let me help you.' And that's how it started, I helped him out with stuff and he used to allow me and I'd tag along with him to stuff and through that, I started to know more people. Then I used to date someone who was in that space as well and used to put on parties and that way, I met other artistes and creatives and got to understand the business aspect of it cause you have to book artistes and put on events and shows.
So I'm developing my management skills all this time and then I went to the US and I interned with a guy called Chubby Baby in Atlanta. He was the A & R for Future, I met him through a guy call called Aaron La Reid, LA Reid's son. I interned at 12 Studio, I got the internship by sliding into an engineer's DM and just flying into Atlanta like "Hey I've landed."
ALSO READ: Yemi Alade Speaks On Beyoncé Being A Culture Vulture & Touring Africa
So I was sitting on the floor with Aaron and Chubby walked by and he was like "Yo, you're looking for a P.A, you should try this girl out, she's amazing." He didn't even look at me, he just said come and I stood up and followed him into a meeting. 
When you took that flight, did you have any plans or idea how things were going to go?
No o, I just jumped and I said "God, you'll lead the plan." 
After the meeting, he didn't ask for my opinion but I told him. Then he told me to come tomorrow and that's how I started interning with him for a few months. 
And that was where I realised I like managing and organising stuff and I'm bossy so I like telling people what to do and I can manage situations. 
And then I stumbled on my darling Odunsi, and that's how everything started. 
So when did you decide to make this a proper business and when did you set up your agency? 
So I was just Kimani as a manager for 2 to 3 years and then my friend Emma who's now the artiste liaisons for my company, when I was leaving Universal she was like "Hey, you should just set up your company."
I told her I was a manager and that was it so I didn't know about setting up a business but she convinced me that I could do it. And that was it, I jumped in, registered the business in Nigeria. I'd registered in the Uk for 5 years but it had just been me and my PA, it wasn't an actual business. We set it up properly towards the end of 2018 and got a website. 
What does talent management mean for Kimani Moore Entertainment?
We cover anywhere from striking deals for music-related things and things that are not music-related as well because we don't only manage musicians, we manage Mowalola she's a designer, and Detoblack. So we do music deals, brand deals, rollouts for actual projects. Anytime a client has a project, like Rare with Odunsi, we took it right from the inception right up to the release, and after so all the parties that you saw, everything was curated in-house. Our client is the center so whatever they want, they just tell us and we make it happen with their input and their help. So everything that has to do with being an artiste and a brand is what we cover and things that are a bit personal as well. 
View this post on Instagram
How do you decide what clients to cater to and what would you consider a deal-breaker with talents you manage or that approach you to be managed?
I think there are clear signs in the beginning, for example, if a client gives you headache within the first month. And by this, I mean people that don't listen and let's say they give their opinion on something but you ask for it to be tried another way and then they're not willing to try it, that's a problem for me. Unless they know outrightly and you guys have built like a rapport and you trust their judgment, you can do that. I think a lot of times what makes it hard to work with people is when they don't trust you. I'm not in a space where I'm trying to prove myself to anyone, I'm not trying to sell myself to anybody. Sometimes, we both put our best efforts forward and sometimes you have clients who come in the gate trying to prove that you're not as big as you think you are. I don't have time for people like that. 
And my favourite thing to say is 'it's not by force' so we can go our separate ways. 
These days, the concept of human complexity is better understood and even more obvious in the entertainment industry, how do you navigate the complexities of the talents you manage?
This is the rule of thumb, I tell them I want them to do them but they need to allow me to do me. I'm good at business, you're a creative, I don't interfere in their creative space and they don't argue with me in business cause that's what I know. 
I like to keep things very simple and as long as there's a clear understanding from both sides. And if there's ever a misunderstanding, I take the time to just make sure I communicate until they understand and vice versa. 
With one of my clients, when we first started working together, I found out that if we didn't agree on something they would go quiet so I had to teach them that it's okay to disagree and that I wanted them to be themselves and tell me what they think because in having this conversation you actually come to the solution and it's usually the best for everyone and ultimately for the client. 
ALSO READ: "I'd Like To Collaborate With Burna Boy" - Ayra Starr | Watch
So Kay what would you say has been a crowning moment in your business?
The morning when Odunsi hit the billboard charts, a couple of days before I had been in the hospital, and then when I woke up in the morning it was in the charts. I'd cried because me and my team worked really hard and I was working off of faith. 
For my team collectively it would have been Rare, the show. When we finished, we were in awe because it looked like something that would be impossible to do especially since we're not all based in Lagos. It was a defining moment for me and my team and that pushed us to take more on. 
The theme for this year's IWD is 'choose to challenge', you're obviously doing that in your own way and changing the status quo with your management skills, what would you say to the girlies out there looking to make a name for themselves in the entertainment industry but are scared of the challenges women face?
Forget the fact that you're a woman for a second and just be. I just think that women are so phenomenal that us just being ourselves, that's a force and is enough. Just live your life and do what you want to do, you have one, there's no dress rehearsals or do-overs so while you're thinking, 'Oh I have to read another book, I have to talk to this person', just go out and try. 
I was saying I was a manager before I was actually a music manager and after I started saying I was an executive before I was one. 
Just be, be who you want to be and also it's okay to not know who you want to be so in not knowing, discover who you are by doing and trying different things. Don't be scared because fear will cripple you and if you die and God asks what you did with the talents that he gave you, you'll then say because you were scared, you did nothing with it. It's better that you try and then you fail but if you have these notions that because you're a woman it's not going to work, that's what it's going to be.