From Bella Shmurda to Seyi Vibez Here are 12 Street-Hop Musicians Redefining the Sound in Nigeria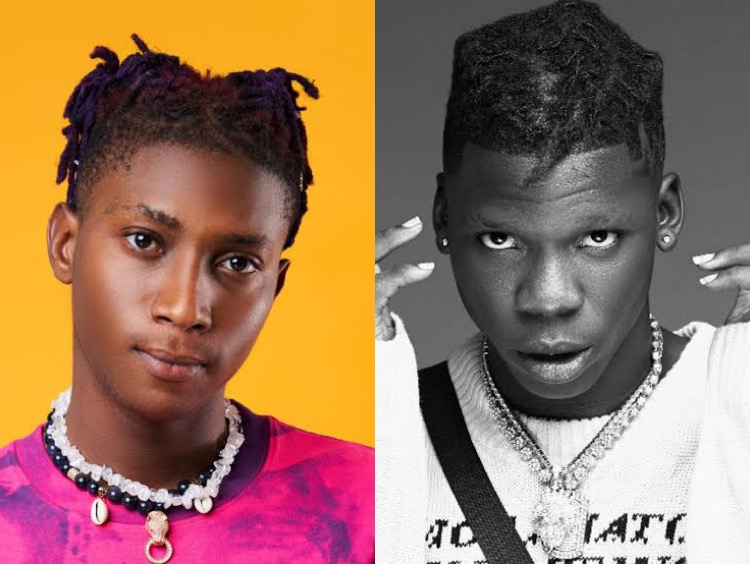 The Nigerian-birthed street hop subculture has come a long way since it was created some 6 years ago through a blend of indigenous rap and Afropop. This blend is one largely credited to being pioneered by indigenous rap veteran, Olamide. Back then, it was a musical affair characterised by beats faster than the already up-tempoed pop songs Nigerians danced to. These days, tempos and sonics to these tunes vary while the lines retain their hard-hitting, cheekily crafted quality that is pleasantly gritty and raw as it touches on the struggles of the singer as a member of the underprivileged society or as a young person living in Nigeria. As a result of this, the Nigerian airwaves have recently been entertained by street hop songs with Amapiano leanings, trap music elements, Rnb, dancehall and even British rap, all with compelling storytelling and fluid lamba in check. This change has been gradually perpetuated and brought to be by the experimental and dare-devil crop of musicians that make up the new-age of Nigerian street-hop. With this evolution, street-hop has begun to inch towards the lofty heights Nigerian pop music continues to attain. In light of this, we have taken aim to with this list, spotlight 10 new-age street-hop musicians in Nigeria who are redefining the sound.
1. Bella Shmurda 
Like a prophetic singer, the big break for Akinbiyi Abiola Ahmed or Bella Shmurda, came following the Olamide-bearing remix to his Vision 2020 single. From that moment on, he'd gone from being another student musician in Nigeria to being the street-hop singing voice of his generation after his friend Poco Lee, a dancer and street hop personality, had connected him with the Nigerian rap icon. Bella Shmurda, like a man on a mission, then released his debut project, High Tension to critical acclaim. While the story of his rise is a stuff of dreams, this was only achievable due to his ability to capture the strength and struggles of young members of the underprivileged Nigerian society through his lyric lines, sonic range, vocal grittiness--which is a modernised version of the 80s-popular Fuji sound, and his hedonistic self-aware approach.
ALSO READ: Bella Shmurda Says Working With Wizkid Was a Huge Privilege | WATCH
Ever since, Bella Shmurda has continued to top his works from eclectic heavyweight collaborations with the likes of Runtown, Davido, Masterkraft, and others, to hit single after single like Rush and World. His drive further earned him a spot on the Headies Award show as a nominee for the coveted title of Next Rated artiste. Presently, the Dangbana Republik leader is set to conquer more ground with the upcoming release of his much-anticipated sophomore project, Hypertension.
---
2. Zinoleesky
Before June 2019, Zinoleesky, full name Azeez Oniyide, had been an Instagram sensation who thrilled his fans and viewers with short clips where he freestyled acapella in his style which is a fresh, soulful approach to Fuji music. His status changed later that year following the favourable release of his Zlatan-featured single, Money, that catapulted into a street music favourite, blared from speakers and barbershops in popular slum areas all over Lagos. He then got signed by Naira Marley to his Marlian Music record label which has been responsible for pushing out his debut EP Chrome Eccentric, with the hit single, Kilofeshe. All these made him eligible for  Rookie of the Year award at the 2020 Headies show. 
ALSO READ: "A Lot of People Are Sleeping on Me"- Zinoleesky Opens Up on Africa Now Radio With DJ Cuppy
---
3. Jamopyper
While Jamopyper's full name is a detail yet unknown, it is an indisputable fact that the Nigerian musician is one of the voices pushing street-hop to heights of glory. Earlier this year, he got nominated for the Headies award of Rookie of the Year where he thrilled his fans to a live rendition of his breakout song with Mayorkun; If No Be You and with his performance, established the fact that he hadn't happened there by chance.
ALSO READ: Zanku Records' Jamopyper unveils the video for 'Better Better'
'Jamopyper of Lagos', as he often calls himself, has with his compelling melodies done up with street hop elements, subsequently gained more recognition as one of the new school tastemakers of the scene, and his recent hit Better Better, is proof of his steady rise.
---
4. Street-hop Musicians in Nigeria; Seyi Vibez
While the Bariga-bred Seyi Vibez born Oluwaseyi Balogun is yet to have a mainstream hit single to his name, the singer is a fan-favourite on the streets of Lagos where the core elements of street-hop is birthed. 
ALSO READ: The 21 Artists to Watch in 2021 | #TheList2021
This love for his vivid and moving storytelling laced over mostly trap-influenced instrumentals, has translated to the artiste-- who has referenced his humble beginnings as the son of a plumber, getting at least 6 million streams each on Audiomack on his more popular songs such as Pay Day, God Sent and Catalyst. With other records averaging 2 million streams. In fact, for his steady growth and skills, we at Notjustok voted him as one artiste to keep an eye out for this year. 
---
5. Candy Bleakz
In 2020, Nigerian prestigious record label and home to some of our favourite rappers, Chocolate City, bought into the street hop scene by not only signing a rising act from the scene, but a female pink-haired rapper, Candy Bleakz full name Akiode Blessing. Self-described as 'Ladies Dragon' her alias is an uncontested one as her fire bars and energetic flow on records like her recent Baba Nla with Teni, her standout track Owo Osu with Naira Marley and Zlatan, as well as her street-banging Kelegbe, have proved.
ALSO READ: These Are the Members and Artistes of Chocolate City Music
---
6. Otega
For a music genre that is generally enjoyed for its electrifying energy and frenetic instrumentalisation, the street-hop genre also comprises songs that are soulful and poignant as they capture the hopes and prayers of youths struggling against a system set up against them. It is this type of soul-hitting street hop music Otega, full name Stephen Oghenetega makes, occasionally mixing it with some hip-hop to drive his point farther. The singer had in fact first made his chops as a rapper on Stay Woke with CDQ and later on Aje with Diamond Jinma. He however put his singing on the front seat for his latest album, Really Bhard in One Body. 
---
7. Mohbad
Christmas in the pandemic-riven 2020 was a different and marginally less festive affair from what we've all come to know but Mohbad and Rexxie's KPK was one of the December jams that helped retain that air of festivity during the season. That is however not Ilerioluwa Dimeji Aloba or Mohbad's only hit as, before that, he'd given the streets an anthem with Naira Marley and Lil Kesh on Ponmo Sweet, and is currently running the airwaves with his profound storytelling on Sorry and vibrant delivery on Jafafa.
---
8.
Street-hop Musicians in Nigeria; Yonda 
The Nigerian street-hop scene is one built on the sweat, tears and blood of the musicians who most times are actively brought up on the hard-knocks-filled streets of Lagos. This upbringing has resulted in rapid-fire flows that come alive during freestyle sessions, and essentially, the act of penning down lyrics lines is one most street-hop acts do not subscribe to. 
ALSO READ: Demystifying the DMW Music Crew, Here is a List & Breakdown of Members' Roles
Not for Adeniran Abayomi, known as Yonda who operates as a street-hop recording artiste and songwriter. These skills have made the singer an asset to his DMW record label where he bears songwriting credits on the albums of his label boss, Davido. With a versatility that bears no discrimination where rhythm is concerned, Yonda's unique nasal Apala tone has flowed over trap and pop beats. And his recent single, Ti Were Bo, is a solid example.
---
9. Balloranking
Away from the fast-paced side of street-hop music that gives focus to themes of young, wild, and free living, exists a pensive and deeply prayerful side, with the singer lifting their voice up to God with requests for wealth and long life. For Balogun Olamilekan or Balloranking, the son of a welder, whose voice is one that conveys depth from the moment he states his name, this is the sort of songs he's dedicatedly created. With singles like Never Die Poor to Never Stop Trying and recently, Holiday-- which is an evocative tune currently circulating playlists in corners of Lagos, the street-hop musician continues to steadily mark his vocal imprint on the corridors of the genre. 
---
10. Lil5ive
If there's one thing the recent crop of street-hop acts has shown us is that no musical element is too foreign to be taken to the streets. This is a concept that has been brought to light by Lil5ive born Anthony Osekaje, whose discography is a harmonious blend of the pluckiness, hopes and aspirations of the disenfranchised young Nigerian, mixed with Afro-pop rhythms and trap cadences. His standout track, Omo Ologo shows off this blend he's achieved with his recent Dreams & Imaginations EP serving as the musical dissertation that expands on the fusion of sounds.
---
11. Jaido P
Sometime in 2020, Jaido P's Olamide-featured Tesina Pot hit the airwaves with all the potential that banger tracks come with. It had served as his breakout single, introducing the airwaves to one of the many sounds of Taiwo Olajide or Jaido P whose style ranges from Afro-pop to rap, with street-hop serving as the platter on which he presents these sides. Since then he's put out another club-banger record, Brokoto and is set to put out his debut project, Shopla which already has a single titled Survive with Olamide, out.
---
12. Street-hop Musicians in Nigeria; Lyta
Lyta, real name Opeyemi Babatunde might have had a rocky start to his career when he got launched into the mainstream scene but ever since he found a home in Marlian Music record label, the street-hop musician has been flourishing and serenading the airwaves with his hindi-tinged take on the genre from his most recent Are You Sure which features his label mates to his mainly pop entry on Monalisa.
---
It may have gone unnoticed to many, but a perusal of the 2020 Headies list of nominees will serve as an additional testament to the raging potential of street-hop music in Nigeria as the category for Rookie of the Year was dominated by musicians that fall under that genre. This ranged from Jamopyper to Zinoleesky and the pop and street-hop straddling Bad Boy Timz. It however not only serves as an indicator for the heights the genre is set to reach but also suggests a very active scene of talented acts bubbling under and in-between the mainstream radar. These are artistes such as Fabian Blu, Emo Grae, Hotkid, Davolee, Diamond Jimma, Dablixx Osha, Yan Yan, Yung Effissy and countless others who are chronicling their tough realities with their music and are by so doing, in the word's of Olamide Adedeji, changing the narrative for the ghetto youth. 
Related