Tiwa Savage Talks Post-EndSARS on Apple Music's 'The Message' With Ebro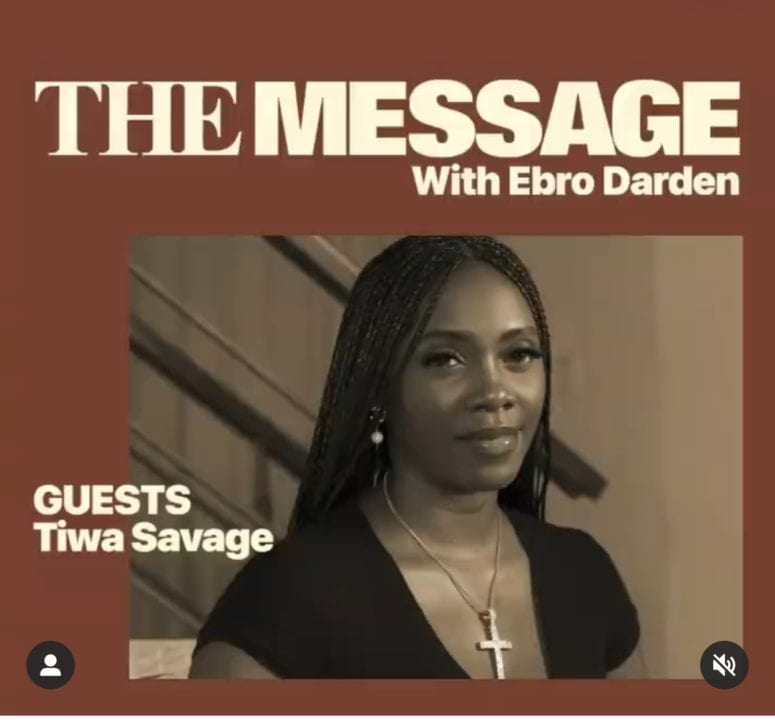 Megastar and Queen of Afrobeats, Tiwa Savage was a guest on Apple music's 'The Message' with Ebro Darden and she talked about post-EndSARS protest, being a voice and her messages through songs.
During the interview Tiwa opened up to Ebro about the current post EndSARS era within Nigerian and it's effects. She said:
Everyone is regrouping, because #EndSARS is just a catalyst, it was to bring awareness to the bigger picture. It wasn't just about ending police brutality but about ending injustice, bad governance, and just fighting for a better country for us, our children and for the future. So it was a great start because it was a peaceful protest, obviously it didn't end well but we move. Everyone is regrouping and figuring out 2023 that we all have a voice and we are going to do it.

2023 is the next election and everyone is gearing towards that knowing that have to get our voting card and PVC, educating ourselves on the Constitution and just how powerful our vote is.
View this post on Instagram
Ebro affirmed to Tiwa Savage that her song 'Ole' is no 3 on 'The Message' playlist and she expressed that the song was released months before the EndSARS protest, however, the issues she addressed made the song a worthy dedication to the EndSARS movement. In her words:
Well, I recorded this song in January, way before the EndSARS protest happened and that's to show you that this (Corruption within the Nigerian government) didn't just start a couple of weeks ago, it's been happening for decades and it was really important for me to address this issue. 'Ole' is not just about stealing money but mismanagement of everything such as light, water, health care, education, infrastructure.
READ ALSO: Tiwa Savage's Bold Step At 40 will Inspire Women| Watch
During the interview, Tiwa talked about the massacre of peaceful protesters that took place at Lekki Toll Gate on Tuesday, 20th of October 2020. Tiwa expressed:
It's still very difficult for me to talk about it, when I imagine what really happened its still very hard, a hard pill to swallow. We are not out on the street protesting and fighting to overthrow the government actually, we are only fighting for a better Nigeria for everyone, even politicians. These critical issues affect everyone, not having good health, good education, constant light, affects every single person whether you're rich or not.
Admitting to being a very shy person and hiding behind her music but using it as a tool to pass across her message. Tiwa expressed how difficult it has been to step up and step out of her comfort zone to truly be active voice for crucial issues such as EndSARS. In her words:
I wanted to use Celia to touch on things such as Koroba which became big. I look forward to my next project and it's going to be so deep as I intend to sing about pertinent issues within the society. 49-99 is a phrase coined by Fela Kuti, it's basically speaking of the imbalance in the justice system. You have a bus and there's 49 seats but you have twice the number of people standing because it's cheaper and it's over-congested.
Having released 'Celia' this year, Tiwa expressed that she has started writing for next project despite not going to the studio yet. Tiwa said:
I have started writing for my next project but I haven't been back in the studio with producers to start recording
Watch the full interview and subscribe to Apple Music if you haven't yes.