22 Nigerian Artistes to Watch in 2022
SHARE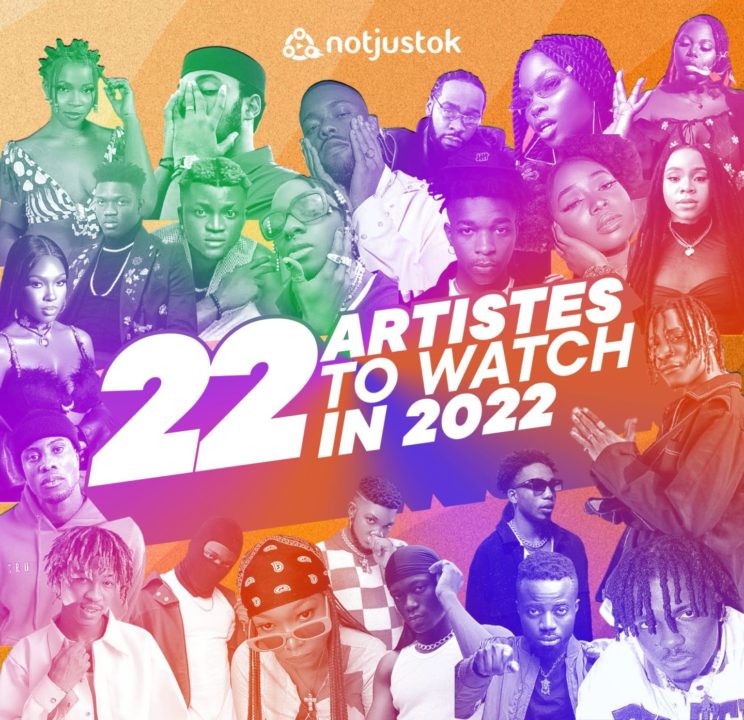 At the dawn of 2021, Notjustok rightfully predicted the successes of emerging talents from Ayra Starr, Mohbad, Jamopyper, Seyi Vibez, Ruger, Liya, Victony, Jaido P, and a host of others. In early 2020, we also perceived the chart-topping abilities of rising acts such as Tems, Ajebo Hustlers, Omah Lay, Gabzy, Buju and Zinoleesky, all prior to the release of their debut project and waves-erupting records. As is now tradition, we have similarly taken care to draw up a list of fast-rising Nigerian talents, making diverse sounding music and representing different subcultures and lifestyles, that are sure to influence and inform the Nigerian airwaves as the year unfolds. Here is Notjustok's list of 22 Nigerian artistes to watch in 2022;
22 Nigerian Artistes to Watch in 2022,
1. 1da Banton
It had started like a slow flame and soon 1da Banton's No Wahala caught on like a wildfire, setting social media ablaze with a trend that portrayed unfiltered, hilarious and candid reactions to random scenarios from the video creator's perspective.
ALSO READ: The 21 Artists to Watch in 2021 | #TheList2021
Born Godson Ominibie Epelle, the singer a specialist in mellow Afropop tunes blended in with dancehall, recently made the 2021 'On the Road' playlist of the US Secretary of State, Anthony Blinken with his No Wahala hit.
1da's recent success has also proved to be well deserved, off the back of his 15-track debut album, Original Vibe Machine on which he reeled out tunes in his softly appealing, and diverse style, truly resplendent with vibes amidst features from Zlatan, Seyi Shay, Ghana's Stonebwoy and Duncan Mighty.
2. AV
It's said that social media has done a lot of bad but it's also given us a world of great stuff and one of such is AV's Big Thug Boys, an up-tempo and soothing Afropop affair that had first piqued the curiosity of the online world before sliding on to more traditional platforms to become an all-round hit.
AV struck again some months later with a sensual number, Confession that proves he is no one-trick pony. For fans and followers of Victor Adindu, who had been converted from earlier records like Temperature and are also privy of his musically-steeped background, his recent comes as no surprise and the trap-slanging Afropop fusing talent seems poised to reach even greater heights.
3. Azanti
Last year when Nathan Ayomikun, popularly known as Azanti broke out unto the scene, he was a fresh-faced 17-year-old singer introduced officially through an 8-track album, YP & Azanti Vol. 1, which was a joint project with PsychoYP, leader of the Apex Village collective which he's a member of. Backed with trap cadences, the project had served as the perfect platter for his fresh fusion of RnB and Afropop and it had been met with raving reviews, with Caro, Ji Masun and Long Way Home emerging as faves.
Then in 2021, Azanti re-introduced himself as a lone ranger on an eponymous album with Latan and Time Difference stamping his hit-making skills and his readiness to own the scene alone.
4. Dai Verse
The airwaves have been revolving to Dai Verse's melodies for the most part of the past year, with music lovers now able to tell his cold coffee-toned voice apart without missing a beat, but the face of the artiste himself remains a closely guarded secret.
This is because Ifeanyi Chineme Lennon, the man with the voice we now know as Dai Verse broke out with an undisputed earworm in the form of Your Body (Cocaine) and soon after, hit us with a feature on Zugo's Colorado, and then put out Sweet Daddy to cement his style of Afropop that is as mellow, as it's soft and sweet, further sealing the fact that he's one act to be keenly watched.
ALSO READ: The 20 Artists To Watch In 2020
22 Nigerian Artistes to Watch in 2022,
5. Fave SZN
2021 was the year of remarkable female breakouts in a male-dominated space and Godsfavour Chidozie, Fave SZN had been one of the ladies leading this narrative. Formerly an underground favourite since the early days of the pandemic and prior, she had been converting online listeners into fans one freestyle video at a time and with singles like N.B.U.
Then in 2021, veteran rapper and music executive, Olamide had featured Fave on his latest chart-topping album, Uy Scuti, after being introduced to her sound by his wife, Bukunmi. Fave had been featured on two records, Pon Pon and Want with the former being a favourite among many and it had opened her up to a wider audience drawn to her deep blankety voice. They say the sky is the starting point and for Fave SZN, this was an actualisation as she afterward released Beautifully and closely on its heels, the smooth dancehall-inflected pop banger, Baby Riddim which is currently one of the biggest songs on the continent with the Empawa exclusive music video raking in nearly two millions views on YouTube.
6. Guchi
With a sound that feels familiar and novel at the same time, Guchi's music is a mix of highlife, bongo flava elements and pop that is slowly making a case for itself. Full name Ugochi Onuoha, the singer had a good run in the previous year as an emerging female act off the release of her singles, Benzema and Jennifer, all put out after her debut on the I Am Guchi EP released in 2020. Jennifer currently sits on a whooping 33million views with Kenyans and Tanzanians showing immense love for the artiste's melodies.
Keen on cementing her status as a budding global sensation, the singer has also been featured on Tanzanian sensation, Rayvanny's Sweet, giving proof of her globally bound leanings. Additional proof is the massive fan love she got while performing at two locations in Sierra Leone.
Guchi also recently put out Scatter My Head with Zlatan, her first Nigerian collaboration, to the delight of fans of both stars and it's obvious she's on her way to shining more than ever.
7. Jaywillz
There's an entire subculture of beauty enthusiasts, otherwise known as slay queens, as well as lovers, that thrive on the rise of soft-toned and romantic Afropop music and Jaywillz, has proved to have the right dose of that.
Originally named Victor Ima, Jaywillz had also been blessed by an Olamide co-sign after the rapper watched freestyling videos of him on Instagram and featured him on Jailer, off his UY Scuti album. Following that, tracks off his previously released EP, Love or the Word, began to find well-aligned footing in the mainstream with Medicine becoming a sleeper hit and a favourite for beauties and lovers everywhere. Love or the Word currently sits on a total of 100 million streams across all platforms and without a doubt, it would be ill-advised to sleep on Jaywillz.
ALSO READ: 21 Best Nigerian Albums & EPs in 2021
8. Lojay
Without a doubt, Lojay and Sarz's Monalisa was one of the biggest Nigerian records of 2021, with the singer making a first appearance at the 02 Arena alongside Wizkid with the record. The last track off his debut EP, LV & ATTN which got the Notjustok stamp of approval as the 5th best project in 2021, had been a top tier introduction to the edgy delivery and fiery style of Lojay, full name Lekan Osifeso Jr, which had maximized his double cosign from Sarz and Wizkid who also made a guest appearance on the project. 
Lojay has since made an appearance on DJ Neptune's Only Fan alongside Zlatan, proving his ability to hold his own on any track with the same vocal delivery he'd championed on much earlier singles such as Ariel.
22 Nigerian Artistes to Watch in 2022,
9. Magixx
During the show interlude and while the fans had waited for the next scene at Johnny Drille's Johnny Room Live, 2021, Alexander Adelabu, popularly known as Magixx had taken to the barely lit stage and started up a steady and self-assured rendition of Love Don't Cost A Dime in near darkness.
In less than a minute, and while still cloaked in darkness, the crowd had come around, singing the song along with him word for word. That incident serves as the perfect analogy for the young Afrofusion singer's artistry, unhurried, precise in his diverse delivery and wholesome as evidenced in his debut project, Magixx EP.
10. Minz
Dami Aminu, or Minz as he's professionally known, has been making a name for himself in the Nigerian alternative music space over the past few years, putting out sensual Afrofusion bops like Beautiful and Skin which had made him a ladies favourite and the guy for the guys as well. But 2021 was an especially exceptional year for the singer, first from securing multiple features on Runtown's SoundGod Fest Reloaded and then putting out successful solo records from the self-produced 234 to BDMN that not only propagates his uniquely sensuous style but show that there's much love for it. His collaboration with music technology company, Ejoya and Fasina on their 2021 project, Scream and Shout also contributed to the artiste's successful year.
With the mention of the forthcoming release of his debut album, By Any Minz, 2022 appears to be the year of Minz.
11. Mizzle
Last year, Mizzle full name Temitayo Anifowoshe, drew music lovers into his universe on his debut album, In the Dark. A star-studded debut with A-list acts like Wande Coal, Niniola, Sarz and Oxlade, the roster of featured acts had not come as a great surprise due to the work he'd previously put out on social media where he'd gone viral with a display of his dexterity as a music producer and recording artiste with fun videos where he re-imagined the music creation processes of some of our favourite acts from Wizkid to Oxlade.
The collaborations paid off on his aforementioned debut as an Afropop singer and producer with the Oxlade feature, Smile For You becoming one of the standout tracks on his album. His solo entries were also well received, like Sweet Escape, a soulful and poppy track about the craziness of Lagos, which has been getting a whole lot of love. Already armed with a loyal fanbase, Mizfits, and a project that sees him garnering fans from top musicians, Mizzle is well on his way to creating an entire Mizzleverse of music lovers.
12. Obongjayar
Crossing over officially with the tacit Sarz cosign on their joint Sweetness EP, Stephen Umoh, known popularly as Obongjayar, had before that, been slowly but steadily making a name for himself as an Afrofusion artiste, mixing in elements of funk and alternative RnB and Afrobeats to create his unique style of music that had earned him underground cult status in the diaspora as well as in Nigeria off the back of his debut album, Which Way Forward?
Soon after that, he'd collaborated with British rapper, Octavian, American duo, Take A Daytrip and Nigeria's Cruel Santino on Poison which had charted at number thirteen on Nigeria's Apple Music charts. While in present times, following the success of his EP with Sarz, he'd joined forces with British rapper, Little Simz on Point and Kill to create a record that has been ranked by Dazed as one of the best songs of 2021. Afterward, he released Style and Fashion with Pa Salieu and also put out the absolute headbanging record with his single, Message in a Hammer.
22 Nigerian Artistes to Watch in 2022,
13. Ogranya
For many vastly listened Nigerian music lovers, Ogranya's name, fully Ogranya Jable Osai, and his one of a kind ambient alternative style which fuses Afrosoul, R&B, and Jazz, is a familiar one and a favourite as they hope and wait for his big break following the release of his stellar debut EP, Imperfect.
A reclusive act, described as an architect by day and performer at night, the singer took matters into his hands in the most relentlessly creative and original way; launching #Project52, a personal project that saw him release a song every week of the year in 2021, collaborating with a varied list of artistes like Show Dem Camp, Brum3h, Alpha Ojini, Cameroonian T'neeya and many others, music producers and engineers included. This not only served to sate the appetite of old fans, but opened him to a world of music lovers, who revelled in records like In My Dreams Tonight and In Those Eyes, Streets with Show Dem Camp and Odeshi with Alpha Ojini.
With a successful 2021 done and dusted, predicting Ogranya's next step may be impossible, but he appears well-positioned to have an even better 2022.
14. Portable
Every year, obscure acts from popular streets in Lagos give the country a banger street hop record. Most times these songs blow up unexpectedly and slowly and circulate the airwaves for an extended period after which we never hear from the artiste behind the record. But for Habeeb Okikiola, his rise to the spotlight from the streets of Mushin was more tactical, with DJs and microbloggers serving to garner a buzz around his Zazoo song. Soon after, Olamide jumped on the song to give it a remix that has now become an aforementioned street banger, played at clubs, parties, the streets and everywhere else.
While the Olamide and Poco Lee effect on Portable's Zazoo is undeniable, his command of street slangs that sold Zazoo, fresh lamba, a unique blend of Apala, and an appetite for causing controversies make him a fresh street act to look out for. Already, he has put out a new single, Ogo Forever, that makes it obvious he has what it takes to make a lasting name for himself.
15. Raybekah
If you think you haven't heard of Raybekah, you probably have but had no idea– her Finger Down song which was one of the most relatable songs about Covid-19 was well circulated, getting almost a million streams on Spotify alone and other songs from the dancehall-inflected Afropop singer like Gimme Vibe and Cut Soap have also been well received.
Born Rebecca Chinonso Arinola, the singer so far has released singles so the airwaves in 2022 has every indicator of being her playing ground with the additional prospect of releasing a body of work at hand.
16. Ria Sean
Ria Sean's entry into the mainstream world of Nigerian music was hinged on her signing into Aristokrat Music with the hypnotic money anthem, Money Bag. But for Ria, full name Gloria Asene Enebi, the signing was simply a new and much deserved level she'd been working towards since she started to nurture her music talents at the age 16, keen on producing music that the listener would feel in their soul. And truly, a survey of the reception of her EP would reveal that while the promotional single, Money Bag got the hype, it is records like the siren sweet Satisfy My Soul and her earlier released dreamy record, Lemonade getting a bulk of the love.
Inspired by RnB and Soul greats like Brandy, Frank Ocean, Whitney Houston and Chris Brown, it's apparent that Ria isn't about to belt notes of vocal conformity and will continue to carve a path for her heady and unique blend of Afropop, RnB and Soul.
22 Nigerian Artistes to Watch in 2022,
17. SGaWD
Last year, SGaWD teamed forces with an Alte music sweetheart, Somadina, to make a rap record that has been recognised by Young Nigerians keen on the new age of music, as the record of the summer. Titled Pop Shit, an uptempo, pop-infused anthem that sees SGaWD shine in full glory as a guts-wrenching, uber audacious, sex-positive, rapper the likes of which has never graced the Nigerian music scene.
But before Pop Shit, SGaWD had been making waves, laying her gospel as a rapper and a singer by featuring and being featured on tracks such as Jess ETA's Resistance, Feel Right with assist from Mafeni and DOZ, U by Sute Iwar, and a host of other well-received collaborations. Then late last year, off the wings of the success of Pop Shit, the Cross River native had rolled out her debut EP, Savage Bitch Juice to raving reviews from fans and media houses, with tracks like Rude, serving as a display of her doubly-loaded versatility to prove that SGaWD is one rapper not to be slept on.
18. Soundz
Music listeners who tend to have their ears close to the pulse of the underground would most likely not need an introduction to Samuel Oluwadarasimi a.k.a Soundz as in 2020, he put out the eponymous Darasimi, a sweet-sounding, well-received Afropop prayer record done up with his Apala/ Street hop inflections in tow. That had served as a prelude for his pace-setting 2021 as he'd taken full advantage of the power of collaborations, going from singing alongside Teni on Ejoya's 2021 project on Morenike, to laying the chorus of Laycon's Drunk in Love.
All these songs had found favourable footing but it was his groovy mid-tempo collaboration with Chop Daily on Down that had really crowned his efforts, amassing almost a million streams on Spotify alone, making him one for not just playlists but watchlists as well.
19. Superwozzy
Self-lauded as 'Odindin omo tan pe ni children!' which loosely means a child like many, Superwozzy or Awolodun Oluwamayokun, is one rapper that has been making the rounds in the street hop circle. A product of Federal University of Technology, the rapper had begun making waves there, growing a steady fan base from the school populace and later on, its environs. Eventually, he started to gain recognition on the mainstream, with multiple collaborations with top street-hop rapper, Zlatan Ibile from Fine Girls Like Us to DJ Real's Owo Odun alongside Zlatan again, and also featuring alongside Davolee on Hustle by music producer BBanks.
Then late last year, Superwozzy struck out fully with his debut project, Light of the Trenches, a cohesive and well-rounded street-hop bound body of work that features top acts such as Oxlade, Barry Jhay, some more Zlatan, and a Bella Shmurda feature on the standout track, Higher. Light of the Trenches was met with widespread approval and has steadily been racking up numbers especially on Audiomack, giving every indication that Superwozzy is out to play the big leagues of Nigerian street hop.
20. Veeiye
The BBNaija Reality TV show has proved to be an indispensable funnel of talents to the entertainment sphere. And while a host of the housemates have dabbled into music making at one point of their careers, the show has only given a handful of certifiable talents with British-born Nigerian singer, Veeiye-- Victoria Adeleye, being one of such promising acts.
In fact, back in 2020, when she'd gone into the Big Brother house, she'd already put out three singles, On and On which is a solo, Ecstacy with Afro B and You Know with Don EE, all proving her skills as a musical artiste and a songwriter.
In October last year, she re-established this fact to her wider fanbase with the release of her debut project, Young and Restless EP that sees her soar with Afrosoul and RnB melodies as she cuts across as a fiercely independent woman and lover and a firebrand singer to be taken note of.
22 Nigerian Artistes to Watch in 2022,
21. Wani
Also known as Wani Wonder, the velvety-toned singer has made a name for himself as one for the ladies, churning out serenade evoking records in his smooth Afrofusion style.
Wani had begun to take the music scene by storm as early as 2018, a year after his debut when he released his first project, Lagos City Vice, a soothing 6-track affair that had opened the doors to the hearts of several listeners so that he was able to carry out a repeat edition. This had involved Wani's second EP, Lagos Vice City 2 with records like Times Two, Level and Jailer standing out as favourites.
22. Wavythecreator
When Wavythecreator, born Jennifer Ejoke had settled back in Nigeria, she'd captured the interest of many that were curious about her with her utterly different style of music and her unique voice on H.I.G.H, What You Like by Omagz and Body Deep but she soon became an elusive act, withdrawing from putting out music to the dismay of fans.
This backstory must have informed the creation of her first project, an EP, as it's titled P.S: Thank You For Waiting. Made up of 7 songs with features from Wurld, Tay Iwar, CKay, and Efya, it serves as the perfect gift for fans who had been waiting to hear more music from her in her otherworldly and ethereal alternative pop style. With Wurld-featured Harmonies and the Ckay and Efya-bearing Stella Riddim topping alternative charts, it's obvious that PSTYFW has all it takes to be the gift that keeps on giving if expertly promoted this year.