The Origin and Meaning of 'Trabaye'
If you've been curious about the meaning of the slang word trabaye, this article is for you.
These days, it's almost certain that with every new wave of hit songs, a new expression or slang word is sure to be acquired, popping off from the lyrics of one of the hit songs and right into our everyday vocabulary. For instance, not too long ago, the slang word watimagbo was introduced to our vocabulary and abbreviated even to WTMG. There was also Trap lanje and now, thanks to Portable's Zazu remix, a new exclamatory word was inducted into our lingo whether or not we knew what Zazu meant. Interestingly, the Zazoo Zehh song as well as its remix is filled with street lingo and in several cases, lingo that seemed to have been made up by Portable himself, certifying that every other line of the song is slang material worthy. The slang word that the streets and general populace have however gleaned from the singer is one that he first put us on when the remix was about to take off and has since been used by meme-makers as well as popular musicians, resulting in the word trabaye making rounds on the internet. If you've been curious about the meaning of the slang word trabaye, this article is for you.
But first, what is the origin of the slang word, trabaye?
On the 21st of December 2021, Portable had made a rant video where he called out dancer and pop culture influencer, Poco Lee for allegedly taking advantage of him. In the video, after giving a hyped introduction of himself the aggrieved singer had given props to Wizkid for gifting him cash and then Olamide who'd blessed him with a verse on his song and footed the bills for the production of the remix as well as the visuals. He'd said; "Oluwa Wizzy baba nla ti bo cardi o, Olamide lo gbe mi trabaye o." The rant had been almost two minutes long and the singer had gone on to narrate his grouse with Poco Lee while making use of the word trabaye again. 
ALSO READ: The Origin and Meaning of 'Watimagbo'
Portable's rant had been unexpected so it soon went viral as several people were shocked by his outspokenness while some others were in agreement with his complaint. A larger party of viewers also thought the video was funny and soon elements of it were used in different ways, from being meme-ified to being flipped into DJ mixes.
Alongside the phrase, 'Poco you no show love o' and 'are you mad or something?' the word trabaye had been one of the words that had taken flight, most commonly used in speech and to caption the infamous comrade memes.
Trabaye becomes more popular
On the introduction to the Zazoo Zehh remix, Poco Lee had yelled, "Baddoo gbemi trabaye!" right before the beat drop that precedes Olamide's much-loved versed.
Soon enough, memes with captions like 'comrade gbemi trabaye' started making rounds on the Nigerian internet, and the word had fast become stuck to the vocabulary of netizens. 
ALSO READ: The Origin and Meaning of 'Trap Lanje'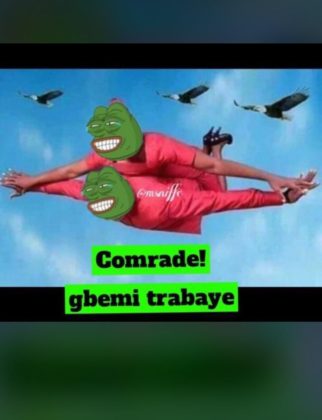 The rise of the word was further cemented by the artistry of YBNL's latest signee, Asake who had released a debut EP shortly after, off the heels of the success of his Olamide-featured Omo Ope single. With gratitude to Olamide for granting him a pedestal with which his artistry had witnessed a meteoric rise, Asake had titled the intro track to his EP; Trabaye. Rendered in a solemn tone, the song goes; "Mo fe trabaye, gbemi gbemi trabaye eh eh, ah mo fe traba, mo fe traba." And as the song fades out, a voiceover of Olamide assuring Asake that he was sorted for life was inserted afterwards.
Asake's Ololade EP was released on the 17th of February and has since then been topping charts as one of the leading projects in the country, further boosting the slang word trabaye with it on its climb.
What is the meaning of 'trabaye' and how can it be used in a sentence?
Confusion surrounding the meaning of trabaye had taken full form on the social media app Twitter when a popular Twitter user, Jollz had plain-as-day come out to ask what the word meant. She'd soon gotten a response from popular YouTuber, Korty Eo who described trabaye in a crystal clear dictionary-style manner saying; "Trabaye /trābajī/ verb The act of transitioning from a low point to a high point. e.g: "he was down until Canadian Loud helped him trabaye." Similar: gbemi de be."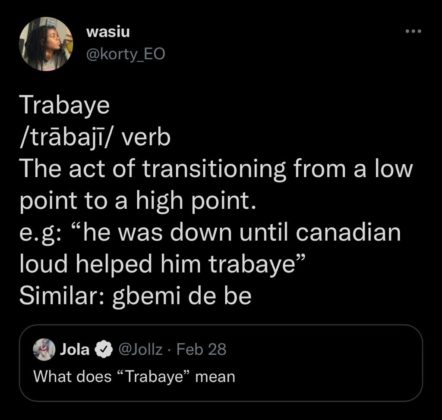 ALSO READ: The Cultural Significance and Meaning of Larry Gaaga's Edegede Song
However, according to a user on Urban Dictionary, trabaye means 'to misbehave as a result of intoxication caused by taking hard drugs. Explaining further by saying; "A person who has 'trabaye' is someone who is high on hard drugs and is as a result acting abnormally and mentally derailed."
The meaning of 'trabaye' VS the meaning of 'penkelemess'
This explanation is however better suited for the Burna Boy popularised slang Penkelemess which can be interpreted to mean one who has lost control of their senses under heavy intoxication. Burna Boy had mentioned the slang word penkelemess several times on his B.Dor track with Wizkid and once spelt it out on his Instastory to read 'peculiar mess.'
Considering the musical usage of the word, it also adds up that the slang trabaye means to be pivoted or moved to a higher level. This is due to the fact that Olamide whom the word has been used in reference to several times has since his remix with Portable in December last year, been on an iconic run of features that have seen him push acts such as Portable, T.I Blaze and Asake into the mainstream, with undisputed hit records therefore, (Olamide) Baddo gbe won trabaye (Olamide helped push their career.)
Get updates from Notjustok as they drop via Twitter and Facebook.