The Cultural Significance and Meaning of Larry Gaaga's Edegede Song
SHARE
Nigerian music has always been heavily influenced by its numerous indigenous languages and rich and deeply cultural ethnic societies as they naturally make their way into song lyrics, music videos and even an artiste's expression. Most times, this influence is infused into Western templates to create a modernised and unique interpretation of the cultural elements. This is however not the case of Larry Gaaga's heavily influenced Igbo banger track, Edegede. A star-studded record that depicts Eastern excellence and tradition, the song has made its way to the charts and lips of several non-Igbo Nigerians as well as non-Nigerians due to its infectious chorus, Igbo lyricism and beautiful music video. As a result of this popularity, the curiousity of non-Igbo listeners has been piqued and there's been widespread interest in the significance and meaning of Edegede as well as that of the entire song. If you're one of such people with questions surrounding the core of Larry Gaaga's Edegede, in this article, we put forth answers on our findings on the cultural significance and meaning of the song;
1. What is the meaning of Edegede and its origin?
Despite being entrenched in the Igbo culture with roots from a couple of decades ago, there however remains a level of obscurity surrounding the core of Edegede.
For some, Edegede is referred to as folkloric Igbo music that was popular back in the South-East during the 1980s and 90s. It typically consists of flute instrumentalisation and according to Senseinthat.ng, is exuberant and danceable as a result of its high-tempo nature. Synonymous with a similarly named dance move, the sound could also be viewed as a sub-lifestyle due to Edegede music being a combination of a dance with the flute rendition serving as a cue for the dance group often led by its queen to take to the stage. 
Another school of thought however states that Edegede is a type of Ogene dance with unique movements and attire that is done in accompaniment with Ogene instrumentalisation.
Albeit as a form of dance or music, Edegede originated from Unubi, a community described to be situated near Old Onitsha province in the light of the nation, Anambra State.
ALSO READ: The Origin and Meaning of 'Trap Lanje'
Backed by heady flute instrumentalisation, and highlighted by the voices of prominent entertainment icons from Igboland, Larry Gaaga's Edegede record is befittingly one centred on an integral part of the Igbo culture, the Ijele dance, a routine done at important occasions with much glee and vigour. It also highlights the importance of cultural alliance and tolerance as Pete Edochie declares; "Onye obula omenala Igbo na agu agulu, na ato uto ya gekene egwu (Anyone that is interested in the Igbo culture and enjoys it, should listen to this song
Oburu na ị ga ekulioto gba ya, isolu gba" (If you will stand up and dance to it, then dance)
Then enters Theresa Onuorah to highlight the core of the song, the Ijele dance as she croons; "Ijele eruwegonu muna onye ga agba egwu eh?" (It's almost time for the Ijele dance, who will I dance with?)
"Muna onye ga agba egwu mu na Ijele mu na eru eh?" (Who will do my dance with me? It's almost time for the Ijele dance)
The rest of the song sees the Edegede goddess, as well as Flavour, invite everyone to the dance floor in melodious and witty ways as they start off a huge cultural carnival. 
2. Who is Theresa Onuorah and what is her significance to the sound and dance?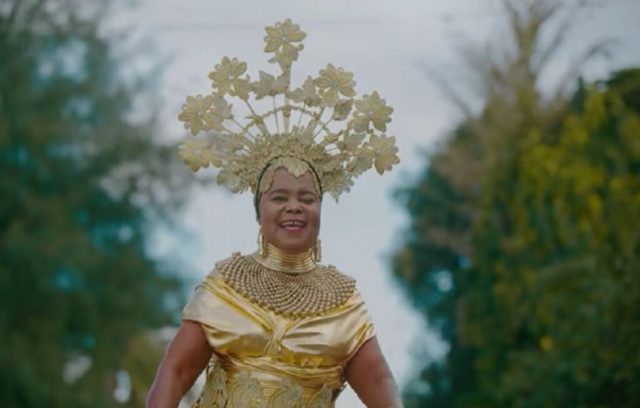 Dance groups, whether cultural or modern, have always been set up around a leader who serves as a lead choreographer and frontman of the group. Even in music videos, we've become familiar with this dynamic and watched how the movement of the backup dancers is led by the musician or lead dancer. It is for this reason that Theresa Onuorah is known as the Queen of the Coast and Edegede Dance Goddess of Unubi as she's the leader of the Edegede dance group. In fact, for many lovers of Edegede, if it's not a performance by the recognised Queen of Coast and her dance group which she is known to refer to as Edegede of Africa, it was often not viewed as original Edegede as she had made an inimitable mark on the scene with her piercing vocals.
3. Why is the Edegede song so popular?
In light of her full-time dedication to the Edegede lifestyle, Theresa Onuorah's reputation became much famed and spawned into legends about her. These legends span from reports stating that she rarely makes an appearance in public except on rare occasions, to claims that the Edegede goddess has remained unmarried and without a family as a result of her status. It has also been rumoured by older Igbo people that Theresa Onuorah's spiritual aura was so strong, photographing her proved abortive and the photos themselves turned up blank. This myth was since disproved on the 22nd of October following the release of Edegede and the simultaneous premiere of the music video which had copious footage of her singing in her traditional attire. Nonetheless, all these factors must have served to create an additional buzz around Larry Gaaga's Edegede as it was teased with a short clip of Igbo icon, Pete Edochie, inviting any who would care for good music to give ears to the song. After that came a clip of Theresa singing the chorus in her steely soprano voice with the words Theresa Onuorah na o mu na ekwu o, (It is I, Theresa Onuorah, that's speaking) making the cut. That line rhythmic and rousing as it is, from the recognised Edegede goddess must have patented the song as the authentic Edegede for discerning Easterners, young and old who soon found themselves within the grip of the Igbo culture-soused record, unable to resist doing the Edegede dance to it every time it came on. So it had become an airwaves favourite and an internet sensation as well. 
ALSO READ: The Origin and Meaning of 'Watimagbo'
Interestingly, Larry Gaaga's Edegede did not only make its way into the hearts of Igbo people but soon became a favourite of non-Igbo Nigerians and even non-Nigerians, highlighting the barrier-defying power of good music and the beauty of culture and tradition whether as an outsider or an insider. Coincidentally, the concept of global cultural acceptance and appreciation is one the Edegede goddess had always championed as evidenced in her Ijele Elubego song which called for the listener to accept cultural differences in order for the traditional core of each society to be preserved. Now it's 2021 and Larry Gaaga's Edegede song with Theresa's voice laying the highlight is a national hit and co-collaborator, Flavour will be headlining a show at Eko Hotels and Suites in Lagos. Indeed, cultural tolerance is the often neglected path to progression and prosperity in heterogenous societies.