Emma Hayes gets a new job days after announcing her exit from Chelsea
SHARE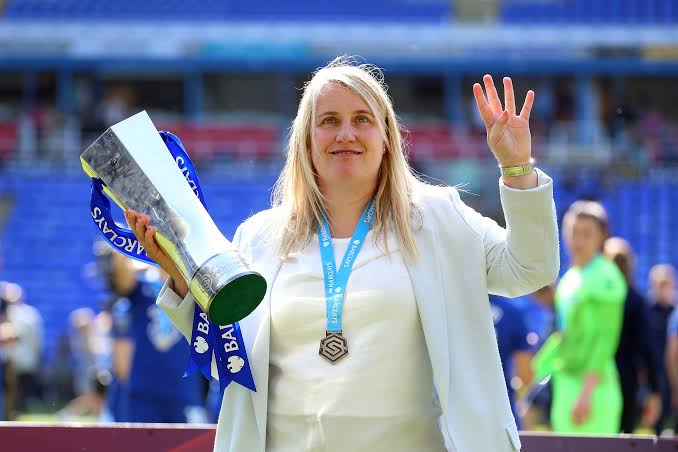 The United States of America senior Women's team have announced the head coach of Chelsea Women's Football team, Emma Hayes as its new coach.
The most anticipated announcement was confirmed in the late hours of Tuesday, November 14, 2023. According to reports from the USA, Emma Hayes will be the tenth full time head coach for the Americans after she confirmed her exit from Chelsea.
"Emma is a fantastic leader and world-class coach who sets high standards for herself and for everyone around her " She has tremendous energy and an insatiable will to win. Her experience in the USA, her understanding of our soccer landscape and her appreciation of what it means to coach this team makes her a natural fit for this role and we could not be more pleased to have her leading our Women's ntational eam forward."
She is one of the most successful coaches in Europe which she enjoyed in the past 11 years at Chelsea Football Club having joined the club since 2012. Hayes is expected to resume her duty with the US Women's team at the end of the 2023/24 football season, two months before the 2024 Olympics in Paris.
Hayes has also reacted to the news, she also expressed her excitement after the news was confirmed.
"This is a huge honour to be given the opportunity to coach the most incredible team in world football history. The feelings and connection I have for this team and for this country run deep. I have dreamed about coaching the USA for a long time so to get this opportunity is a dream come true. I know there is work to do to achieve our goals of winning consistently at the highest levels. To get there, it will require dedication, devotion and collaboration from the players, staff and everyone at the US Soccer Federation."
The United States Interim head coach Twila Kilgore will continue in her role and then join Hayes' staff as an assistant coach next year (2024).
Hayes has won six WSL titles, five FA Cups, two league Cups and also reached the final of the Women's UEFA Champions League.