Wizkid's "Made in Lagos" cover art explained!
SHARE
As we look forward to the release of Wizkid's fourth studio album "Made In Lagos" which is set to drop on the 15th of October 2020, the award-winning music star has dropped an explainer for his album cover to help fans understand the richness of the upcoming project.
The video representation covers the colourful artwork with distinctive icons that represent different landmarks portraying a typical Lagos story.  Explained by a masculine voiceover, explaining to detail what it means to be "Made in Lagos", with talking drums and trumpets serenading the background and depicting sounds peculiar to the Yoruba tribe but also resonates with Afrobeats.
The artwork cover carries depth hence the need for an explanation.
From the Lagos sun to Lagos traffic, to the liberation image of the Afrobeat legend Fela Kuti, to the famous Lekki Ikoyi link bridge down to popular statues such as the giant horse, Eyo masquerade, the 3 white cap chiefs and so on. To Lagos residents, the illustrated embodiment is quite familiar.
However, Wizkid is worldwide now and "made in Lagos" cover art enlightenment is very necessary.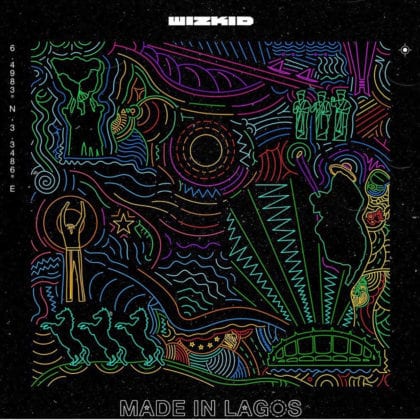 His recent singles "Smile" and "No Stress" portrays a rebranded Wizkid who has transitioned from kid to man and his "Made In Lagos" cover art explained! video post on his social media tells the project story.
It's been 3 years since Wizkid released his last studio album "Sound from the other side", thereby making this new project a highly anticipated one for "Wizkid FC" worldwide.
"Starboy" who is arguably one of the biggest music export in Nigeria is putting "Smiles" on the faces of his global audience with "No Stress".

As the countdown begins, we look forward to October 15th