Chef Hilda Breaks The Longest Cooking Marathon Record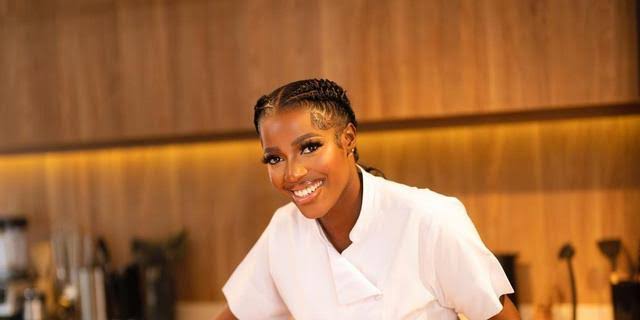 Lagos based, chef Hilda Baci has crushed the record for the longest cooking marathon in history set in 2019.
In a moment that would forever be documented in history, Lagos-based chef, Hilda Baci has defied all odds and put Nigeria on the map as the shattered the record for the longest cooking marathon document by the Guinness Book of World Records set by Lata Tondon of India as far back as in 2019.
Hilda received huge support and words of encouragement from artists, well meaning Nigerians and prominent office holders.
Lata Tondon cooked for 87 hours and 45 Minutes to hold the record of the longest cooking marathon in history.
How many hours has Chef Hilda cook for so far?
Chef Hilda has revealed that she aims to cook for 97 hours to set a new record and as today, Monday, May 15, 2023, after breaking the existing record of 87 hours at approximately 8 am, the star chef has cooked for over 92 hours as at 1pm, she is expected to reach her goal of 97 hours at 5 pm West Africa Time.
How Many Dishes Did Chef Hilda Cook To Break The Record?
So far as Hilda Baci hits the 92 hour mark in her bid to set a new cook-a-thon record of 97 hours, she has cooked over 100 dishes and has served over 2000 people at the venue in Lagos.
Who are the celebrities that have supported Hilda Baci so far?
Some of the biggest celebrities in the entertainment industry have shown immense support for Hilda since she embarked on her Cook-a-thon in Lagos. Some such as Enioluwa, Seyi Vibez, Tennessee, Tiwa Savage, Seyi Vibez, Segundo Johnson, dancer Kaffy to mention a few have all visited the venue in Lekki, Lagos to show their support for her.
Why Does Hilda want to break the Guinness World Record?
When asked in an interview, Hilda revealed that this was a dream of hers.
The 27 year old revealed:
The journey to the cook-a-thon started five years ago.

It is one of my biggest aspirations and I am glad that I took the bold step to embark on this adventure.

I have taken time to prepare for this psychologically and I am proud to finally take on this challenge.

The cook-a-thon is also an opportunity to tell some of the positive stories that come from Africa through the meals that we make.

This attempt is also proof of the strength young people can exhibit with the right platform and support. I look forward to receiving support from people across the world to achieve this feat."
Hilda received support from Nigerians and popular dignitaries as she entertained and cooked the following dishes:
Hilda Baci's sides menu
Party jollof
Coconut rice
Native rice
Asun rice
Fried rice
Native pasta
Jollof pasta
Porridge yam
Porridge plantain
Mashed potatoes
White rice
Hilda Baci's soups menu
Chicken curry
Edika ikong
Egusi
OhaAfang
Fisherman soup
NsalaGoat
meat pepper soup
Seafood okra
Ofe akwu
Hilda Baci's sauces/meats menu
Goatmeat stew
Buka stew
Peppered turkey
Peppered chicken
Fried fish
Peppered fish
Turkey stew
Ofada sauce
Hilda Baci breakfast/cold dishes menu
Akara
Pancake
Burger
Chicken wraps
Abacha
African breadfruit
What Did Guinness World Records Say About Hilda's Attempt?
Guinness World Records have confirmed that they have acknowledged Hilda Baci's attempt towards breaking the cooking marathon record and that their team are looking to verify the details.
The statement released revealed:
"Officials on our records team look forward to reviewing the evidence and hope to be able to verify Hilda's efforts as a new record very soon,"