"Change is constant" - Peter Okoye (Mr P) talks Psquare, Future Plans
SHARE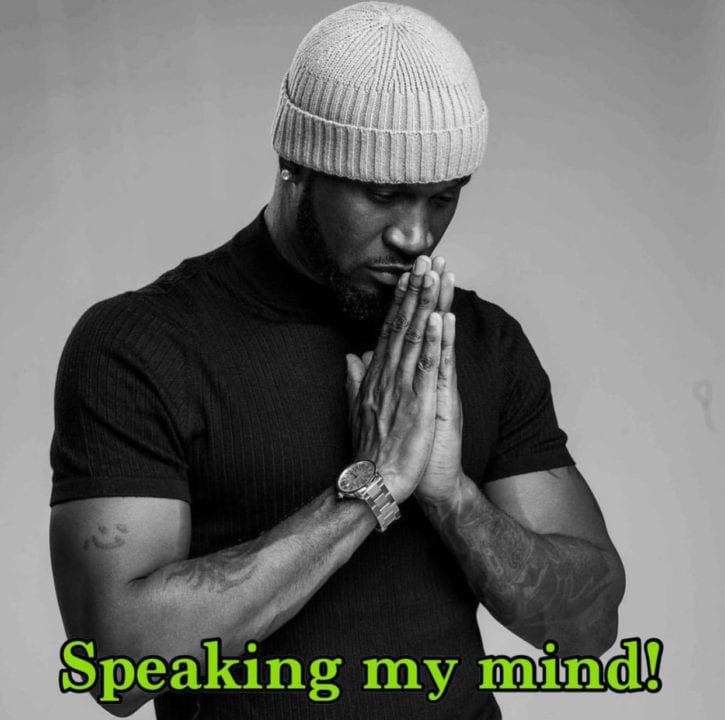 In anticipation of his new single 'Follow my lead', Nigerian megastar and former Psquare member, Peter Okoye who is referred to by his solo career name, Mr P told those clamouring for a Psquare come back to move on just as he has and he further opened up about his current projects and plans for the future.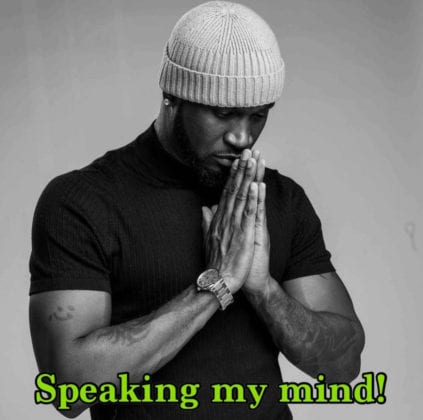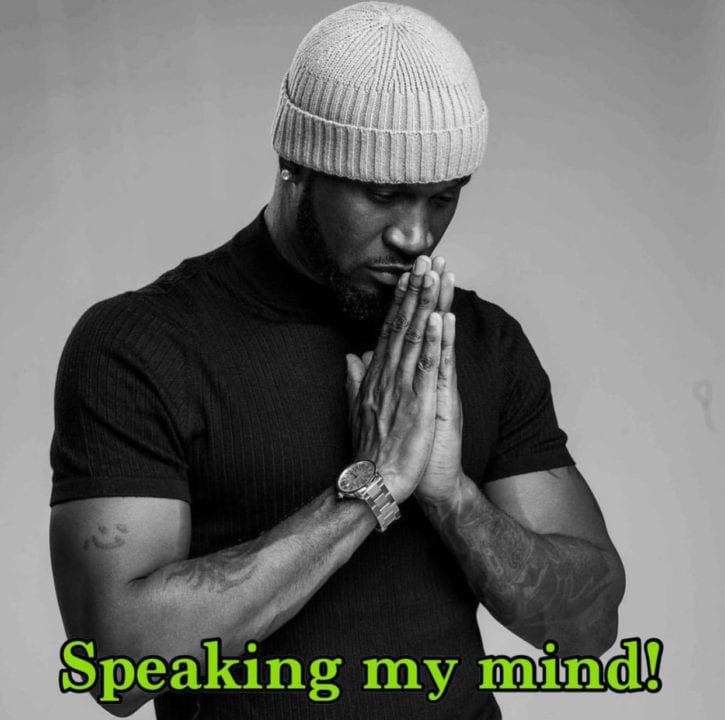 Peter Okoye (Mr P) posted on his social media page on the 10th of December 2020 a lengthy post that was divided into two parts. The first part addressed the naysayers, cyberbullies, those clamouring for a Psquare come back and his soon to drop project, while the second part was about his intentional plans to branch out into other money-making ventures aside from music.
After the split of their much-loved duo group 'Psquare', both twin brothers decided to foster their solo careers and Peter Okoye became 'Mr P' while Paul Okoye became 'Rudeboy'. Having received backlash as a solo artist, Mr P felt a need to address the matter once and for all via a social media post. Part of the post reads:
It's just 24 hours before my long-awaited single 'Follow my lead' drops! Let me get this off my chest before some people start their usual preaching. Listen: nothing last forever and change is constant!

Everyday they continue barking!
*Apologize to your bros?
*Bring back our Psq?
*We don't know Mr P... we only know Psq?
*He doesn't know how to sing?
*He is nothing but a dancer?
*His career is dead?
*Such a noise maker?
*Why is he so Childish?
*You are now an upcoming artiste?
Waa! waa!! waa!!!

Pls let me ask, Have you ever felt liberation when you do what you're passionate about, follow your dreams, follow your heart. Go back! Go back!! Go back!!! and do what exactly? after saying I dont know how to sing?

And again! Going back is it not for me to make more money? Since you know better! So why is that your  your problem? I thought i wrote an official resignation letter 4 yrs ago that I was no longer part of the group! Na by force?

For those barking "I only know Psq i don't know Mr P and ...." Go to Psq page and do the barking. I am no longer part of the group!

Pls this page is for me and my dear fans Team P! Please let's enjoy our new coming single "Follow My Lead" in peace!

Mr P's fans is all that matters now! If you are still angry that my handle still has Psq come and remove it yourself?
We have since moved on and its best y'all do the same! Support who you wish to support and move on. It is not a competition and I am not even giving any room for that. So Psq fans Take heart and get used to it! nothing last forever! Again Change is constant.
This is no longer about what you want! It is about what we want, so respect our decisions. It's already a closed Chapter.

We r not the first group to split or make such decisions! Plantashun Boiz, StylePlus, Mohits and Remedies So enough of the time wasting!

Blood is thicker than water! Blood is thicker than water! Please my wife and children are they the water or Zobo?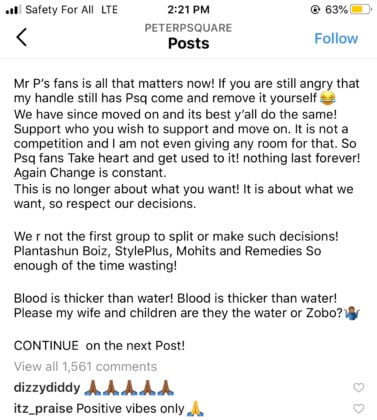 READ ALSO: Peter Okoye Sends Letter Of Termination To Rudeboy Records
Peter Okoye 'Mr P' expressed his plans for multiple streams of income through some projects he listed in the second part of his post. In his words:
I've been attacked and shamed because of my Zoom Lottery platform with some people going as far as saying I've become Baba Ijebu; for all those who have used this line. I hope you are aware that that organisation employs hundreds of people, puts money on the table for some and as at 5 years ago, the owners networth was put around $500m (think about it). Please go and check and google Baba Ijebu's Lottery Net worth as of 5yrs ago (500 million dollars) And the owner just bought the Lagos National Stadium.
Abi you think say na only music hustle go buy me that my own Private jet????

So in 2021 asides THE PRODIGAL Album, get ready for my major hustle starting from January!
*Zoombet (Sport betting)
*ZipRepublic (Clothingline)
*ZipAwoof (Bidding Platform)
*THE OKOYES (reality tv series)
*APHRO (Liquor Drink)
*DWP (Dance With Peter)

This is now about securing the major bags just like Diddy, 50Cent, Jay z, Kanye west and Dr Dre! what do these men have in common? They're astute businessmen asides the strides they've made in entertainment. I'm building a legacy and that includes empowering others as much as I can whether through employment, endowments/grants or products from ventures I'm involved in. Those are my Role models.
They are still the top 10 richest musician in the world!
when last do they really care about releasing music that much??‍♂️ Make una learn to dey calm down! Even our very own Oga Dangote is into Sugar, Salt, Cement, Juice, Philanthropy, Properties, Banking, and now Refinery oil and gas.?
He who has ears let him hear!??

This page has been detoxed! New Energy, New Vibe and we are doing this together Team P!

I've put my heart into this album and you get a taste of what's to come starting tomorrow.

It has been quite the year, so please relax and let some P vibes take kia of you!

Team P our first single from the shelves of the PRODIGAL Album "FOLLOW MY LEAD is out tomorrow! Let get our dancing shoes ? ???itI's December already! ????????
*We will groove our own Songs????
*We will blow our Trumpet?
*We will make our noise ?
*We will loud our volume ?
*We will brag our bragging ???
God bless you all for the love and support! Blessed???
What are your thoughts on this? Share with friends, and kindly leave your comments below, we'd love to read from you!
Get More Updates  from Notjustok via Twitter and Facebook