A history of Naira Marley and His Marlian Music Label Members Arrests
SHARE
A record label of hit-makers, members of Naira Marley's Marlian Music label had recently been in the news following an NDLEA raid. So in this list, we take a look at all the times the label boss and members of his Marlian Music Label were arrested as well as the reasons why;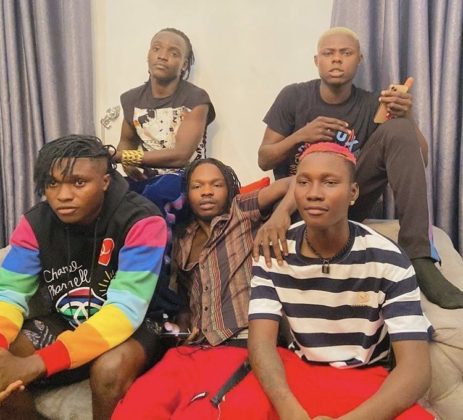 If fame and controversy are 5 and 6, then Naira Marley is the connecting ampersand symbol-- '&', bringing the two elements together in the most attention-grabbing way that has served to make him one of the most interesting music personalities in the Nigerian music industry. Over time, Naira Marley has however established himself to be more than a crowd-rousing musician, setting up a successful record label with his Marlian Music Record and morphing into a father-figure for his artistes who have in a similar vein been releasing banger records. Recently, members of his record label made the news regarding a raid carried out by members of the NDLEA, Nigerian Drug and Law Enforcement Agency, putting them in news headlines for less than savoury news. So in this list, with label kingpin, Naira Marley inclusive, we take a look at all the times members of his Marlian Music Label were arrested as well as the reasons why;
When was Zinoleesky arrested and why?
In the early hours of the 24th of February, a video of Naira Marley's Marlian Music top striker, Zinoleesky being harassed by members of the NDLEA had surfaced online. In the video, Zinoleesky had been handcuffed with an unidentified person who'd been protesting against the rightfulness of their arrest. The arrest had reportedly taken place at his Lekki residence with the video capturing the uproar that had ensued as members of the NDLEA harassed the residents of the house. An unknown woman's voice was also captured asking for a search warrant but it remains unconfirmed if that had been presented prior to the chaos filmed.
Zinoleesky & some other members of the Marlian family being harassed by the NDLEA. This shouldn't be happening ?pic.twitter.com/j1PKj8JYdr

— WeTalkSound (WTS) (@wetalksound) February 24, 2022
The NDLEA's Director of Media and Advocacy, Femi Babalola who had spoken to members of Channels TV had shared that they'd arrested four men and two women and they'd found "Various quantities of illicit drugs like Molly and Cannabis in a room occupied by 10 young men." He stated that while attempts were made to destroy the drugs, they were able to recover a good quantity from a Lexus jeep parked in the compound.
Zinoleesky was eventually released on the 25th of February and some reports state that the raid had been spurred by Zinoleesky accidentally driving his Wrangler into the gutter while making an Instagram live video.
Why was Mohbad Arrested?
Another hitmaking Marlian Music signee, Mohbad had also been arrested during the raid at their Lekki home but had been released before Zinoleesky. It was label boss, Naira Marley who had given the update on his release stating; "NDLEA have released Mohbad after physically assaulting him, Zinoleesky is still in custody. The boys are under a lot of stress after being ambushed in the middle of the night with no warrant. I'm urgently returning to lagos now now now. What is happening to my brothers is disgusting. The injustice is unfair and this is beginning to look like a pattern. First me now my artists. Free Zinoleesky, free shubomi, free micee and dosky ?"
Following his release, Mohbad had also shown signs of going through a meltdown as he'd made an Instagram live video where he claimed that members of the Marlian Music Label were after his life.
While the NDLEA spokesperson couldn't rightfully identify that Mohbad was in custody, the rapper had also been reportedly arrested on account of the said discovery of illicit drugs in their residence.
What led to Mohbad's arrest in Cyprus?
On the 6th of November 2021, Mohbad had cried out on his Instagram stories about his current predicament when he wrote "I've been stuck at the Cyprus airport prison.
ALSO READ: Mohbad Reveals How He Got in Trouble with Authorities in Cyprus
The show promoter got me fucked up." The rapper had flown to Cyprus following the success of his performance alongside fellow label member, Zinoleesky and had then gotten arrested and held by prison authorities at the airport.
When was Naira Marley's first arrest and why?
On the 10th of May, 2019 officials of the EFCC, Economic and Financial Crimes Commission broke the Nigerian internet following their arrest of Naira Marley alongside rapper Zlatan, Rahman Jago and two others. According to Tony Orilade, the EFCC spokesman, they had been picked up in "connection with alleged case of internet fraud and money laundering." While adding that "Intelligence report had also linked them to cybercrime offences." Eventually, the others had been arrested while Naira Marley was placed in police custody. He was then put on trial on the 20th of the same month where he pleaded not guilty and was allowed bail after meeting the terms.
ALSO READ: 12 Nigerian Songs that Reference 'Internet Fraud' aka Yahoo-Yahoo
Eventually, there had been other court sittings and in 2021, the case had been adjourned till the 16th of February 202. The anti-graft agency had also alleged that some of the credit cards discovered in his residence bore the names Nicole Louise Malyon and Timea Fedorne Tatar. And Naira Marley had pleaded not guilty to the charges.
The arrest of Naira Marley and friends had come after the singer had sparked viral-level controversy and a debate between himself, rapper Ruggedman and singer, Simi when he stated that Yahoo boys should be prayed for rather than maligned as they were the ones that saw to it that money circulated to the common man in the country.
ALSO READ: EFCC Displays Naira Marley's Phone Content in Court
It was after his release he'd together with Zlatan put out the smash hit Am I A Yahoo Boy.
The Marlian president commits his first Covid-19 violation
On the 5th of April 2020, members of the Nigerian police had arrested actress, Funke Akindele for having a birthday party at her residence that had violated Covid-19 regulations. Naira Marley had also been present at the party and the police had requested that he turn himself in.
The next day, the police had reported that Naira Marley was now in their custody and would be charged to court for violating the restriction orders which outlawed gatherings of up to 20 people.
Why was Naira Marley arrested a third time?
Naira Marley's third arrest happened in the self-same 2020, during the height of the Covid-19 pandemic still. Once again, he violated the regulations in place but this time, the artiste had held a concert at Jabi Lake Mall on Saturday the 13th of July.
He had however not been arrested till the 6th of August after some brouhaha had been kicked up concerning the situation surrounding his flight. According to Execujet, the chartered flight company that he'd flown with, they'd mistaken Naira Marley, full name, Azeez Fashola to be Babatunde Fashola.
Get updates from Notjustok as they drop via Twitter and Facebook.