Here are 15 Nigerian Musicians to Celebrate Father's Day With Today
SHARE
Every third Sunday in the sixth month of the year, June is always a doubly special year, not because it happens to indicates the almost achieved half-year milestone but because it is the time of the year when fathers the world over are actively and officially celebrated for embarking on the arduous journey of love that it is to father a child. While the kids who are the recipients of the nurturing, identify with these men in their lives as first and foremost, fathers and providers, for these fathers, they are many things to different people. In honour of the beauty of Father's Day, we've drawn up a list of some of our favourite Nigerian musicians who are not only musical artistes, but fathers as well and have by so doing birthed cute celebrity children while simultaneously delivering jam after jam. Here are some of our favourite musicians that double as celebrity dads to be celebrated with on this Father's Day:
1. Davido
Undoubtedly one of the greatest Nigerian musicians of his time, Davido is not only just one of the countries biggest musical exports, but the number one man in the lives of three children, namely Imade 6, Hailey 4 and one-year-old Ifeanyi.
ALSO READ: Davido and 5 Other Nigerian Musicians and Their Kids that Give us Baby Fever
For fans of the singer, the 28-year-old father would also rank as one of the best celebrity dads and this claim is not a far-fetched one as he has given the internet copious doses of baby fever with his overt displays of affection for his kids. These have ranged from festival-like birthdays such as Imade's coahella-themed one, Imachella, to wearing their faces on his skin as a tattoo and on his music as cover art on his album. Pictures of Davido and his kids is definitely content we love to see.
---
2. Wizkid
Fondly referred to in the Yoruba honorific term as 'Daddy Bolu,' after his first son, Wizkid is the starboy that has birthed a trio of star-gened little boys; Boluwatife 10, Ayodeji 5, and Zion 4.
Prequel to the release of his recent classic album, Made in Lagos, Wizkid had released the visuals to his H.E.R-featured single, Smile and had given his fans everywhere additional reason to smile with the heartwarming cameo cuts of his three sons who couldn't help but be a physical imprint of their superstar dad.
---
3. 2Baba
This Father's Day, 2Baba is one Nigerian musician who has not earned himself the rights to be called a veteran singer but a veteran celebrity dad, as this, is a role he's come to play since as far back as 2017 when he gave birth to his first child.
This year, 2Baba will be celebrated individually by 7 kids namely, Ehibenzi, Innocent, Justin, Nino, Zion, Olivia and Isabelle.
---
4. D'Banj
Three years ago, D'Banj lost his first son, Daniel Oyebanjo III in a tragic home accident but has since gotten two children with whom he can revel in the joy of being a father.
In fact, for D'Banj his celebration of the day is one that would also be revelled in by fans and well-wishers who share in his joy over the birth of his two-year-old son, Zane, and a baby girl whom the father of two ecstatically introduced to the world as his 'babylet.'
---
5. Timaya
In November last year, Timaya introduced his fans to his cherubic 6-month-old daughter, Maya, via an Instagram post. The Bayelsa-born-and-bred singer was obviously filled with gratitude but was also no stranger to fatherhood. In fact, the birth of Maya made the singer a father of four kids; Emma, Gracey and Emmanuel, who similarly to his baby daughter he never tires of posting on his Instagram account.
---
6. Naira Marley
The Marlian president may have earned himself a reputation as a devil-may-care artiste, throwing caution to the wind to air takes on sex and life that earn him a spot on the trend tables and on the lips of social media trolls, but he also doubles as the father of four children.
His first two kids happen to be a set of identical twin girls, followed by two boys, Farouk and Fawaz.
---
7. Kizz Daniel
On the 2nd of May this year, Kizz Daniel broke the announcement of becoming a father to his unsuspecting fans with a picture of him holding two sets of baby hands. As a result, this Father's Day will be the first for the babyfaced Nigerian musician who became a year older and a brand new dad on that very same day with a set of twins named Jelani and Jalil.
ALSO READ: Happy Mother's Day! Celebrate Your Mom With These Beautiful Nigerian Songs
View this post on Instagram
---
8. Adekunle Gold
For Adekunle Gold being a father is obviously a thing of joy and pride that carried past his social media and unto his lyrics as he went from addressing himself as 'AG baby' to being 'AG daddy.' So much so that when his daughter Adejare whom he had with superstar mom, Simi turned a year older on the 30th of May, the couple released a Happy Birthday record with proceeds of the song going straight to her trust fund. This will be the singer's second year on the corridors of joy that Father's Day brings to fathers all over.
---
9. Olamide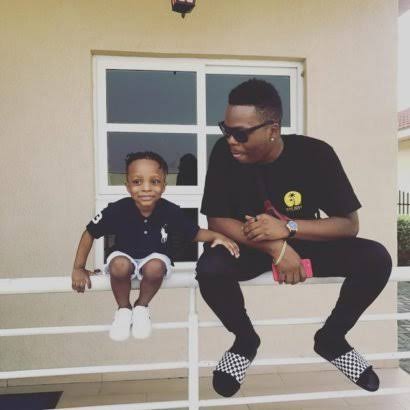 Several core fans of the veteran indigenous rapper, Olamide, will be able to narrate their versions of the star-studded affair the naming ceremony of Olamide's first son, Batifeori Maximillian was. That was 6 years ago in 2015 and now the rapper has not only doubled down on his artistry to become one of the greatest Nigerian artistes of the decade but has also expanded his family with the additions of two children; Tunrepin Myles and Asaiah Monife.
---
10. Rudeboy
Also known as Paul Okoye, this singer who once made up one half of the P-Square duo, now makes up a family of five which comprises himself, his wife and their three kids namely Andre, Nadia and Nathan who are twins.
---
13. Mr P
For the other half of the now-defunct P-Square group, Father's Day for him would come in two-fold, with his son and daughter, Cameron and Aliona being his reason to celebrate with fathers worldwide.
---
12. Patoranking 
In 2019, Patoranking released his second studio album which eventually charted on the Billboard Reggae Chart. It was named after his first daughter, Wilmer and he eventually sealed it with a music video where he showed himself to be very much the proud dad as he serenaded his baby girl in the video.
Wilmer is however not the only child of the Afro-dancehall star as sometime in 2014, Patoranking once got his fans in their feelings when he posted cute selfies of himself and his son, Raphael, known as Rapharanking, who is a spitting image of his father.
---
12. Timi Dakolo
The inspirational singer is one of the Nigerian internetsphere's favourite fathers as he tends to regale his Instagram followers with father-children content where he is either pushing his kids to be at their best or instructing them on an important value.
Timi Dakolo is the father to three kids namely Zoe, Alexander and Hallel who will definitely serenade him with love and affection in celebration of the occasion.
---
14. Kida Kudz
Popularly known as the 'Top Memba, Jiggy Boyz FC,' Kida Kudz is also the top male member in the lives of his sons Enoch-Eli and Iremide. So it would be a doubly joyous Father's Day for the UK-based Nigerian rapper and singer.
15. Teezee
This Father's Day will also be a first for rapper Teezee, one of three of the DRB Lasgidi collective, as he and his baby mum, Grace Ladoja who are very much the alte power couple-- delivered their baby boy, Zacai sometime in May this year.
Happy Father's Day to all the fathers out there making the world a better place through their nurture and care for their children and to all Nigerian musicians who are sustaining a career in the fast-paced music industry alongside fatherhood.