"Wizkid's 'Made In Lagos' is the greatest album recently" - Saweetie
American singer, rapper and songwriter, Saweetie has revealed that Wizkid's latest Album 'Made in Lagos' is the greatest album for her, but that is just recently, she concludes. Speaking with American Entertainment outfit Complex, on the 14th of June, she made this known. 
The interview with complex which involves her answering a series of questions tied to 'GOAT - Greatest of all time', and when it was time for greatest album of all time, she clearly stated that Wizkid's last album but not as the greatest of all time but one she is currently enjoying because of its versatility. According to her, the album is perfect for every moment. She said:
"I really like Wizkid's Made in Lagos album, I feel like it suits every vibe. I can be pre-gaming, I can be cooking, I can be cleaning, I can be on a phone call. I really enjoy the positivity and happiness that comes with listening to Made in Lagos"
Asked if indeed the 14-track project is the greatest album of all time or in 'recent time', the diva clarified that it is the greatest "in recent times" as to look for a project that is the greatest work of all time will mean that she has to compile albums from the past to make such judgment.
READ ALSO - Double Standards? Social Media Reacts Differently To Wizkid and Seyi Shay's Videos
It is not the first time Saweetie will be showing her love for Wizkid's 'Made in Lagos' album, she recently told Paper Magazine that the project is the album she 'couldn't live without this past year', a post that Star boy acknowledged on his Instagram Story.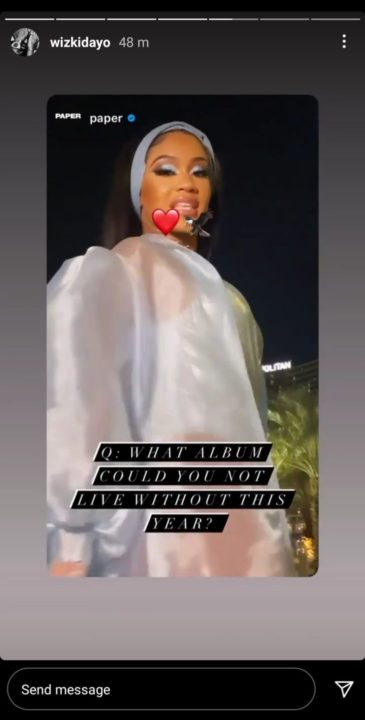 Wizkid dropped his fourth Studio album 'Made in Lagos' on October 28, 2020. The project features Damian Marley, Skepta, Burna Boy, Ella Mai, H.E.R, Tems, Tay Iwar, and Terri. It debuted at number 15 on the UK albums chart and number 80 on the US Billboard 200 amidst dominating other charts.