Davido and 5 Other Nigerian Musicians and Their Kids that Give us Baby Fever
SHARE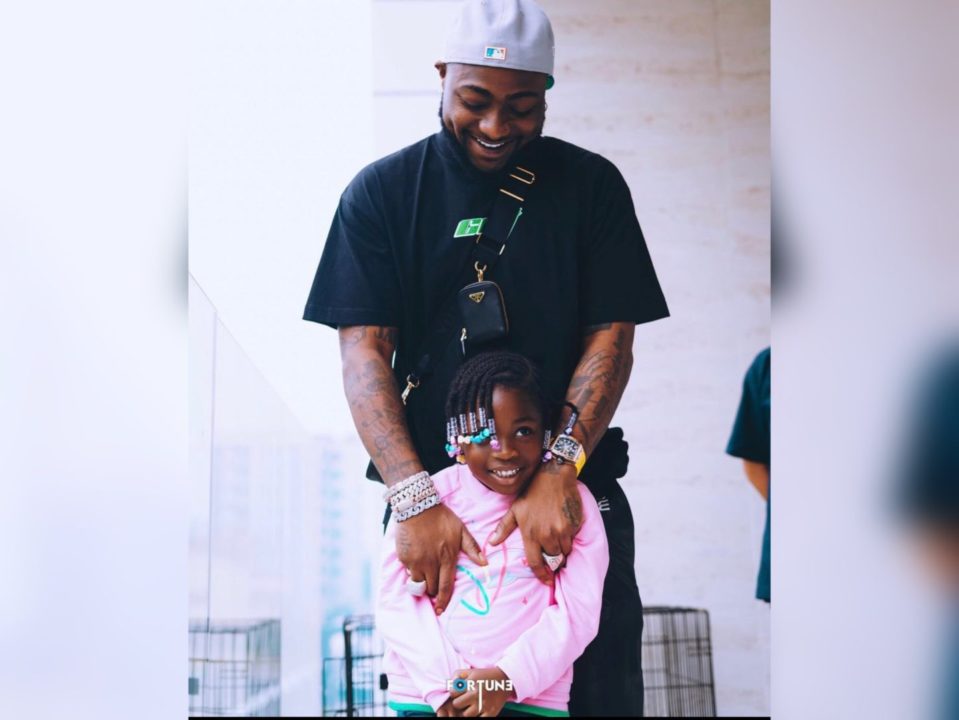 If there's one thing parents never cease to do, especially new parents, it's to show off their cute kids either in real-life photo albums, picture frames on their work desk, and thanks to social media, all over their online spaces. If there's any set of parents that know a solid thing or two about showing off their cute kids, it's definitely celebrities. Most times, these displays of affection to their kids are either over the top, or so heartwarmingly cute, we wish we had kids of our own to show love to, ergo causing the feeling of baby fever. Today in the United States is the 'Take Our Daughters and Sons to Work Day,' which is essentially and at the heart of it, a day where parents can show off the kids their proud of and work for and the kids in turn, get more practical insight on how their parents are able to take care of them. As a result, we'll be highlighting the times when some of our favourite Nigerian musicians and their kids gave us baby fever. 
Davido and Imade
This instance happened just recently and in true 30BG and OBO fashion, the father of three, made sure that 'e choke'. It was a cute father-daughter moment between Davido and his first child, Imade Adeleke, whom he had with baby mama, Sophia Momodu on the 19th of April. The megastar had posted cute pictures of himself and his daughter, with his hands on her shoulder as they both cheesed hard into the camera. But the real baby fever tea was served on his story where he shared videos of him out with Imade for ice cream. In one of these videos, Imade was seen feeding her dad a spoon of ice cream, a moment that gave many fans of the star and internet user's the famous 'my ovaries!' moment. 
Davido and his kids have also had several other moments and another noteworthy one is the very cover art of his latest album, A Better Time, which is an image of him holding his only son, Ifeanyi, in a deep hug.
ALSO READ: Davido's Daughter Imade &  Tiwa Savage's Son Jamil Are The Cutest Pair! | Watch Video
---
Timaya and his kids
Timaya may not be in the media as much as before, but if there's one thing about the PH-bred Nigerian musician, it's that he will never hesitate to talk about his kids or post them either. A proud father of four kids namely Emma, Grace, Mani and Maya,  from three baby mamas, a moment through his Instagram feed will present you with doses of baby fever either on the birthday posts of his kids, a picture of him with them, or just him having a proud father moment. 
ALSO READ: "Burna Boy And Davido Will Become Best Friends" - Timaya
---
Tiwa Savage, Teebillz and Jam Jam
View this post on Instagram
Jamil Balogun is the cute ball of life birthed from Tiwa Savage's marriage to her now ex-husband, Teebillz or Tunji Balogun. Despite the divorce and distance between them, both parents have given those baby fever moments with their son. 
For Tiwa, who is also fondly referred to as 'Mama Jam Jam,' there have been several fan-favorite instances and then there's the video where Tiwa Savage asked Jamil, who was on her lap, who his favourite singer was to which he'd promptly responded by saying "mommy and Davido!" They'd then shared a karaoke moment where Tiwa Savage sang her hit single Koroba while he promptly supplied the 'gege' ad-libs. 
For Teebillz and Jam Jam, their cute father-son moment happened two days before Christmas last year. December is a time for touching base with loved ones and the talent manager had paid a visit to a sleeping Jam Jam who had then woken up and happily shared a hug with his dad and a heart-melting smile. 
ALSO READ: Tiwa Savage Is All Shades Of Beauty As Allure Magazine's Cover Girl
---
Wizkid and his sons
View this post on Instagram
Parents themselves confess that parenting is not an easy role. And it can only get harder when you have multiple kids with multiple partners but not for Wizkid who makes it look easy the way he does his music.
The Nigerian musician even combined these two entities; his kids, who are all boys -- Bolu, Zion and Ayo with his music in seamless Starboy-like style by having them feature in cute clips of the visuals of his Made in Lagos hit single, Smile. 
Then there was the moment during his collaboration with YouTube, A Day in the Live of Wizkid, where he'd taken time to comfort a crying Zion during the livestream.
ALSO READ: "I Would Have Loved To Collab With Fela & Bob Marley" - Wizkid | WATCH
Timi Dakolo and his kids
View this post on Instagram
Timi Dakolo is one Nigerian musician who has not only established himself as the motivational RnB favourite of the nation but also entertains his fans and netizens with wholesome family content where he is urging his kids-- Zoe, Alexander and Hallel, who comprise of two girls and a boy-- to be at their best or simply setting study challenges for them. In February, the singer released a single titled Everything Amen and later shared a video where his kids and wife, Busola were seen singing along excitedly and having a moment that several internet users would tag 'God when?'
ALSO READ: Timi Dakolo And 2Baba Got A Collab On The Way
---
Simi, Adekunle Gold and Deja
Simi and Adekunle Gold are undoubtedly one of the cutest couples we have in the music industry and in May 2020, their union yielded them their first child, a baby girl whom they named Adejare, who prior to being born, had motivated the then expectant Simi to record the hit song, Duduke. 
The trio then warmed our hearts during Christmas with a greeting-card-inspired Christmas photo and didn't let up on Valentine's Day too as Simi posted a cute video of Adekunle Gold snapping away as their daughter crawled about in a cute red dress. 
Which of these moments made you go "aww, how cute" or "my ovaries?" Have there been other moments where a Nigerian musician and their kids gave you baby fever as well? Let's hear all about them in the comments section.