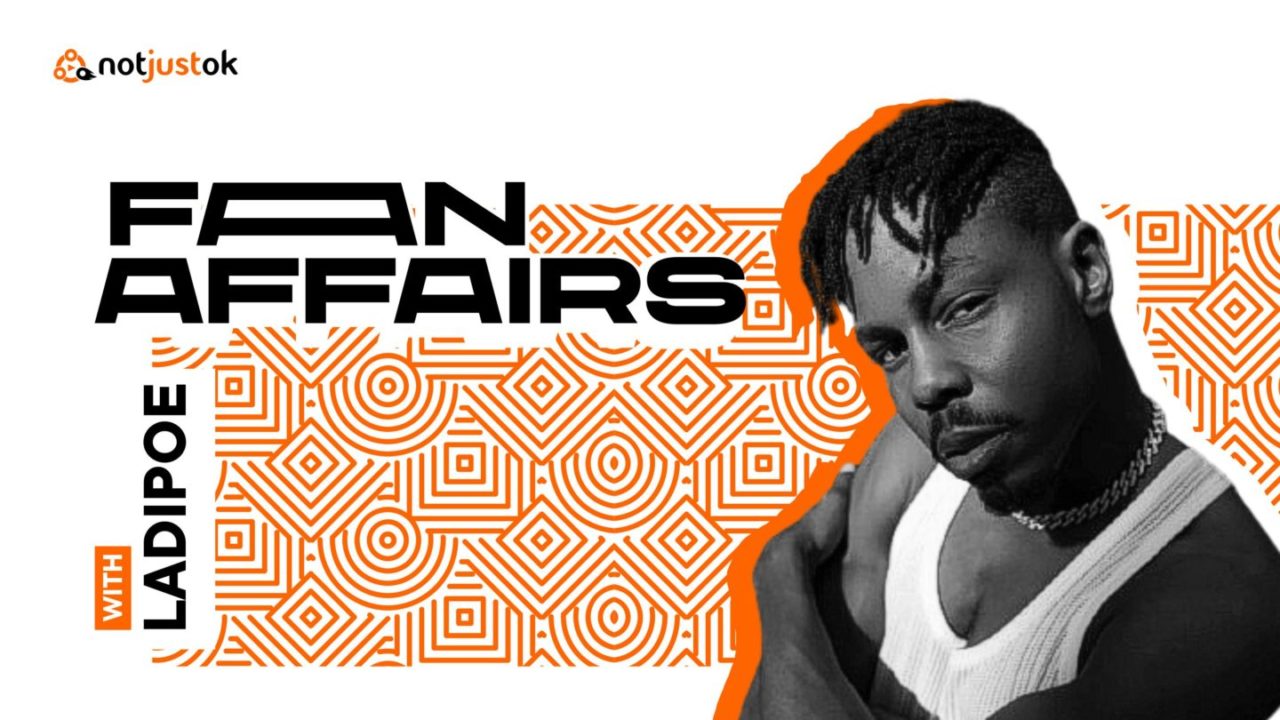 It is every musician's dream for their music to be well-received by listeners and by so doing, help establish a connection between them whereby the listener becomes a fan of the artiste, giving them their full support whenever it is required be it for new releases, concert shows, brand endorsements or a clash with another musician. Notjustok's Fan Affairs is a fun series that examines the relationship of Nigerian musicians and their fans while spotlighting the craziest fan moments of our favourite stars. 
In this edition of Fan Affairs, we speak to rapper and Yoruba Samurai, LadiPoe, who is no stranger when it comes to sitting on the number one position of music charts, to get all the scoop on the love he gets from his fans.  
When did it first hit you that you had fans?
When I realized that I had fans beyond my family and my inner circle was when a guy sent me a picture of a tattoo he had put on his chest and he had a line of my lyrics. I think it was the line off OD that went "To reach success you have to learn to deal with consequences, and great defeat becomes the building block for great defenses."
First and foremost I was like 'What?' I thought he was crazy at first, like how are you going to tattoo something that I said on your own body? But I started to realize that's the impact of my lines and I felt honored to have people that were repping me. 
ALSO READ - Fan Affairs with Laycon: "The Craziest Thing a Fan Did Was During Valentine's Period"
What are some things you no longer do or some places you no longer frequent after this happened?
I still pretty much do the same things. This moment happened but it didn't make me feel like 'Wow, I'm some kind of superstar.' I guess I'm more aware when I'm out of who's watching these days. And I don't ride around without tinted windows because I like to rap in my car and sometimes I look crazy. I need the privacy to do that. 
Fan Affairs with LadiPoe: What is the craziest or most memorable thing a fan has ever done to get your attention?
I think the tattoo story already covers this but to be honest, he wasn't doing it to get my attention but because he felt the bars. Then two things have happened, I don't remember where it was but I'll like to think that it was the mall. This guy came in up to me and started bowing, right in front of everybody. That was outrageous. 
ALSO READ: LadiPoe & Simi's "Know You" Hits Ten Million Views on Youtube
The second thing that happened, which was definitely at the mall, one girl came up to me and started telling me that she saw me in a dream where I was about to sign something that wasn't going to be a good deal. And that she woke up feeling confused and now lo and behold, today she bumps into me and that she feels the need to share it with me. And I was like "Girl what are you talking about?" Meanwhile, I was trying to find ways to escape the conversation, because she was just a little too close. 
That freaked me out a little but. The bowing episode that was shortly after Talk About Poe came out and this other one was pretty recent. I went to the mall for this signing I had to do. 
I'm pretty sure she saw the poster and knew I was going to be there and started forming it was a coincidence. 
If you were going to have a fan moment, what celebrity do you think would leave you starstruck?
I don't know who will put me on mute or have me grinning from ear to ear but Michelle Obama and Rihanna maybe. 
I think with Rihanna I'll be frozen for a bit and then I'll regain my composure real quick to say "Yo you and A$AP that's a thing? I'm just asking for a friend."
If you enjoyed Fan Affairs with LadiPoe, make sure to check Notjustok.com every Tuesday, as we'll be sure to bring you more authentic stories from all your favorite music stars.