Davido 1Million Challenge: Every Musician that Sent Him Money and Why
SHARE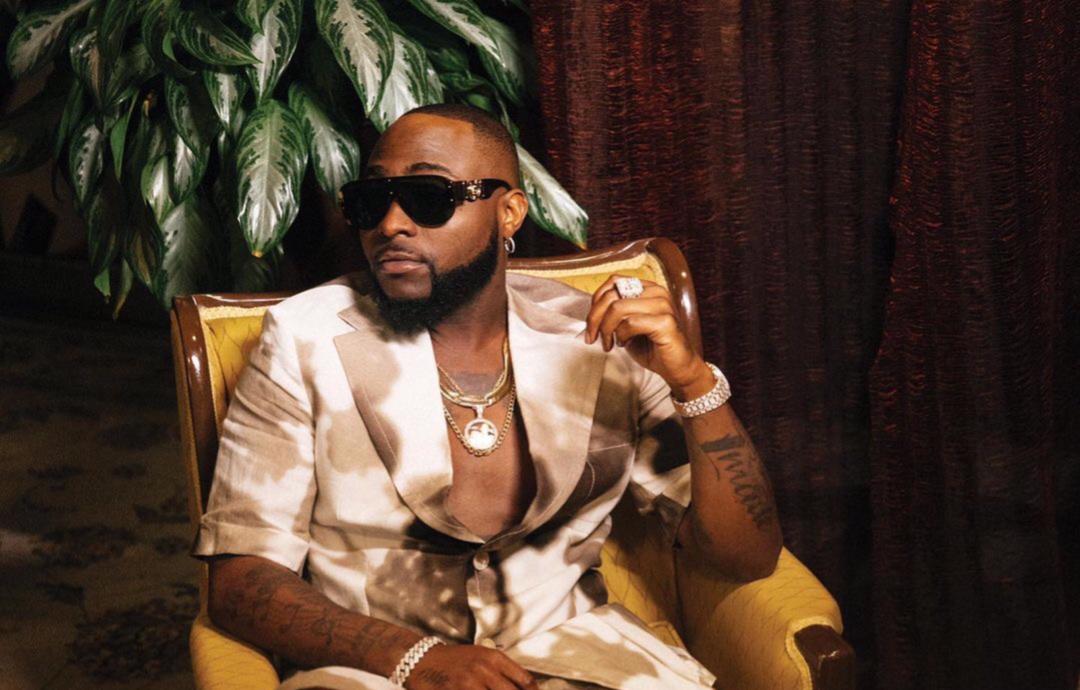 "We rise by lifting others,'' has been the mantra and running principle of Nigerian musician cum megastar, David Adeleke, popularly known as Davido, over the past couple of years. It's a saying which has since been popularised by him as the singer has put it to work countless times by lending a helping hand to friends, fans, and generally people in need through monetary handouts and amplification through his immense social standing as one of the most popular African celebrities online.
They say one good turn deserves another, and on the 17th of November, four days to the singer's 29th birthday, Davido had embarked on a spirited quest to see the extent to which his mantra on associative growth through assistance had been felt, first by challenging members of his DMW crew also known as the 30BG gang to gifting a million naira each to him, and then he'd opened up the request to music-making colleagues he'd helped secure a hit song.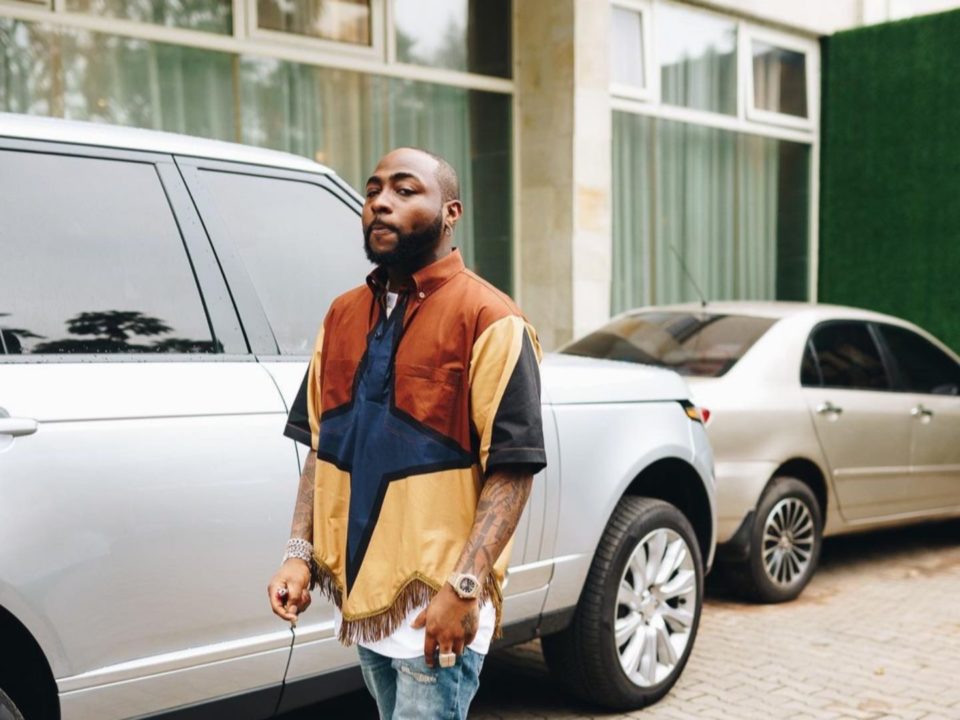 This call to action soon became a challenge of funds that had all of the Nigerian social media in a frenzy as friends of the star from all walks of life showed out with cash gifts from a million naira upwards and to the amazement of Davido himself, he amassed the sum of 40 million Naira within an hour. The sum has since tripled and continues to increase while attracting a profusion of reactions on the internet to help contextualize the Davido 1m challenge, here's a list of Nigerian musicians that sent him money with speculated and stated reasons behind their gesture;
List of Musicians that Donated 1Million to Davido and why:
1. M.I Abaga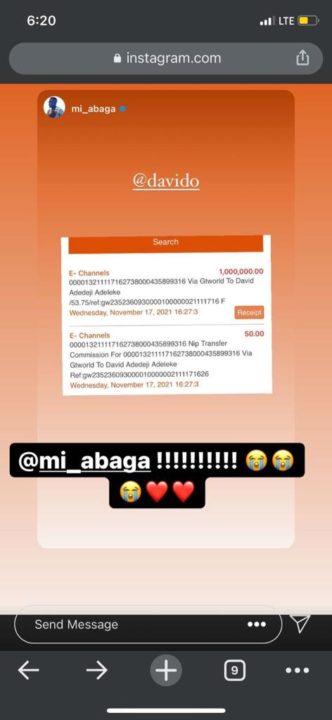 ALSO READ: It's Davido's Birthday! Here are 5 Times He Was A Man of the People
One of the first musicians to grant Davido's request, the latter's display of surprise and joy encapsulated the surprise Nigerians felt seeing the receipt as the two artistes are yet to put out a song together, nor have they been captured at a recording session together. Never one to shy away from a conversation, the rapper and label executive opened up on reasons for gifting Davido a million naira, stating that a hit song from Davido was worth more and he was simply shrewdly paving the way for a hit song with the megastar. He then concluded his explanation by stating that Davido's Fia, is one of his favourite songs. Safe to say then that M.I served as the representative of cash-strapped Nigerians who also love Fia.
---
2. MC Galaxy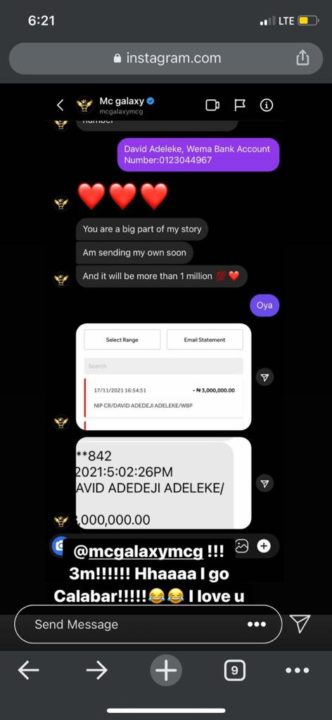 Davido's 1m challenge has been made several times juicier by his transparent approach where he not only continues to update us on his gains which are currently to the tune of N161m but also because he thanks his gifters openly. So several viewers were surprised to find out that MC Galaxy had sent the singer not one or two, but three million Naira!
Two plus two however equals three million given the backstory of Davido being a cornerstone in MC Galaxy's success story; The former had made his chops as a dancer, standing out in Iyanya's Kukere and Your Waist video and then rose to fame after winning a dance competition convened by Davido where he took home a large sum of money.
The Davido and MC Galaxy story did not end there as afterward, the dancer pivoted to making music, breaking out with the Tspize-produced hit, Sekem. Tspize had also been instrumental in getting Davido a hit song as he produced and wrote Aye so there's every possibility Davido was instrumental in linking producer and singer.
ALSO READ: Here Are the 10 Most Followed African Musicians on Instagram in 2021
Davido was soon visibly involved in MC Galaxy's career with their Shizzi-produced Nek-Unek collaboration and with a history of gratitude-giving where he gifted Tspize with a Benz, showering Davido with N3m seems just about right.
---
3. Chike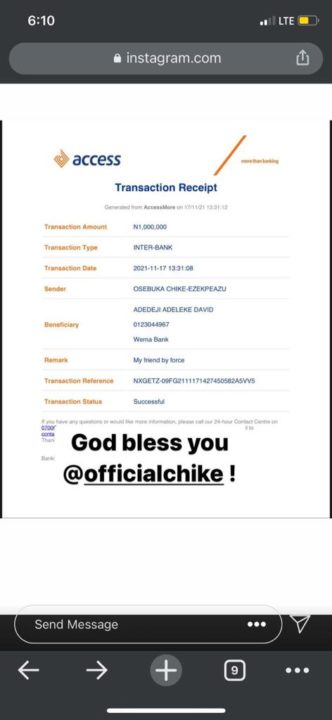 While we're all collectively thankful for the internet and social media and the role they play in helping connect us with people of like minds and interests, to eventually befriend them after going through the motions of what we know as 'famzing,' we've now been initiated into a new method of brokering friendship thanks to the translation remark on singer Chike's N1m gift to Davido which read 'My friend by force.'
A guest-thrilling favorite, Chike had also once performed at Obi Cubana's mansion who is not only another mega spender but a friend of Davido, so the two singers probably became close acquaintances that day, and what better way to strengthen friendships than by lifting them up with cash gifts?
---
4. Don Jazzy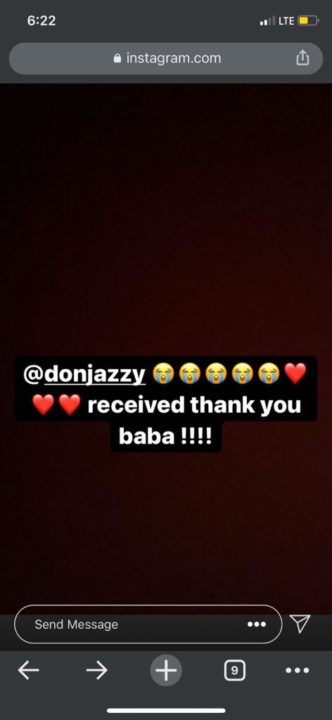 Back in December 2017, Davido gave Nigerians a gift in form of a long-awaited on-stage reunion of members of defunct Mo'Hits group and so we'd seen Don Jazzy share a stage with former label mate and co-founder, D'Banj as well as other members such as Wande Coal and Ikechukwu.
The Davido-orchestrated reunion was even more beautiful given the fact that he had learned the ropes of the music industry under the wings of the Mo'Hits legends.
It's safe to say that the DMW label boss has also since his days as a fresh act on the scene earned the respect of Don Jazzy with whom he's also now a fellow music executive. Ironically, Don Jazzy's birthday comes five days after Davido so his act of kindness is sure to bounce back into his coffers.
---
5. Pasuma
A Fuji music icon that has remained relevant over two decades and more, Pasuma's Amen song with Davido may not have been a hit record, but was definitely one for fans of both singers.
April this year, Davido had also made it rain with N1000 notes on the singer while he gave a live performance and one thing about Davido, he's far from a lighthanded sprayer, so Pasuma's N1m cash gift is a classic case of tit for tat, do me I do you.
---
6. Zoroswagbag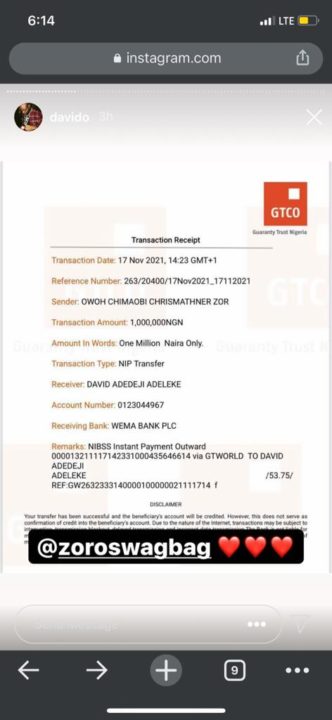 Back in 2019 when Davido had made a world record by being the second African act to sell out London's 02 Arena, he had not taken the venue by storm all by himself but did so with an array of musicians from his DMW crew among others. Zoroswagbag had been one of the acts to perform at the show, representing his Igbo heritage by performing with a beautifully costumed person on stage. This might not have been the beginning of Davido's relationship with the rapper, but it must definitely have been a highlight and past a well-worded tweet Zoroswagbag had made in appreciation of the platform, the king of highlights definitely deserves his requested gift as a sturdy way of saying thank you.
---
7. Teni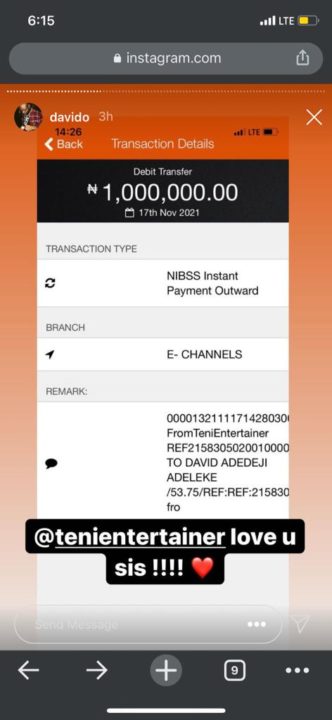 Not too long ago, Teni put out her debut album, Wondaland, made up of 17 tracks, Davido was the only featured artiste and he'd narrated how she'd literally run after him to get his attention and request that they work together. Both fun and bubbly persons, the artists also refer to themselves as if siblings, so it checks out that Teni sends Davido the requested money. After all, siblings thrive by billing siblings.
Coincidentally, his 'sister', Teni was appointed a Wema Bank ambassador in 2019 and by all indications, it's about to be a family business as the financial institution is keen to meet the singer after generating a lot of traction for them via his inactive account which has rapidly swelled since the beginning of the challenge.
---
8. Teezee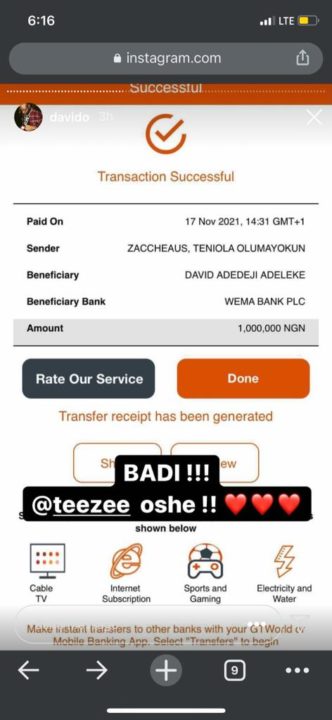 Teezee and Davido recently put out an Afropop single, Badi with a colourful video brought to life with a lot of beautiful women only befitting of a link-up between the Fresh Prince of Lagos and the Omo Baba Olowo. But the duo goes way back with Davido having graced the cover of the second issue of his magazine, Nativemag which he co-owns with Seni Saraki.
Ergo a cash gift of a million naira is simply an exchange between two baddies, nothing much to see.
---
9. Bella Shmurda
On Upgrade, the outro of his debut EP, High Tension, Bella Shmurda had given a shout-out to Davido-- 'Davido do do do'. It soon proved to be a prophetic call as the two singers collaborated to make Fade, the second to last track on Davido's A Better Time which currently sits on 700k streams on Spotify alone. So while it's not entirely a hit song, it definitely helped Bella Shmurda's portfolio and it's only fair he in turn lifted Davido's net worth by a million Naira.
---
ALSO READ: Ranked! Davido's Collaborations on 'A Better Time' From Worst to Best
10. Ckay
When Davido premiered La La featuring CKay, fans of the latter had been overjoyed as it was a long-awaited co-sign of the young star's talents. CKay is now a global act so shelling out 1m which Davido has likened to the average man's urgent 2k for a well-used pedestal is definitely money well spent and shrewd Igbo instincts well-dispensed.
---
11. Fireboy DML
An uber private star with fans that love him deeply regardless, it's hard to decipher the relationship Fireboy has with Davido who effusively thanked him upon receipt of his 1m cash gift. But we also recently saw proof that the singer has ties with Davido's label signee, Peruzzi, beyond their Southy Love collab, via a hilarious tweet where he quipped about having profited off Peruzzi's name and had no qualms shelling over money for his losses over a round at FIFA. DMW being a close-knit clan, it's not untoward to assume Fireboy is in that light, also friends with Davido.
And a friend that doesn't give you cash gifts, is that one friend?
ALSO READ: Here are the Top 10 Highlights of Davido's Career
---
12. Rema
The Rema and Davido bromance is also one with little publicity with the moments they both shared headlines being fraught with controversy. First, there was a time rumor were peddled that Davido had slapped Rema backstage at a concert. This was soon debunked when the rabble-rousing source admitted to having lied about it. With Davido himself expressing displeasure via a response to the tweet. There was also that one time they both endorsed what was later discovered to be a fraudulent Ponzi scheme company, Racksterli so they went from being co-endorsers to being jointly criticized and this experience probably brought them closer with Rema shouting Davido out for his groundbreaking wins with Fall. Well, brothers in arms stick together, so fair enough that Rema makes a million Naira fall on Davido.
---
13. Phyno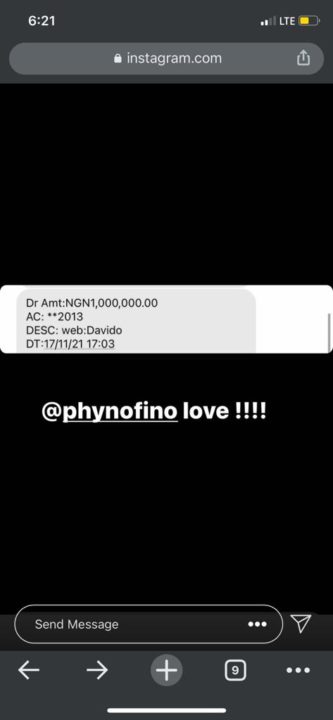 Davido has since the success of Fall and Fia, heavily dabbled in Eastern Nigeria-inspired sonics with highlife cadences, and gong-like percussions that put the listener in the mood for sweet palm wine and cool evening breezes so when he assisted the Enugu-bred native of Anambra, Phyno on Ride for You, it had been so well received, it became the standout track on the rapper's Deal Wit It album. The two artistes have also been co-collaborators multiple times with other artistes after the success of Ride For You.
So in short, hit for airwaves one million for bank account.
---
14. Peruzzi
A DMW top member and an obvious close friend and associate of Davido who rose to fame after being signed to the record label and the success of his collaborative effort on 2Baba's Amaka hit, Peruzzi giving Davido a cash gift of N1m is nothing out of the ordinary as he falls under the first category of people tasked to the money challenge; DMW crew members. They've also worked on several songs together and to paraphrase Peruzzi, the cash gift is only the beginning.
---
15. Larry Gaaga
A music executive, songwriter, record producer and business mogul with two successful songs with Davido, from Doe which had the airwaves in a chokehold in 2018 and the rousing Doubting Thomas, Larry Gaaga was simply giving to Caesar what Caesar demanded by giving Davido his requested cash gift.
ALSO READ: Davido's Quest For Perfection; A Good Time vs. A Better Time, the Review
---
16. Naira Marley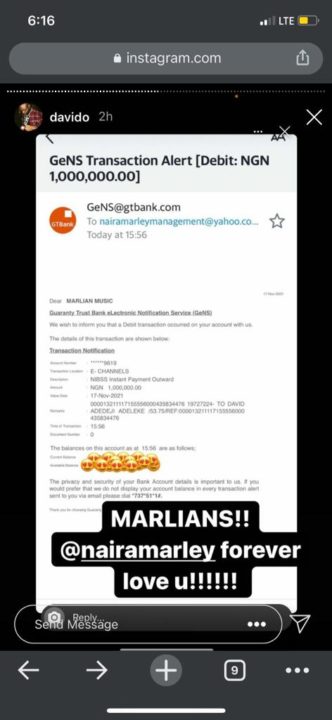 Davido's Sweet in the Middle with Naira Marley on the roster of featured acts was the smash hit we didn't know we needed which gave us a glimpse of the suit and tie-side of Naira Marley, both label bosses, the singer had gifted Davido his cash gift via his Marlian Music company, one through which his label signee, Zinoleesky had partnered with Mayorkun who is now Davido's former label signee for the remix of Kilofeshe. Just a little business mixed with pleasure, nothing more, nothing less.
---
17. Patoranking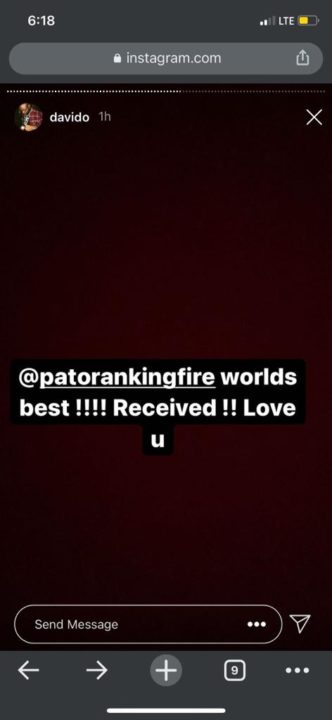 Patoranking's Davido-featured Confirm was very much a hit back in 2019 when it was released, amassing 11 million views alone via its official video on Patoranking's channel, the singers have enjoyed a cordial relationship ever since with a cute friendship between their daughters Wilmer and Imade, so it was only acceptable that the birthday money was confirmed.
---
18. Focalistic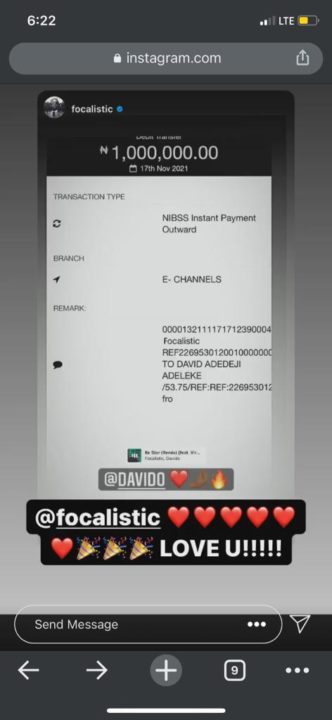 This Friday, the airwaves are about to be hit with Champion Sound, a new song that Davido and Focalistic have been teasing in clubs all over Lagos, and by every indication, it's set to be the second hit borne from the South-African and Nigerian crossover.
A million naira is 38k South-African Rands, definitely nothing to a champion hitmaker like Focalistic.
---
19. Victor AD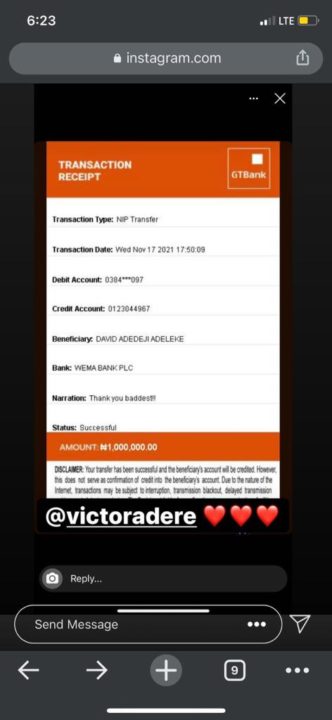 In 2019, Davido featured on Victor AD's Tire You. It was the singer's next hit after Wetin We Gain and served to cement his place in the industry. Then six months ago the path of the two acts had crossed after unfounded allegations were made that Davido's Jowo was Victor AD's song and had been wrongfully acquired. Victor AD was quick to clear the air, stating that he never made any such claims and that the latter deserved to enjoy his then ongoing 10-year anniversary as a musical artiste.
The cash gift of N1m from Victor AD was definitely a testament to the fact that he gained plenty from his record with Davido and that there was no bad blood whatsoever between them.
---
20. ECool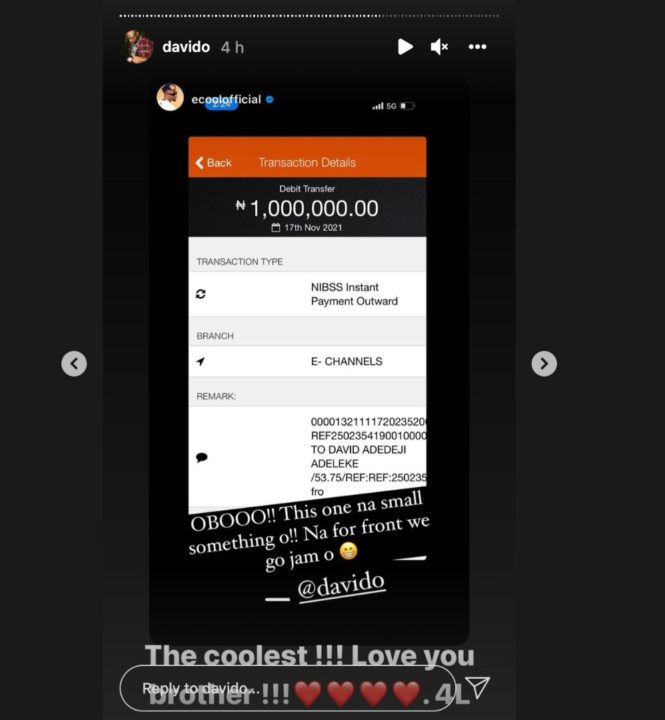 An affiliate of DMW and friend of label owner, Davido whom he featured on Ada, a love ballad that rocked the airwaves back in 2018, it's only fair the DJ paid Davido his birthday dues and put his money where his music ties are.
Davido's Davido 1m challenge continues to grow with the megastar re-asserting his status thus by leading the trend tables with insane numbers while his goodwill-fattened bank balance grows with even more impressive figures as more friends, colleagues, and fans of the star continue to show their love and respect for him with cash gifts of different currencies and indeed it's safe to say that there is progress to be made by lifting others.