Robert Sanchez takes a new jersey number at Chelsea
SHARE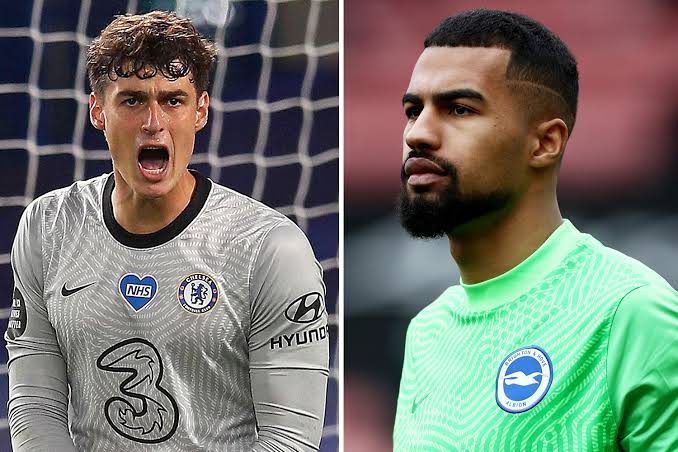 Goalkeeper Robert Sanchez gets a new jersey number at Chelsea in the absence of Kepa Arrizabalaga and Mendy.
Questions on the future of Kepa at Chelsea have been raised as the recently signed goalkeeper from Brighton, Robert Sanchez, has been given a new jersey number at the club.
Spain goalkeeper Kepa  Arrizabalaga completed a loan move to La Liga giants Real Madrid on a season-long loan deal from Chelsea, but questions as to if he would still make a return to play for Chelsea have been raised as the newly signed goalkeeper Robert Sanchez, has been awarded the number one jersey by the Blues.
Robert Sanchez, who spoke about his move to Chelsea, shared his thoughts when he revealed, "It's one of my favourite stadiums. Obviously, Stamford Bridge has the history and the legend that it has created. I just want to be part of that,' said Sanchez, before discussing his first time training at Cobham. It's an amazing training ground. I've never been to this part before, but I had been to the Academy side once; in my first year at Brighton, when I was in the Under-18s, I played against Chelsea. I think it was my only time here, but it was 10 years ago so obviously it's changed a lot. But my impression is that it is an amazing training ground, great facilities and nothing less than you would expect for a club of this size. I started my career here in England really. Brighton provided me with everything I needed as a goalkeeper, inside and outside the pitch, to get the maximum potential out of me. I'm really happy and thankful for that, now it's another bigger challenge, and I'm ready for it."
Kepa also shared his thoughts on his loan move to Real Madrid, which many believe was inspired by his desire to play for the Spanish national team. He shared that he hopes he plays well enough for Real Madrid to retain him.
Read the Latest Sport Trends and Get Fresh updates as they drop via Twitter and Facebook
Related