Arsenal host Liverpool at the Emirates today, January 20th 2022, for the second leg of the Carabao Cup semi final fixture. There are key points to take note of ahead of the game.
After playing a goalless draw at the Anfield stadium, Arsenal host Liverpool at 8:45pm today at the Emirates Stadium and hope to get a result from the fixture.
As it is known, both Arsenal and Liverpool have players out of the squad as a result of AFCON 2021, COVID-19 and also injuries, but the fact remains, the squad depth of both sides would go a long way in influencing the fixture today.
Current Squad Information
Arsenal
Although the captain of the North London side, Pierre-Emerick Aubameyang, is back in England, he still remains unfit to play in today's fixture. As a result of AFCON 2021, Thomas Partey, Mohamed Elneny, and Nicolas Pepe are also still out.
Arsenal midfielder Granit Xhaka still remains suspended as a result of his red card in the first leg of the tie.
In his press conference on Wednesday, January 19, 2022, Mikel Arteta indicated that his side still have "issues" ahead of the semi final clash and he refused to give any hint in regards to his probable line up.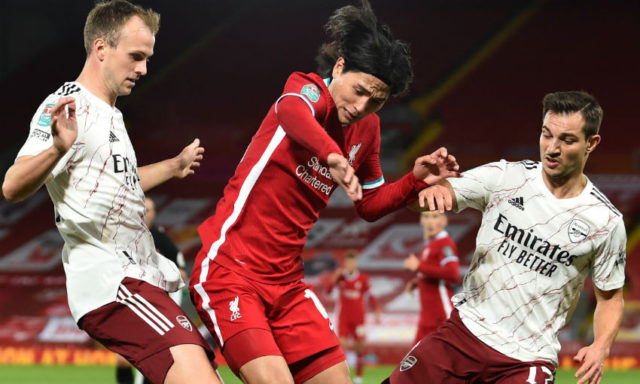 Liverpool
Mohammad Salah, Nabi Keita and Sadio Mane are still out of Liverpool's squad as a result of the AFCON 2021 tournament.
Liverpool's Divock Origi, Thiago Alcantara, and Alex Oxlade-Chamberlain have all been ruled out of the fixture today. The Liverpool stars are currently out injured.
#MUNARS: Match Preview: Manchester United Vs Arsenal
Stats That Could Make A Difference
It might be shocking to believe, but Arsenal have never lost at home in a League Cup fixture against Liverpool. They have won 3 and drawn 3 of their last 6 meetings in the tournament. The last time both sides met in the competition was in October 2009, and it ended in a 2-1 victory for Arsenal.
Liverpool have lost the second leg in each of their last three semi-final fixtures in the tournament. They lost by a goal to nothing against Chelsea (2014/15), Stoke (2015/16) and Southampton (2016/17).
In the last 17 matches that Arsenal have met Liverpool, they have won just one of the last 17 meetings.
Under Jürgen Klopp, Liverpool is the only club to have scored 43 goals against Arsenal in all competitions.
My Take
Arsenal's missing players have not been regular starters for the team, except for Thomas Partey. Even though we are still uncertain about the players out due to COVID-19 and injuries in the Arsenal squad, fit players like Saka and Smith-Rowe can make a difference for the Gunners.
Liverpool still carries the forward threat of Firmino, Minamino, and Jota. They created numerous chances which they failed to convert in the first leg. Klopp's men would just be worried about converting their chances and keeping the key players of Arsenal at bay.
We hope history doesn't repeat itself in this tournament, but we see a 2-0 win for Arsenal today.