DJ Ernesty unlocks the visuals for "Get Up" featuring Yoyo Michael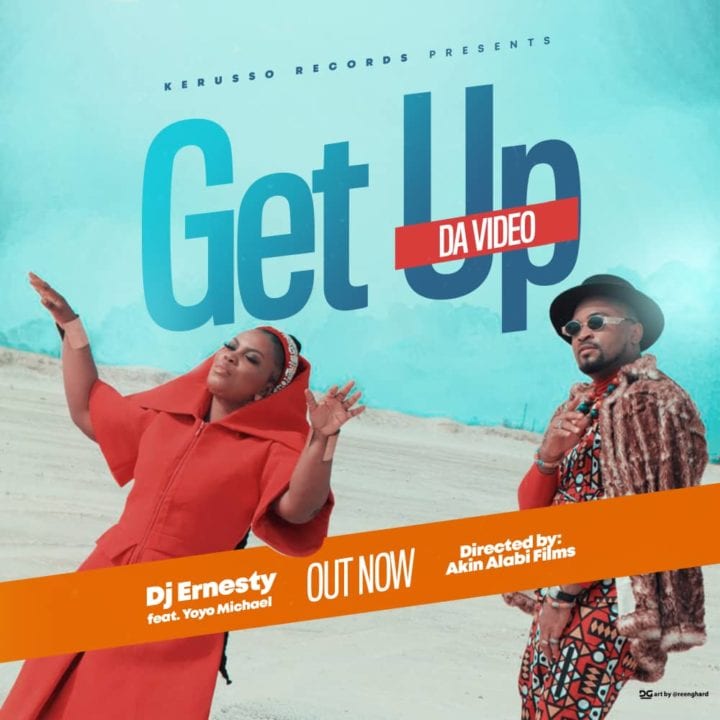 DJ Ernesty has released the highly anticipated visuals for the hit trending dance single, "Get UP" featuring Gospel Artist, Yoyo Michael.
Produced by Drey Beatz, DJ Ernesty is back with the captivating video to the amazing song of thanksgiving and praise to God. The video was Directed by Akin Alabi Films.
DJ Ernesty is one of Nigeria's gospel music disc jockey (DJ), whose vision is to take the gospel to the mainstream with anointed sounds and lyrics that get people on their feet in high praise party!
Watch the Official Video for "Get Up"
See Also: Yoyo Michael returns with new dance single, "Jirie"
MORE ABOUT DJ ERNESTY
Ernest Esekhile, also Known as DJ Ernesty is An Ace Gospel Music Disc Jockey from Nigeria, He is One Of The Most Sought After Christian Music Disc Jockey in The World, His Mixtapes and Music Cuts across Genres and Cultures with a Vast Knowledge of the Gospel Music Scene all around the world.
He is A Radio DJ with his show #KEEPINITGOSPEL making waves across numerous radio stations in Nigeria and Globally, His Specialization On Gospeℓ Music with Excellence Singles Him from the Crowd and His Aim is to take Gospeℓ Music to the Mainstream and Create Dynamism In The Gospeℓ Music Scene.
He has Performed On the same Stage with Elites in the Gospel Music Scene from Nigeria and Globally.
CONNECT ON SOCIAL MEDIA
Instagram/Twitter: @djernesty @yoyomichaels
Facebook: http://www.facebook.com/djernesty1
Website: http://www.djernestyworld.com
LYRICS FOR GET UP
Ehhh
I go by the Name DJ ERNESTY
And HONESTLY
Drey Beatz
Lets Go
Lets Go
Jiroghene Awhore
(praise the God that owns it all)
Ke ware no rukome
(for all the things he has done for me)
Jiroghene Awhore
(praise the God that owns it all)
Ke ware no rukome
(for all the things he has done for me)
Get up
Get up now
Jiroghene
(Praise Our God)Get up
Get Up
Thank God now
Jiroghene
(Praise Our God)
Wa Kparo ma gbe
(get that body up and dance)
Kparo ma ra kparo ma gbe
(i said get that body up and dance)
Wa Kparo ma gbe
(get that body up and dance)
Kparo ma ra kparo ma gbe
(i said get that body up and dance)
Wa jirie EH
(praise him)
Wa jirie EH
(praise him)
Wa jirie EH
(praise him)
Wa jirie EHHH
(praise him)
Kparo 'ode rie kperu oye awhore
(lift his Name high, he is the all sufficient God)
Wa jiroghene ke me ware no ru igbunu
(Praise him cos he has don miraculous things)Get up
Get up
Get up now
Jiroghene
Get up
Get up
Thank God now
Jiroghene
Wa Kparo ma gbe
(get that body up and dance)
Kparo ma ra kparo ma gbe
(i said get that body up and dance)
Wa Kparo ma gbe
(get that body up and dance)
Kparo ma ra kparo ma gbe
(i said get that body up and dance)
Wa jirie EH
(praise him)
Wa jirie EH
(praise him)
Wa jirie EH
(praise him)
Wa jirie EH
(praise him)
Wa jirie EH
(praise him)
Wa jirie EH
(praise him)
Wa jirie EH
(praise him)
Wa jirie EH
(praise him)
Common
On Your feet
Give God Praise
On Your Feet
Give God Praise
Common lets go
Give God Praise
Common
1 2 3
Lets go
To The Left Common
To The Right Common
On Your Feet urrhhh
Push em Up
To The Left urrhh
Lets Dance Common!
i Go by The Name DJ Ernesty
And my Gurl Yoyo
push em up
push em up
lets go
ehhh
its Your no1 praise party jam
Lets go
Lets go
ehhh