Skepta Reveals the Advice Wizkid Gave Him on His First Time as a Father
British rapper, Skepta has revealed that his friend and Nigerian superstar singer, Wizkid once helped him with advice when he became a father for the first time.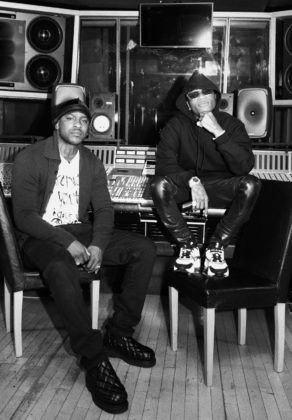 Wizkid and Skepta spoke to Native Mag on the occasion of Fathers Day in an interview published on Saturday, the 19th of June 2021. Skepta shared that fatherhood is a game-changer in many ways. He explained that he and Wizkid have always been the people that others look up to. The rapper said that it feels good to have someone who is your blood now looking up to you. In his words;
How comes I keep taking on that position? But I get that [now]. We're just blessed with that kind of energy and we're always going to look after people because of the way we've grown up; it was hard. We come from mad places, if we can give to others, we will. So with the fatherhood ting now, it's just a blessing in the sense that at least every time I step out of my house, if I'm staying in the studio till stupid o'clock, I can look and know that it's for someone that's my blood.
Wizkid also explained that giving birth to his first child at a young age meant he had to grow up really fast. He said everything about him changed from when he gave birth to his first son;
I had my first child when I was 21, so I kind of had to be 30 years old immediately. Fatherhood just puts everything into perspective. We're young, we're all moving fast in a world where you're just trying to create your own lane. You don't really know where everything is going to go, so when your kid comes, you realise that this is the essence of everything, you know? From the first time I got that call that I was having my first son, I changed the way I move, the way I hustled. Everything changed. That was when I actually started putting everything together. Before, I was just all over the place – with niggas, in the studio, [in] hotels – mad life. But when you get a kid, that's the blessing, it's just in front of you. It helps you man; it changes you and everything.
READ ALSO: Wizkid & Skepta's Single 'Energy (Stay Far Away)' is BRIT Certified Gold
Skepta also revealed that Wizkid was one of the people that advice him when he gave birth for the first time, being a father himself already;
Obviously Wiz was a father before me innit. I remember when I was finally having my daughter – you can probably hear her in the back –  he just told me "you've got it." You feel like when you have a child, it's going to stop your money, it's going to stop your swag, it's going to stop the way you move. You worry that you're going to turn into a parent, the same parent that you've had on your nerves this whole time. But I remember him telling me "you got it, you're still going to be you, just a super-version of yourself." That was one thing I remember, if we're talking about advice, I remember him telling me "you got it."