Mino Music Rewards Winners Of 'Song Of Glory' 2019 Contest
SHARE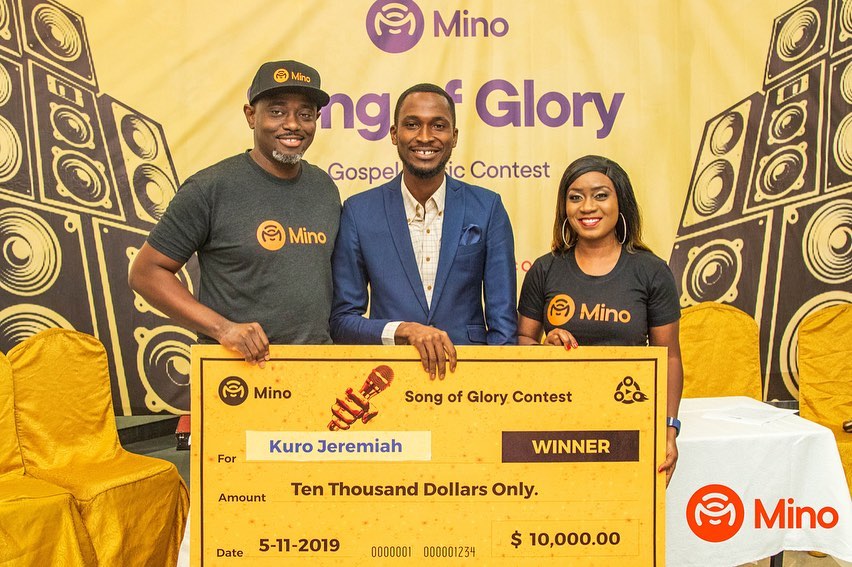 On Tuesday, the 5th of November, the team from Mino Music officially presented the prize money to the 5 winners of its first-ever gospel music contest, "Song of Glory" at a press conference in Oriental Hotel, Lagos.  This music contest which was open for gospel artistes was an offspring of the rebrand of Mino Music from Mynotjustok. 
Present at the press conference were members of the press, the Founder and CEO of Notjustok Inc; Ademola Ogundele, Nigerian gospel artiste and Notjustok Music editor Nikki Laoye, all five winners of the contest and some industry figures.
The 5 winners who were selected after a strict process of sieving through about 1000 entries across Africa are; Olayemi Lajuwomi 5th place won $500, Emmanuel Owoicho 4th Place won $500, Kenneth Okpor 3rd place won $1,500, Maxwell Rock, 2nd place won $2,500, and Kuro Jeremiah who took the grand prize of $10,000. 
Speaking about Mino Music 'Song of Glory' Contest and the future of Gospel artiste in Africa, Ademola Ogundele stated that while the gospel industry could arguably be the biggest music genre in Africa, it is the least commercialized and monetized and there is a great need for that to change. He went further to state that;
"The music business has changed from 5 years ago where Nigerian artistes depend solely on live shows. Now artistes are plugging themselves into the streaming platforms that are making billions of dollars a year and lucky for us, Afrobeats music is now globally recognized and diaspora is listening and paying for the content. This is something the gospel industry should also tap into... spread their music on these various monetizing platforms available including Mino music."
The Mino Music Song of Glory Contest was done to encourage and empower upcoming gospel artistes and while the winners have been financially empowered, with gratitude they all shared their various inspiring journey throughout the competition and how such a contest in gospel industry is an encouragement to many of them who believe they don't get the deserved attention.
Nigerian gospel artiste and Notjustok Gospel editor, Nikki Laoye who was present at the press conference talked about the great support she had received from Notjustok since the beginning of her career also laid strong emphasis on the need for Gospel artistes to promote their songs rather than always waiting for churches to call them as special guests to perform as that is not a sustainable way for them to grow.
Check out clips and pictures from the event.
About Mino Music
On the 15th of November, 2018, Africa's leading music entertainment blog, NotJustOK, unveiled a massive rebrand of their beloved music streaming platform, formerly known as MyNotJustOK, to a modern and more user-friendly streaming service called Mino Music.