COVID-19: Adekunle Gold Questions Price of Test in Nigeria
Afro-pop sensation, Adekunle Kosoko known professionally as Adekunle Gold has questioned the price of the Covid-19 test in Nigeria.
Adekunle Gold took to his Twitter page on the 4th of January 2021 to ask a question that many have wondered about regarding why the price of getting tested for COVID  is on the high side in Nigeria.
He wrote; "Why is covid test 50k here?"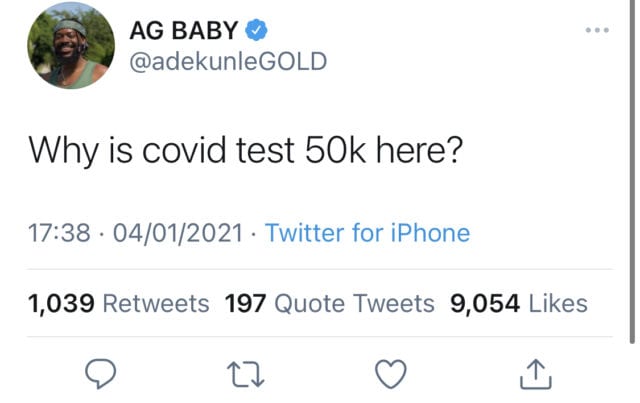 This question got fans reacting as some clearly state why a COVID test worth 50,000 Naira will not work in a country like Nigeria where minimum wage is presently not up to that amount. According to a Twitter user, "I have not seen 10k it's 50k I want to use for covid test."
These responses only show that many Nigerians, even while showing symptoms might not seek medical professionals to conduct the test as their financial situations might not be able to afford such expenses.
STAY SAFE. WEAR YOUR MASK. COVID IS REAL!!!
Get More Updates  from Notjustok via Twitter and Facebook