Check Top Reactions To Wizkid's Visuals for 'Ginger'
Following the release of the visuals for 'Ginger' by Wizkid featuring Burna boy, reactions have began to pour in. Opinions regarding the video has continually surfaced online.
The official video for 'Ginger' was released on the 8th of January 2021. The video was directed by Meji Alabi and shot in London.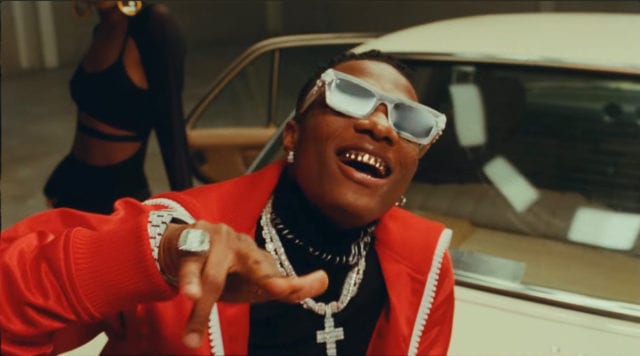 The video has been positively received by fans and it's gone on to be one of the trending topics on Twitter. A video consisting of Wizkid and Burna Boy is going to get people talking and sharing their opinions on how well they delivered. We'll take a look at some of these reactions below;
Singer, Orezi singing praises of the video and also have a word of praise for the video director;
Wizkid's ginger video toooo smooth !!! Meji Alabi ain't slowing down mehn

— MR RAGGAMOFIN (@iamorezi) January 8, 2021
Singer, Johnny Drille had some words of praise for Wizkid's dance steps in the video;
Wizkid's dance in his new video is so smooth!

— Johnny Drille (@Johnnydrille) January 8, 2021
A Twitter user talking about having the "Eyo masquerade" in the video;
Wizkid snuck in Eyo masquerade in that ginger video just to remind y'all that he's made in Lagos.

My king 👑

— Seyifunmi. (@Seyi_OG) January 8, 2021
A Twitter user emphasizing on Wizkid's ability to turn things into gold;
I just finished watching Wizkid's Ginger Video & I gotta say that anything Wizkid touches turns to GOLD.

— Peng Man 🔥 (@pengmanmodel) January 8, 2021
A Twitter user amazed at the use of diamonds to play 'oware';
Wizkid and Burna Boy playing a game of "Oware" with diamonds in the music video for "Ginger" is a major flex 💎 pic.twitter.com/WkAT1uJpVe

— Unorthodox Reviews (@OfficialBlog_UR) January 8, 2021
A Twitter user in awe of Wizkid's and Burna boy's ice flex;
Wizkid and Burna showing them out it's done without making too much noise. Ginger video alone is doing the talking. Ice on the neck, Ice on the wrist, ice with the game, good music in the discography. I love to see it 😍

— OLAMIDE 🌸💖🌸 (@Olamideofficial) January 8, 2021
An elated Twitter user who feels the video deserves an award already;
January is just starting but Wizkid and Burna Boy have already given us the best video of the year 🦅🐐🦍🔥🔥🔥

Ginger video is clean asf. Wow pic.twitter.com/cPpLU6g1kl

— Edmund 💉 (@EdmundOris) January 8, 2021
A Twitter user full of praises for the models and fashion gear used in the video;
Ginger video is everythiiiiing 🖤 🔥from the drip to the beautiful melanin queens 🔥💯 Wizkid has done it again! Proud FC💪

— Siah Lusiah Wangú (@Siah_Ayo) January 8, 2021
A Twitter user talking about Wizkid's positive outlook in the video;
I'm watching the "Ginger" video, and this Wizkid guy looks like he hasn't let anything stress him since 1994.

— Wole (@Kingwole) January 8, 2021