6 Ways The Twitter Ban Affects the Nigerian Music Industry as We Fight to #Keepiton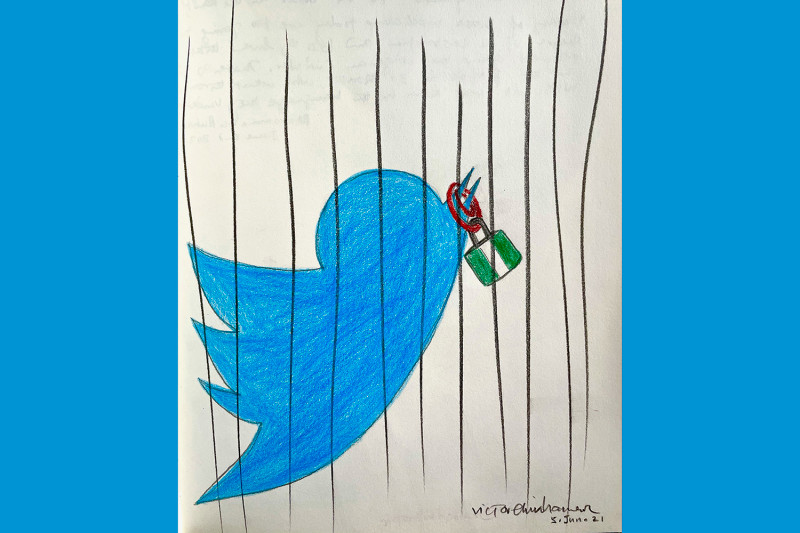 Despite being birthed by a country with more retrogression and problems than progress and actualised solutions, the Nigerian music industry has achieved a great deal. Single-handedly putting the country on the map for great things and good news, unlike many other sectors, Nigeria with sights on Lagos, has come to be known as the African hub for creativity and good music. Talents from the country have not only successfully and independently exported their craft but have reached the global pinnacle while playing the field with megastars making the world spin to their tunes. 
Sadly, the long-reaching arm of the kakistocratic government has with their decision to ban the social media app, Twitter in Nigeria, taken a stance that affects practically every young person that uses the internet and by so doing, the Nigerian music industry. 
Here are 5 ways the Twitter ban affects the Nigerian music industry in the worst-case scenario, and why it is important we fight to #keepiton:
1. Twitter Ban in Nigeria and how it affects music promotion
We've all witnessed our favourite musicians create a buzz for their upcoming projects on Twitter either via rant or by simply sharing snippets or stating so. This stage is followed up with exciting updates that keep fans on their toes till release day when the music community collectively digs in while reacting online with GIFs, tweets, and hot takes. 
In fact, during the pandemic, this cycle gave most of us life as it brought up fresh content to dissect and piece together. We also saw Choc City star, Blaqbonez get his first hit song following his hilarious #streamHaba campaign that won many Twitter followers over to his fandom and continues to. 
This fan-targeted cycle of music promotion and the experiences it offers said fans have now been threatened and diminished by federal government's Twitter ban in Nigeria. 
ALSO READ: From Blaqbonez to Don Jazzy, Here Are the Funniest Nigerian Musicians Guaranteed To Make You Laugh
2. Up-and-coming acts
If there's one app that isn't SoundCloud or Audiomack that puts people on to new and promising up-and-coming acts for free, it's Twitter. 
Thanks to the app's media-sharing features, popularity and usefulness in starting conversations on any and every topic, it has through retweets and likes, been an indisputable force in granting independent up and coming acts a platform to grow their fanbase and reach sponsors.
Some such beneficiaries of Twitter stardom are Dandizzy who went viral following videos of his freestyling to any prompt, Boy Spyce who's now 23 thousand followers strong and Mizzle who just released a song with Oxlade. 
I made a cover to @wizkidayo and @temsbaby ESSENCE⚡️ pls RETWEET and leave a comment?❤️ #boyspyce pic.twitter.com/kXmBhLTZLq

— BOY SPYCE (@BoySpyce) March 24, 2021
With the Twitter ban in Nigeria, other up-and-coming acts stand to lose a vital crutch to lean on with less hope to amplify their talent. 
3. Conversations about Nigerian music
Essentially, Twitter is a social media application that revolves around the opinions and thoughts of its users and as a result, become the hub for pushing discourses and creating conversations. Due to this, Twitter topics were introduced to the platform to create a space whereby issues commonly tweeted about are easily aggregated for users who are interested in the discussions to add to them and follow them. 
One of such topics that were introduced to the app includes the Afrobeats one. Under this, tweets from Nigerian musicians and tweets about them and their music have been accumulated for easier viewing. 
This feature helps to bring Afrobeats closer to the world as it shows it's a relevant conversation in music but granted the recent suspension, not only would Nigerian users of the app have been reduced due to accessibility to a VPN app, it could in turn affect the power of the topic and other relevant ones that push Nigerian music so much. 
4. Bridging the gap between fans and artistes
Social media has done a great deal in bringing artistes closer to their fans and in the most organic way too. For this, Twitter is one of the best platforms and a more certain place to get a response from your favourite musician on a question concerning them. 
At times there are question and answers sessions or tweet chats and now Twitter Spaces to hop on an audio session with them and discuss. Or you could just catch your fave in a good mood where they're willing to lower their celebrity or have a giveaway. 
All of these endear fans to an artiste and in turn, increase their brand equity and propensity to relevance in the game. However, this cycle is now being threatened as a result of the Twitter ban by the Nigerian government. 
ALSO READ: #AskWizkid; Wizkid Reveals Plans for Starboy World Tour and More
5. Show promotion
Just the other day, we watched with delight and secondhand fulfillment as Wizkid sprayed the Okorie brothers who make up The Cavemen band at their show in Ghana. 
The brothers have come a long way and had successfully created a trail of surreal live shows where they performed their well-received debut album, Roots. 
These shows had first sprung in cozy spots on the island and had cost N5,000, selling out quickly after word was put out via a tweet with a link to the ticket vendor. 
In their gradual rise, we see how artistes exponentially increase their brand image and how Twitter proved instrumental to show promotion in the Nigerian music industry. 
As shows begin to pop up following the gradual easing of the lockdown, artistes and show promoters need every avenue to create awareness on these events. The power Twitter held in this area has sadly now been reduced. 
View this post on Instagram
6. Twitter ban in Nigeria and how it affects content creation
Besides following our favorite artistes on Twitter to keep up with them, music lovers also follow platforms that create music-centered content to keep conversations flowing and promote the latest works in the industry. 
These accounts also intimate us of the latest milestones achieved by our artistes. 
But in a time where it's been outlawed by the government to share information on Twitter, there's no telling how things will go for such content creators. 
As it stands, the federal government has given conditions to be met to see to the restoration of the app in the country but things remain uncertain as it shows further restriction of the media.
P.S: Some attached links may not load as they lead to pages on the now-banned Twitter app. This in itself is another way the Twitter ban affects the reach of content in Nigeria and further highlights the importance of the fight to #keepiton.