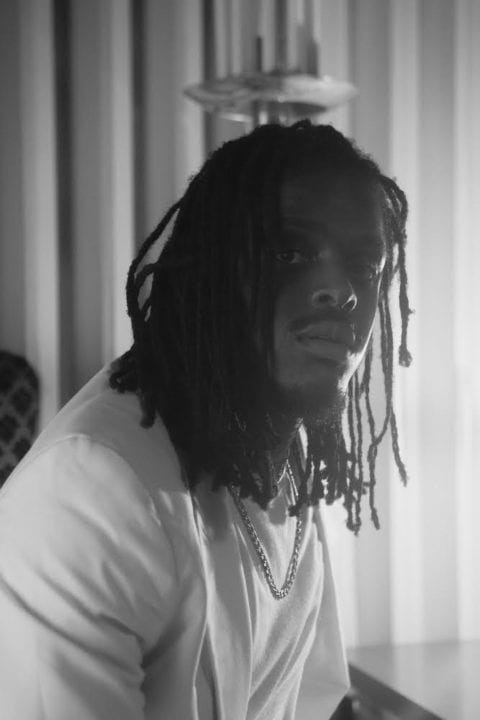 When Tomi Thomas performs, he does that with such high energies, it would not be remiss to say one witnessed a transcendence of melodiously spiritual heights that would carry even unto the camera. 
For Notjustok, I met the man behind the enchantingly haunting songs done up in rhythmic afro-tunes with melodies leaning towards soulful reggae. A first of physical interviews for me, it also bore a level of vulnerability that spoke on how he as an artiste could find the grit to make music as soulful as he does. A somewhat underground tastemaker of the sounds that now move the Afrobeats conversation and the yearning for African-created pop, forward, Thomas had begun to establish this aura since his debut a decade ago with music collective, LOS (Loud On Sound) as one of a group of four; Zamir, Bris B, and Bridge.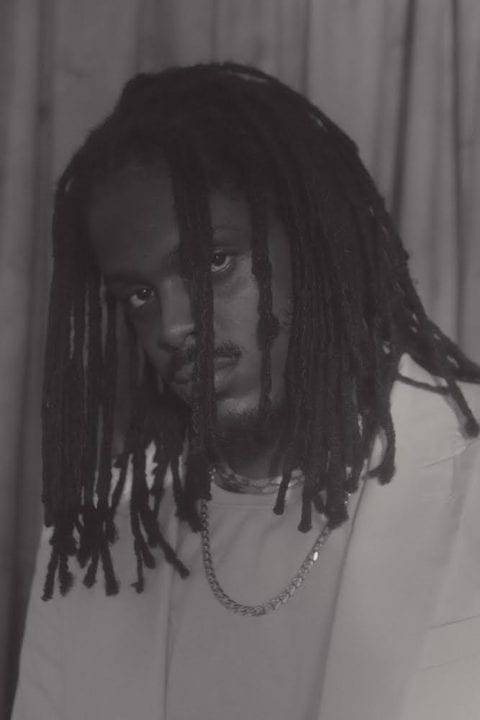 I also happened to have caught up with the singer at the very moment he is certain the globally-bound airwaves are about to bend to his tunes which some have perceived as an acquired taste. Sharing on his continued passion for making music, the singer who unequivocally stated that his sound is too soulful to be bound to a genre, also spoke for creatives the world over who do not take full credit for their craft, merely seeing themselves as a portal for those talents. Read as Tomi Thomas speaks on being a vessel and how this connection has helped him to relentlessly channel the soulfulness he puts into his records.
You released Again just recently, before that was Hopeless Romantic, was that your way of stating that you're fully back in the scene?
Hopeless Romantic was me saying 'this is who I am and what I love to do, so take me who I am regardless of the past and the future. This is who I am presently and I'll like to share it with the world.'
ALSO READ: "I've Always Been Ahead of My Time" Yung L Speaks to Notjustok About His Yaadman Kingsize Album
Does this mean that as Tomi Thomas you make lover boy music and that is the brand? 
I make music depending on how I feel. If I'm in the lover mood, I'll make music off that feeling and if I feel like killing someone-- which I rarely do, I'll also do same. It just depends on how I feel and to me, love is the most pivotal of emotions and a positive one as well. I'm all about positivity and making sure people feel love so there definitely will always be songs about love. 
Do these releases also mean there's an album on its way? 
Yes. Right now I'm focused on an EP, the Hopeless Romantic EP which will be coming out sometime in June. So once that is out, I have albums ready. 
Would we see you go back to rapping? 
I write all my verses as rap but it's not something I've done in a while. So unless I'm trying to challenge myself or do a rap song with a rapper, I'll do that. 
It's something I internally and privately craft but it's not my forte in terms of showcasing it to the world. But if I am performing, I do rap when I perform. 
You've been around for quite a while, how does it feel to be one of the people who informed what is now the sound of the new age in Nigeria? 
It's a beautiful experience to be honest. I'm really happy with how everything played out because I was even talking with my brother Lojay about this cause we've been making music professionally and otherwise for the past 10 years since we were teenagers and to be able to have created an environment where the kids then could be taken seriously to some degree and to also still be in it and be in an energy of pure potentiality where anything can happen with anybody at any given time and to feel like I'm not at the end of my rope because I still feel like I've more or less been gathering momentum to execute my purpose of why I'm here, so I'm excited to see what the future holds and I feel privileged and honoured to be a part of the movement that started back in 2008/2009 with my brothers LOS and pushing that forward for everyone that's creating music. 
Given also that your style is alternative, would you also consider yourself as a pioneer of the alté sound? 
I wouldn't call myself alté. I love and support the movement but I am not an alté artiste. I would say I make amazing music on a global stage and not just as a representative of kids from Lagos. For me, there's more reach even though there are similarities. 
ALSO READ: Amaarae, the Apple Music Africa Rising Artiste, is Finally Getting Her Flowers
Where would you say you are mentally and creatively?
I'm in probably the best place in my life. I'm at a place of peace. I'm excited. There's this electricity in the air for me and it's like I'm just curious to see what's going to happen because at the end of the day everyone has their own opinion and perspective of what you should do and what you haven't done and how you should. 
But at the end of the day, how do you feel about what you've done? Does it make you happy? 
Because if you go down the route that everyone wants you to, would that give you happiness? 
I'm very happy and content and I just know there's so much more to do and we're going to keep creating. 
There have been several shifts in the music scene, would you say now that the Nigerian music market is ready for Tomi Thomas's sound? 
To be honest, I really do feel like it's time. I was talking to my brother and he's been with me on the journey before I even started taking it this seriously. For him to see me being punished for singing in class to LOS to videos on TV to clubs in Dubai, and he's like "thank God." So it's beautiful to be here, creating what we're creating and I believe everything is going to be fine. 
As one of the three of the LOS group, what was it like working on Tribe the EP?
It has been a while since all four of us had been together in a studio, it was beautiful. We linked up in my house, I told my brothers to pull up so we could create some music and we did it and put it out by ourselves. 
That to me was one of the most beautiful decisions we made in the last 10 years. And it has nothing to do with whether it gets a billion streams. It's just the essence of bringing LOS back for a moment and put it in a song. Because songs are time capsules, they're moments that have been captured, and to capture that despite the battles and challenges to get in the mood, was amazing. And they're some of the best records that dropped in 2020 and in 10, 50 years from now those songs are still going to be good. When people go back to reference them, they're going to see that these guys, they knew what they were doing. That's the most important thing. 
How do you see your sound from this point on in the next couple of years?
Well in the next 20 days, I'm going to evolve into me. I'm currently closing a chapter that's been open since 2016, I haven't dropped a project in 5 years and I'm still here and I can still say I'm happy with my music. 
So I'm going full circle now. It's a 10-year journey, David(o) is celebrating his 10-years and we were doing music with him so equally, I am celebrating my 10 years. This June I'll be dropping my first project in a while so it's a real celebration and I'm blessed to have been in this for 10 years. 
It just means I can close the old books and I can really look forward to creating some new art that I'm excited about. 
Despite your long break from doing projects, you've been doing a lot of collaborations, was it deliberate?
It was deliberate. I planned to do lots of features. At the moment I have like thousands of unreleased records and more but it's not about that, it's about what I feel and how I've evolved from the last time. It's one thing to be consistent and another to consistently grow because you can also consistently fail.  And for me, I want to consistently showcase that I'm evolving and getting better at my craft, at singing, writing, delivery, and performance. It should be able to map it out over time from when I did Magic to the Hopeless Romantic EP, you should be able to go back, listen to all these songs and be mind-blown like "Wow, this guy couldn't do this before." So that growth is the most important thing. 
So collaborations have helped you grow?
They help me expand and work with artistes I think are really cool. I haven't done a record with anyone I didn't like or like their skills or because I was paid for it. 
For everyone I've collaborated with by heart, it's a learning process, if I have anything that is of value that I can share with them, I'll love to bring that to the table and it's also about spreading the love to their fanbase and vice versa. 
I took out time from 2017 to really work on collaborations like "I'm not putting out any Tomi Thomas music for the next year."
Where would you say you found the energy to do so because collaborating, you have to match energies. 
It's deep. There are a lot of people that have egos and think they know ball. We're all learning and no one knows what's going on at the end of the day. 

So it's getting in a room with someone and feeling the energy. I've been in the studio with a lot of big names, and I got into the studio with one and I was like, "I'm not going to do this song." I don't care if you have 10 million followers, I should be able to feel good energy with you.
Given how long you've been around for, how have you been able to find the energy to keep pushing?
That has to do with passion and choice. I believe one had a lot of ups and downs generally in life and it boils down to me opening a restaurant. In 2014, I had a distribution company.
Did you ever come to a point where you thought you weren't going to do music again?
That's the thing I've never thought that thought before. No matter what I've done, I wake up in the morning and I want to sing, it's just there. 
I spoke to my cousin, Boogus and he works very closely with Russ who's a big artiste in the US and literally, we've been talking to ourselves and making music together for 10 years and their journey started from manifesting and creating and the universe coming together and we used to have conversations about making music. 
But talking to Russ and Boogus, we came to the realisation that we aren't creating music we're discovering what is already there, being channelled through us.
So when we say we're creating music, it's an ego thing because it's not coming fully from you, it's still coming from somewhere. 
So you believe you're a vessel? 
Yes, that's it, we're just channelling from the source. The more inside of yourself you are, there are different veins that you can tap into to get different frequencies and melodies and I think the people whose high hearts is more in there have the ability to tap into the vein with the most potent energy and these are the people that when they perform or deliver, it's like it takes over you. That thing is a thing of focus and concentration, and just being willing to free yourself and let it control you. It's not me, it's God. 
Speaking of energies and inspiration, your sound leans on dancehall and you're inspired by Bob Marley, and seeing how nobody has your style of music, do you ever name your style of music?
Every time I'm asked this question, I always reference a conversation with my mom cause she asked a question "What type of music do you make?" 
I thought about it and I said to her "Mom I made good music." And she says "Yes it is good music but what kind of music is it?"
Then she made me explain it to her and I said "It's music that comes from my soul, to your soul." And she said to me "I know the type of music you make, you make soulful music. You know other people that made soulful music? Michael Jackson made soulful music. As much as he was the king of pop, his exclamations, it's coming from a soul. Even though it's pop, if it's RnB, if it's coming from a soul, it's going to connect to a soul. If it's coming from a place where it's just lingering, it's going to linger and fall off. But once it connects and you can feel it, you play it for someone else and it's the same thing that I got it from so we can all link up together. 
It's soul music from heart to heart. 
Any plans in the works?
Well I have visuals of Again out and it's doing really well right now and I'm really impressed. 
I also have a record with a Jamaican legend coming up next month.