Meet Co-producer of 6ix9ine's 'YAYA' - Ransom Beatz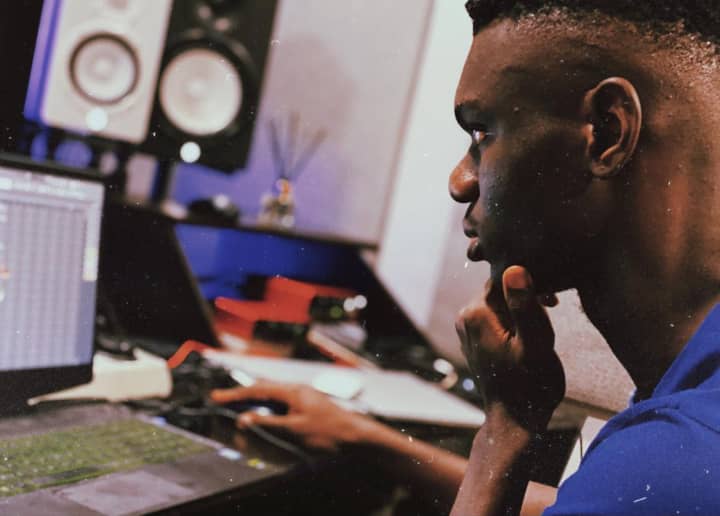 Meet Ransom Beatz, The Abuja-based Producer
NotJustOk interviews Ransom Beatz, a young Nigerian producer who co-produced American rapper, 6ix9ine's "YAYA."  
"Oh, sh*t..."
Ransom Beatz, an Abuja-based producer, said those words in excitement. It'd been a regular day, he was surfing Instagram, when he checked out a mention. There it was: the familiar sound of a beat he'd produced, sung on by infamous American rapper 6ix9ine.
A native of Edo state, John Iyinbor, 23, started producing from the early days of secondary school –when he was 15 or 16 years old.
I was very curious about music. Masterkraft was very popular back in the day and I watched him closely
Ransom Beatz says, mentioning Sarz as yet a major influence.
I was not really good with the production cos I couldn't play keys. I was so trash people were telling me I should quit music; that I should just focus on something else. Even when I went to university (University of Wessex) in my foundation, I quit music for one year. I met my friend who did music, he came to my room and he told me I should play some of my beats. He spoke to me about where I needed improvement and encouraged me to continue. That was when I began trying to perfect my sound. I started getting better in my second and final year. That's when my beats started getting stronger and stronger, he said.
Today, Ransom Beatz has a YouTube page with 50k plus subscribers. Tapping into that digital world of trade, it takes some ingenuity establishing friendships. For instance, the placement he got on 6ix9ine's "YAYA" was co-produced by a Moroccan producer, Ramoon (who specializes in moombahton and reggaeton beats), who was asked to go over the production –Ransom wasn't satisfied with what he'd made, and felt it could be better.
Both producers go way back:
I was always making beats on YouTube, then I had like 20k subscribers; Ramoon had, was it 12k subscribers... So I hit him up, that I liked his stuff and would love to work with him and he was like 'Sure.' So I sent him 3 beats for him to finish up. Then he was heavy into Reggaeton and hardly did Afrobeats, so I encouraged him to do so. I learn a lot from him, and he also learns from me. Apart from music production, we're like brothers.

When I was back in the UK [in 2019], I was in my room on a Sunday (cos I was working a lot); I and Ramoon made 6 or 7 beats that Sunday. The track on 6ix9ine's 'YAYA' was the last beat we made for the day. I was just going through some samples I had and I picked one and I was flipping the sample, flipping it. And I flipped it so hard I came up with that melody. At the same time, I wasn't sure about the melody so I sent it over to Ramoon, and that same day, he sent it back to me. He sent me the seven beats and I heard that one (on 'YAYA') and I was like Bro, you snapped!
On how the "YAYA" beat got to 6ix9ine:
Some weeks ago, around 11, 12 midnight, I was very tired, I'd slept off. Ramoon hit me up like 'Bro, we got a placement with an artist.' I didn't know who it was. I was just scrolling on Instagram and I saw somebody tag me on 6ix9ine's post and then I saw it. And I was like 'Oh, sh*t!" This is where the placement went to; it's crazy. I didn't even know how it happened –everything was from Ramoon's side.
On his favourite artist to work with:
The current artist I love vibing with (the most) is Runtown. I met Runtown when I was in University. I made 'Goosebumps' by Runtown; he was always advising me, teaching me stuff regarding production and how the industry works. Even when we're coming up with ideas, he's always on point –I would just be playing some things and he'll be vibing. We have chemistry, me and Runtown.
On the YouTube space for producers: 
You have to be consistent with uploading cos of the algorithm and everything. How I name my beats on YouTube is like, Type Beats. I'm always posting and there's the store where I sell my beats, and a lot of people get placements from there.
Advice for producers using channels like YouTube to put out music: 
I know the journey is very hard, but still carry on. You can never know when you'll hit it. Even, I'm still shocked I got a placement with Ramoon on 6ix9ine's track. Like, if I wasn't on YouTube this wouldn't have happened. 
On what's next: 
I just got some stuff finished. I and Ramoon are still working on some beats, for YouTube and if possible some other future works. When we finalize everything we know what to do, with planning and all that.
Ransom Beatz has productions available for sale on  Ransombeatz.beatstars.com