"Burna Lo Help Stormzy": Here's What Contributors to 'Twice As Tall' Will Be Getting from the Grammys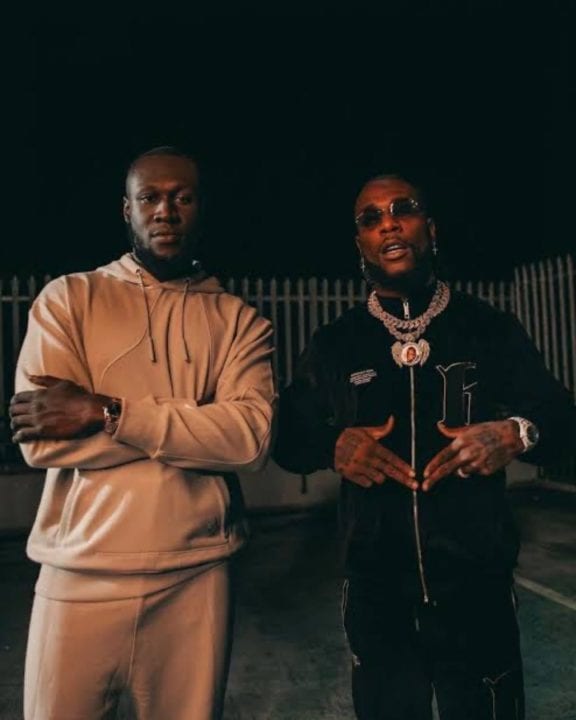 'Burna lo help Diddy, Burna lo help Stormzy,' all tongue-in-cheek sayings to discourage Western imperialism, which mean 'Burna helped Diddy and Stormzy', are remarks made by Burna Boy fans on Twitter following the release of his Grammy-awarded album, Twice as Tall. In truth, they'd been made as far back as the early hours of 12th of August, 2020 when the Diddy-produced album was released and prior to his Grammy win. 
ALSO READ: Will Burna Boy Bring Home The Grammy? Take a look at the 4 other nominees
Now following Burna Boy's victory at the 63rd Grammys, where he became the first recipient to cart home the award for the newly Best World Music Album, and in the process secured a win for Nigeria as the first Afrobeats artiste to win an award for his album, the earlier referenced sayings; 'Burna lo help Diddy' has been given extra credence on a global scale as a result. But will Diddy and Stormzy be getting plaques? 
ALSO READ: Burna Boy Wins A Grammy Award for Best world Music Album
"Twice As Tall" Album Contributors and What They Get
Here's a list of all the artistes and producers who contributed to the making of the Twice as Tall album and a breakdown of how they've been 'helped' by Burna Boy due to their participation:
Youssou N'dour
With one Grammy award gotten 16 years ago for his Egypt album under the Contemporary World Music Album category, and two nominations prior, N'dour will be eligible for a certificate of participation and not a Grammy statuette for his feature on the opening track of the album; Twice as Tall. This is due to his involvement falling below the stipulated 33% mark. The certificate of participation costs $75 dollars and will however only be gotten if N'dour applies for it with proof of participation in the creation process of the album. 
---
Sean 'Diddy' Combs
Diddy together with Burna Boy's mom, worked on Twice as Tall as an executive producer of the album and in fact, Diddy was seen saying the musical project was good enough to be entered under the Best Album category. Despite this, Diddy will not be adding to his first Grammy award gotten in 1998 as executive producers are not eligible for Grammys. But considering the fact that voiceovers from him were used on the album, perhaps some concession might be made for him to get a certificate of participation as well. 
ALSO READ: Diddy Declares Burna Boy's & Twice As Tall 'Album of the Year' | WATCH
---
Naughty by Nature
 Childhood favourites of the Grammy-awarded Burna Boy, they came together to make an eponymous track after themselves. They however will not be adding another Grammy to the one they got 25 years ago, as they're also only eligible for a certificate of participation. 
---
Chris Martin
Nominated himself for a shot at Best Album with his band, Coldplay, Burna Boy's win served as his only win of the night but can only get him a certificate of participation as well and not a Grammy statuette. 
ALSO READ: #Grammys: "This is a big win for my generation" - Burna Boy | Watch
---
Sauti Sol

The Kenyan pop band who have become constant collaborators with Nigerian musicians and a staple sound for album making, got their debut at the Grammys through Burna's nomination and could get a certificate of participation for their part on Time Flies as well as for getting production credits on same track. 
ALSO READ: Diddy Opens Up, Says He's Blessed To Have Worked With Burna Boy
---
Stormzy
Big Michael as he refers to himself has indeed made his mark on the UK music scene and the world at large with several awards from heavyweight award shows but none from the Grammys. Well, his part on Real Life has brought him closer to the Grammy stage and upon application, could earn him a certificate of participation. 
---
LeriQ
Since the early days of Burna Boy's reign on the Nigerian music scene, we've been conditioned to expect nothing less than a masterpiece whenever we heard Burna Boy's vocals on a LeriQ-watermarked song. That synergy has now hit it big time as thanks to LeriQ's production work on 4 out of 15 tracks namely, Level Up, Way Too Big, No Fit Vex, and Monsters You Made, he could be up for a statuette if other input such as mixing, mastering and song composition for the songs he was credited for are considered. If not, his production work may be viewed at 26% and make him eligible for a certificate of participation. 
ALSO READ: Grammy Awards 2021: See Reactions To Davido's Congratulatory Message To Burna Boy & Wizkid
---
Telz
A young and fresh act who came to limelight with his production work with Burna Boy, Telz is about to get more shine as he has strong indications of getting a statuette or Gramophone for producing 5 out of 15 tracks on Twice as Tall. These tracks include Wonderful, Onyeka (Baby), Naughty by Nature, Wetin Dey Sup, and Real Life. Telz also got songwriting credits on the album and this solidifies his claims to a Gramophone. 
Rexxie
For his producing and songwriting credits on Bebo and Comma respectively, the Zanku music producer is up to get a certificate of participation for his works. 
---
Other producers with credits on the album eligible for a certificate of participation upon application include DJDS for Level Up, P2J for Alarm Clock, Skread for 23, Andre Harris and Sauti Sol for Time Flies, and Jae5 for Bank On It.
Congratulations to everyone involved in the creation process of Burna Boy's Twice as Tall, it really does take a village. We also hope to see more wins from the entire Nigerian music scene and more instances of our artistes 'helping' others.
Related