Adekunle Gold The Evolution: Retracing His Steps From Being the Baby to Being the Daddy
SHARE
The early hours of 2021 has seen quiet a number of birthdays come and go in the constantly growing Nigerian music scene. We've celebrated different artistes, with different ages and years in the music industry as well as diverse sounds. Today the 27th of January, Adekunle Gold, the one skilled at organic musical evolution, marks his birthdays as he goes down as one of the artistes who reserve a special seats in our hearts in the first month of each year.
Let's take a walk down musical memory lane and in honour of Adekunle Gold's birthday, retrace these steps he's taken towards his recent evolution since he decided to sing to us:
1. Two years before the breakup of one of the biggest boy bands in the 2010s, One Direction dropped their mega hit, Story of My Life. It had spread to every corner of the world and down in Nigeria, a certain Adekunle Kosoko had heard it and caught the flame of inspiration to create his sample version of it, Sade. Sade with it's blend of native and new strains, had in turn caught the ears of Nigerians. And that had introduced the music scene to the sounds of Adekunle Gold. It also earned him a nomination for Best Alternative Song at the Headies Awards. 
2. After Sade, realising the need to cement the foothold he'd gained, he left his job as a graphic designer and signed a deal with three-year old Olamide-owned YBNL. Prior to that, for his ballsy photo tricks with Tiwa Savage, he'd been dubbed King of Photoshop. Ironically then, his link to YBNL had been of the visual kind and he'd designed the label's official logo as well as designs for the artistes of the label. 
3. A year after his signing, in 2016, he released his debut album, Gold. A true introduction to his Sunny Ade and Ebenezer Obe-inspired vibe, we were served with a full platter of sound that consisted of highlife and pop. It was a blend we were new to but the novel sound was well delivered and on the path of listeners, it was well received. In fact, it did so well that it debuted at number 7 on the billboard World album chart.  
4. Off his Gold album, several songs on it became pop ballads for everyone and he got a nomination in the Most Promising Act of the Year Category at the 2015 City People Entertainment Awards. 
5. He eventually left YBNL in 2016 after his contract expired but he didn't stop rising in the industry there. He unveiled his band and went on to capture our attention with story-laden tracks such as Orente, Pick Up.
6. Just as Adekunle Gold's sound continued to catch on and evolve, so has his style. In December 2017, he held a close-knit live concert where he not only wowed his audience with his vocals but his alternative fashion style as well. It was a clear hint of the versatility of Adekunle Gold and he was a hot topic for days.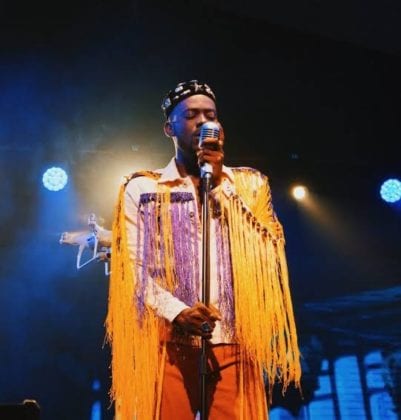 7. The next year, he marked his coming of age with an album, About 30 where his themes moved from rejection to that of coming into fame and favour.
8. Early in 2019, he married long time beau and colleague, Simisola Ogunleye in a private affair and unlocked ultimate lover boy status as well as power couple status as he and his wife have constantly regaled fans with their display of affection.
View this post on Instagram
9. That same year, he started to lean more towards pop lines and committed his skills to melding more pop with his highlife leanings. Infectious love songs like Before You Wake Up, and Young Love were birthed at this stage of his career and hinted at further evolution as well as the power of love. 
10. Adekunle Gold's evolution came full circle in 2020 when he dropped his Afropop Vol. 1 album. It was his third album and for many, his best work yet and no one disputed when he was asserted that he had attained daddy status. This was Adekunle Gold at the height of his career with a thriving family life and a style that he had perfected and trademarked. Therefore the album left a stamp on many and even won him new fans.