#WorldCupQualifiers: Nigeria vs. Ghana; Player Updates, Head-to-Head And Predictions
From the battle of Jollof on social media to the battle of wits on the football pitch, here are key statistics you should know ahead of the #WorldCupQualifier fixture Nigeria vs. Ghana and why it has been a significant rivalry over time.
Ahead of the #WorldCupQualifiers fixture between Nigeria and Ghana, here are key details every football lover should know ahead of kick-off on Tuesday, March 29, 2022.
The Super Eagles of Nigeria and the Black Stars of Ghana would be looking for redemption after playing a goalless draw in the first leg in Kumasi, Ghana and making shocking exits at the AFCON 2021 in Cameroon earlier this year
The match in Kumasi had not lived up to the expectations of many as both sides played a cagey game from kickoff to the final minute of the game.
Players Update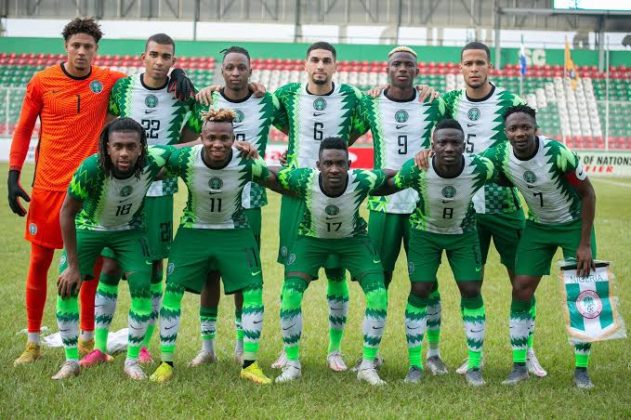 Super Eagles Of Nigeria
The Super Eagles of Nigeria interim technical director Augustine Owen Eguavoen confirmed that the Super Eagles of Nigeria would be focused on securing a victory over the Black Stars of Ghana in today's fixture.
It is however uncertain if some key players would be available for the national side ahead of kickoff after being confirmed to be out injured.
Wilfred Ndidi has been ruled out of the qualifiers after picking up a serious injury while playing for the Leicester City club. The number one goalkeeper Maduka Okoye also missed the first leg of the fixture to illness after arriving at the camp in Abuja.
However, Nigerians are concerned about how much and how big of an impact this is ahead of the #WorldCupQualifiers.
Black Stars Of Ghana
However, the Black Stars Of Ghana have a full squad ahead of the fixture at the Moshood Abiola Stadium in Abuja, Nigeria with no injury worries. Key players that participated in the shocking AFCON 2021 exit would be looking to turn the ties and change the story in this fixture. The team coach also confirmed that he was not under any pressure ahead of the game and that his team are focused on the game at hand.
Head-To-Head
It is not shocking to see that Ghana and Nigeria have faced themselves in a total of 57 matches following the first leg of the world cup qualifier match across football competitions from friendlies to cup competitions and so on.
What is however shocking is that in the 57 meetings since 1950 Ghana has won 25 of these meetings while Nigeria has won just 12 of the last 57 meetings leaving the draw at 20.
Total Number Of Matches: 57
Ghana: Won: 25; Lost: 12; Draw: 20
Nigeria: Won: 12; Lost: 25; Draw: 20
Prediction
It is hard to predict such a tough fixture but a possible draw in this fixture is eminent looking at the strength of both sides.
Nigeria 1 - 1 Ghana.
Get updates as they drop via Twitter and Facebook