Declan Rice Worth More Than £100m - West Ham's Coach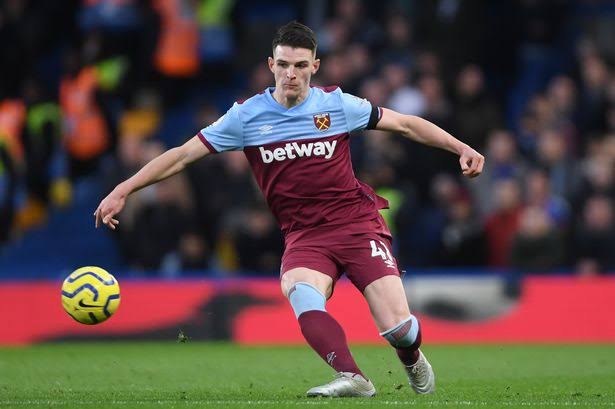 West Ham United's assistant coach, Kevin Nolan has insisted that the Hammers would not sell Declan Rice cheap. The midfielder has been on the radar of clubs in the past seasons.
READ ALSO: MARCOS ALONSO CONFIRMS HE WON'T BE TAKING A KNEE AGAIN
Nolan insisted that the 22-year-old English midfielder worth over £100m in the latest transfer market, according to reports from Goal on Tuesday, September 21st, 2021.
Manchester United and Chelsea were interested in signing the player, but the valuation placed by the London side is a let-off for both clubs.
When you watch him play, he just seems in control of everything. For me, he's going to get better. Putting a price tag on him. I wouldn't sell him for £100m.

When you're in the room with Declan Rice, you know you're in the room with Declan Rice, but he doesn't make you feel uneasy. He's one of those kids who wants to learn, wants to get better, always willing to take advice on, always willing to try and get better and want to get better.

The biggest thing for me as a coach is he listens to me, he respects me for what I've done, but I feel that this lad can go on and I feel he's already done more than I have in terms of England appearances, being in Europe and things like that.

He's going to keep going because of his athleticism. He trains every day; he wants to train every day, he can hit it from one side of the pitch with his right foot or his left foot.

He can run with the ball, he's got everything that you possibly wish for as a footballer and would he's got a good footballing brain where he's done it with England, he's now learning how to control games.
West Ham fans will hope the club will keep Rice during the January transfer window, as it is reported that he will not renew his contract when it expires in two years.
Related