Brazilian Footballer Physically Assaults Referee During Football Match
SHARE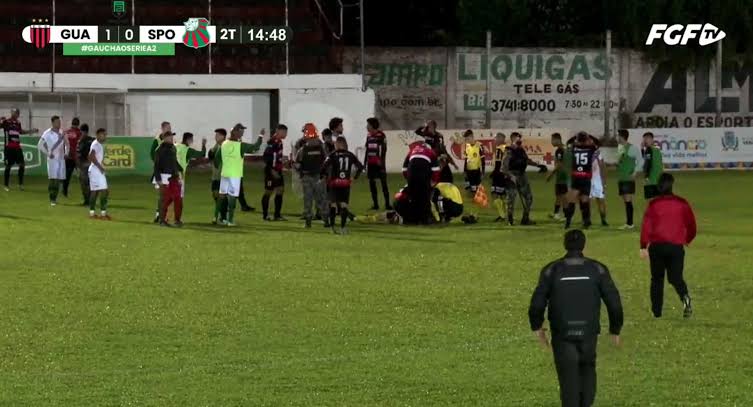 The Police have arrested a footballer in the Brazilian lower league identified as William Ribeiro, for physically assaulting a referee during a football match. According to reports, the culprit attacked Rodrigo Crivellaro just shortly after Sao Paulo conceded the opening goal after 60 minutes of play.
READ ALSO: KYLIAN MBAPPE SPEAKS ON POSSIBLY RETIRING FROM THE FRENCH NATIONAL TEAM
The footage from the game showed Guarani's players calling for medical help after the referee was left unconscious on the pitch. It showed that the incident occurred after the referee awarded a free-kick against Ribeiro's side. The Police arrested him after the incident.
Crivellaro has since regained consciousness, according to reports in Brazil. According to reports from Mirror Football on Tuesday, October 5th, 2021,  Sao Paulo RS has also released a statement after the incident.
Unfortunate and above all revolting. On the exact day when all the red-green family gathered to celebrate the 113th anniversary of Sao Paulo RS, our club faced one of the saddest episodes of its history, a fateful scene that shocked all people who love only Gaucho football but all those who just love the sport in general. We are sorry and deeply ashamed. We send all the apologies in the world to the battered referee and his family, as well as apologising to the public in general for the lamentable scene seen today.

The contract of the offending athlete is terminated. All legal measures about the incident will be taken.
The game was suspended after the incident, and the player is still with the Police.
Related