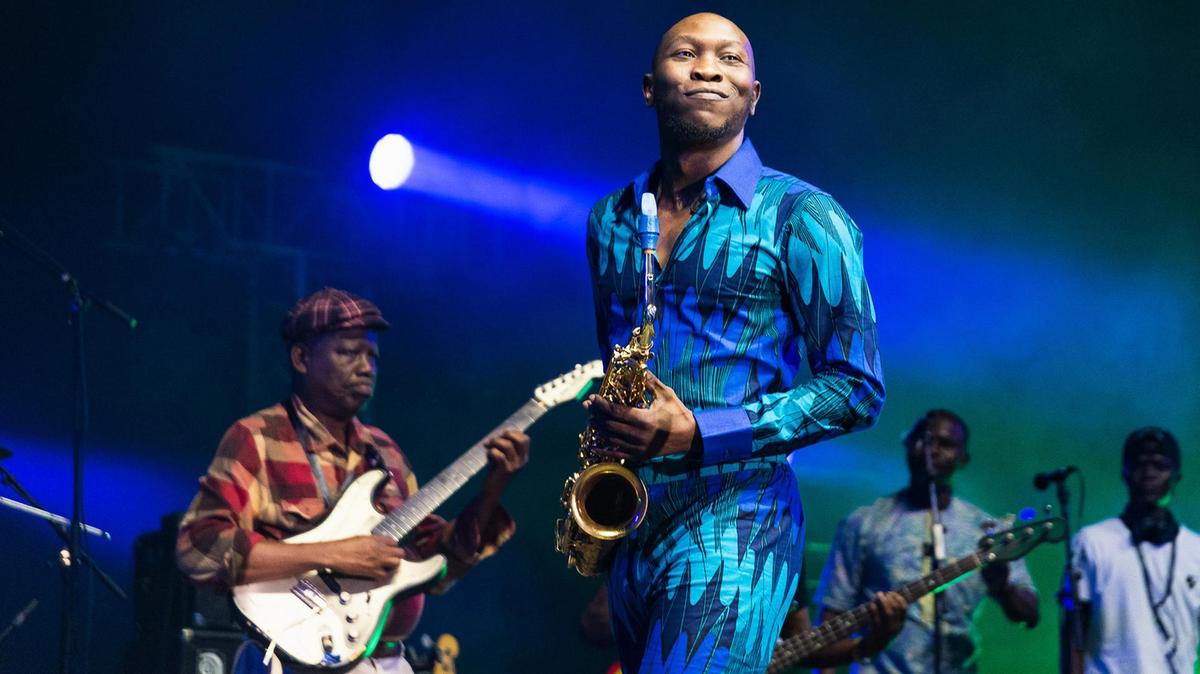 Veteran afrobeats musician, Seun Kuti has responded to the backlash over comments he made recently that he used to smoke weed with his mother.
Seun Kuti said he and his mother used to smoke weed in his room to hide from her own mother. His mother, Fehintola was the wife of late afrobeats legend, Fela Anikulapo Kuti. He made this statement on the visual podcast, Spill the Tea with the Abebes on Wednesday. the 11th of August 2021.
Seun Kuti told Moet Abebe and Nicole Abebe that a lot of myths about his father were untrue and he did not smoke weed every day. He said Fela smoked cigarettes more than he actually smoked weed. He also revealed that his mother used to hide out in his room to smoke weed when her own mother was around. Seun Kuti said;
My mom was smoking till she had me, she told me so. Smoking after she had me. I have pictures of me as a baby with her with joint in her hand. My mom, you know like, even when I started smoking, we used to smoke together. And the funniest times were like, when her own mom comes from Ikpotutu to stay with us and my mom's mom doesn't know my mom smokes.

So my mom has to run to my room to hide and smoke weed with me from her mom. So we are both smoking in my room, hiding from her mom.

So I'm saying to her, you know; go and deal with your mom. My mom knows I smoke. Go and deal with your problem. You are cramping my style. Please mom, go and meet your mom and explain.
READ ALSO: Nigerians Are Mostly the Perpetrators of Their Own Oppression - Seun Kuti | WATCH
His comments caused a bit of backlash from people who wondered why Seun Kuti should be revealing that he smoked weed with his mother. In his response, he says his comments were not out of place as his mother's smoking is very well documented.
READ HIS RESPONSE BELOW: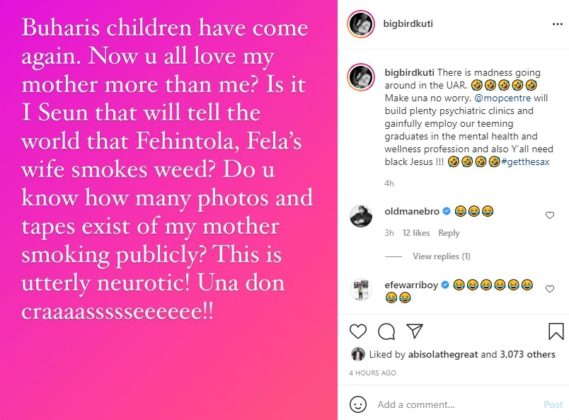 WATCH THE VIDEO BELOW:
Get updates as they drop via Twitter and Facebook