Tems Hits New Record On Billboard Hot 100
August 8, 2022 | 10:37 PM
Tems is back with another reminder that she's leading vibe and this time it's on the Billboard Hot 100 chart. Get the full gist of the story below.
Sultry new-age star girl and fast-rising global act, Tems has proved why she's the leading vibe yet again as she hits a new record on the Billboard Hot 100.
ALSO READ: Tems Hits Number 1 On The Billboard Charts | SEE DETAILS
The star unlocked this new height following the entry of Beyonce's Move, which she's featured on unto the Billboard charts. This development makes it the fifth song which Tems is credited on to hit the popular charts. It also makes her the only Nigerian artiste to achieve this as she surpasses a former tie with Essence collaborator, Wizkid.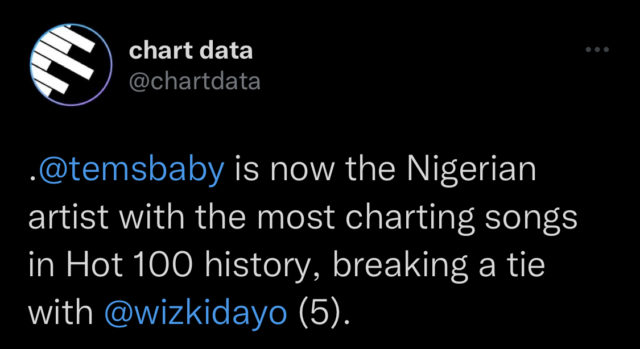 Other songs on which Tems is featured that have hit this mark include Free Mind off her debut EP, For Broken Ears, Drake's Fountains, Wizkid's Essence as well as Future's Wait 4 U.
Get updates from your favourite Afrobeats stars as they drop via Notjustok on Twitter and Facebook