"Olamide is the artiste of the decade" - Reactions Trail Olamide's Triller Chart
Popular rapper, Olamide Baddoo, took over the Twitter trend chart on the 3rd of June and the reasons are not far from the general perception of his craft and where he ranks among contemporaries, which qualified him as the Artiste of the decade, according to a fan
On Thursday, 3rd June, 2021, Olamide's most recent single, Rock, peaked number nine on Top Triller Global Charts, making him the only African artiste with a song on the chart. This generated a buzz around the talent of the YBNL boss as to whether he's underrated or not, with many tweeps choosing to pit him against his contemporaries on who is the greatest artiste.
This pushed Olamide to number one on Twitter trends in Nigeria as fans countered the fanbase of other artistes, stating that Olamide is the "greatest rapper of the last decade". According to a popular Twitter influencer, Omojuwa, "no star is bigger than Olamide" while @ManLikeIcey stated that the slanders Olamide faces on Twitter feel forced.
While some of the fan-base express how they underrate Olamide, the positive side to such spotlight will be publicity for his upcoming project "Uyi Scuti" on June 14th.
READ ALSO: Olamide Renders New Single and Video, 'Rock'
Here are some of the popular comments that fuelled the 'Olamide' trend.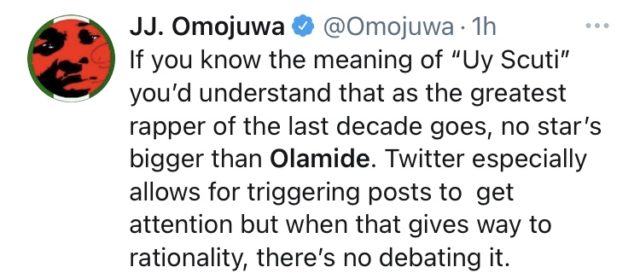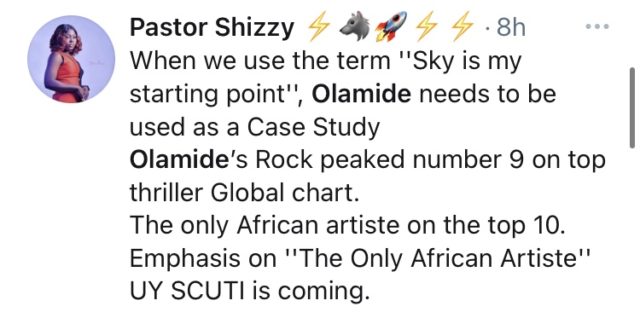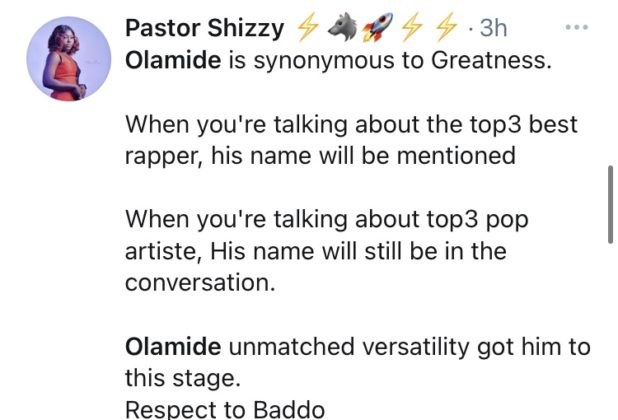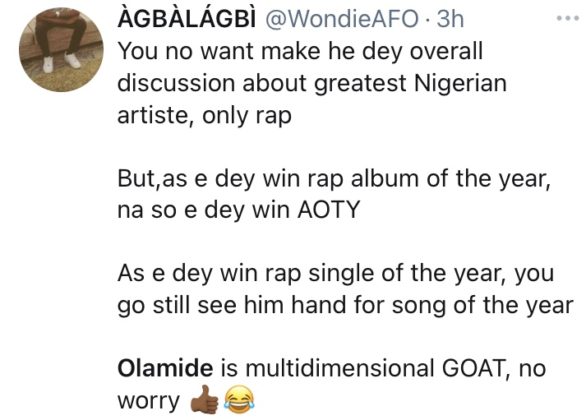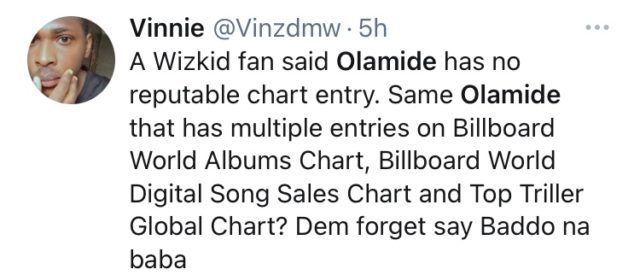 What we couldn't do for Olamide when he dropped Carpe Diem, we will do when he drops UY Scuti 🔥🔐.

— seekthelordfirst (@MorrisBaker_) June 3, 2021
What we couldn't do for Olamide when he dropped Carpe Diem, we will do when he drops UY Scuti 🔥🔐.

— seekthelordfirst (@MorrisBaker_) June 3, 2021
Get Fresh updates as they drop via Twitter and Facebook