Moschino Unveils Collaboration With Ciroc X Wizkid | Photos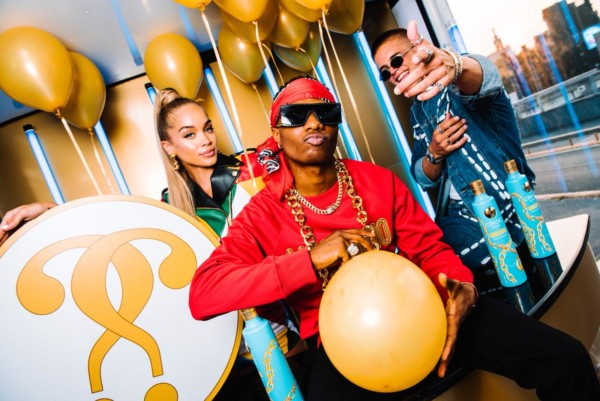 From walking a D&G show with American supermodel, Naomi Campbell to selling out his Starboy Nike in 10 minutes, Wizkid is holding 2018 by the horns with both hands.
While we are coming to terms with all these heights, the singer and his Ciroc family have been unveiled to be a part of an international fashion collaboration with a global brand, Moschino. The announcement was made by the creative director of Moschino, Jeremy Scott ahead of their Milan Fashion Week Show.
This collaboration is so big that it caused traffic just to be launched.
According to the Jeremy Scott during the unveiling of the collaborations and what inspired it, he said;
'I love the cheeky, playful nature of CÎROC. It connects perfectly with my approach to both life and fashion, so the partnership felt natural, there's such synergy. I design a lot around personal, customized twists so it's great to bring this into the partnership too. It's been fun to bring together our bold take on luxury and I can't wait to see what the year holds.'
Showing excitement over the collaboration, the singer posted on Instagram;
Excited to be part of the CÎROC X MOSCHINO collaboration. It celebrates experimenting with
different styles, cultures and bringing a twist of what makes you, you. Check out my take on @itsjeremyscott's world of
celebration @cirocvodka @moschino#CÎROCYourWorld ????
Other personalities that are part of the collaboration are South African rapper, Cassper Nyovest Golden Barbie and River Viiperi and the collaboration promises swanky parties around the world.
See more photos;