DJ Wysei Gets Accolades for #BBNaija Party Performance | SEE REACTIONS
As is the tradition, the BBNaija house hosted yet another Saturday night party, and this time, DJ Wysei was on the turntable and the reactions are full of accolades.
DJ Wysei entertained the BBNaija housemates and audience for two whole hours and she definitely delivered according to the reactions we gathered. The party was held in the house on Saturday, the 28th of August 2021.
DJ Wysei who is also fondly called the Drummer girl because of her dexterity on the drums brought out the groove in some of the housemates for the first time. Twitter user @Buchi_Laba commander on not dropping the tempo of the music. He said she is the first DJ this season to make the housemates truly happy. In his words;
First rule about DJ_ing is to never drop the Tempo!!

- COMMISSIONER DJ WYSEI @djwysei didn't just maintain the Tempo, she increased to a level without numbers.

She made housemates happy, The best Dj to play this season. Good things happen to good people. God bless her ❤️
READ ALSO: Mixed Reactions Trail DJ Sose's #BBNaija Party Set
Among the gathered reactions, another Twitter user @ehneskay_Tim likeded DJ Wysei's BBNaija party performance to DJ Switch;
Dj Switch and Dj Wysei >>>>>>>
With these few points of mine, I hope I have been able to convince you and not confuse you, that women are better Djs than men 🙏🏽
SEE MORE REACTIONS BELOW: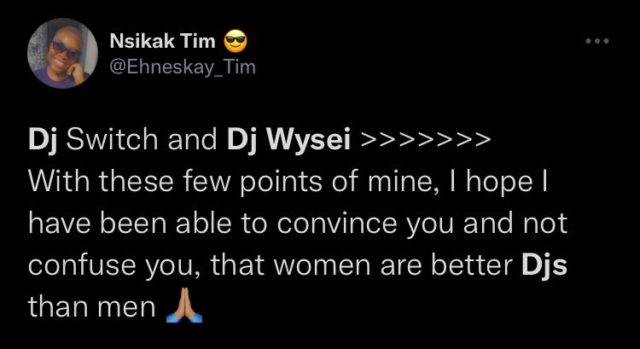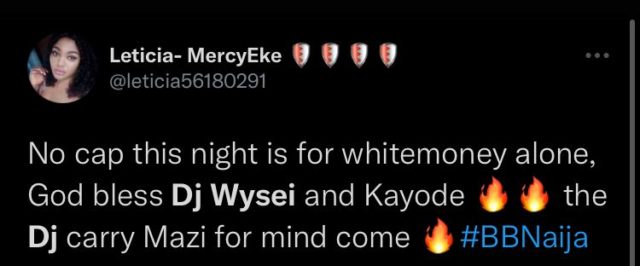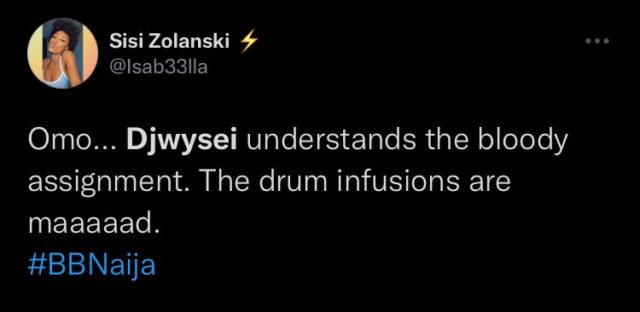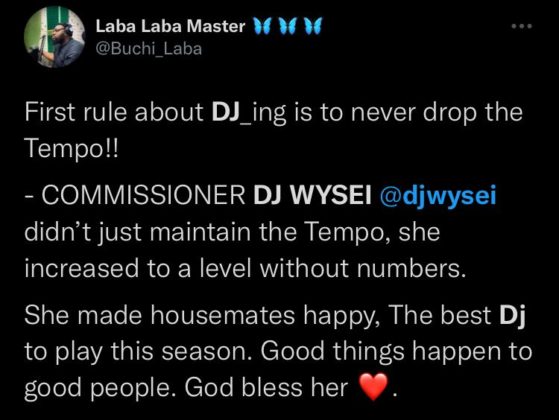 Get updates as they drop via Twitter and Facebook