D'banj's Instagram Account Hacked! Hacker Says "Won't return"
The Instagram account of Nigerian veteran superstar, Dbanj has been hacked by who might be assumed to be a Turkish citizen as that is the language and flag placed on the account after the hack and the hacker is saying he won't return it.
The account was noticed to have been hacked on the 19th of December 2020 after the singer's entire photos were deleted from the photo sharing platform and thne a statement on Twitter was later released by the Tongolo singer to confirm the claim.
READ ALSO: "Don Jazzy & Dbanj Were My First Mentors" - Davido Admits
Making the announcement, D'banj said;
My Instagram account @iambangalee just got hacked please ignore all messages from the account. M team and I are working to get it back on please bear with us. Thanks signed management.
The hacker had since then posted just one video of lion on D'banj's page and when fans pleaded that he released the account, the hacker stated "won't return as long as it is pr4xy".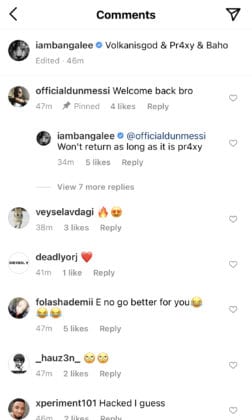 While we're not sure what that means, we hope D'banj gets his account soon because the hacker seems to be having a field day on D'banj's instastory.
View this post on Instagram