"I Was Emotional" - Chike Apologises for Statement on Travelling to the East
Musical talent show sensation and fresh RnB act, Chike has apologised for a statement he made this morning as regards traveling to the East in December.
In a now-deleted rant he made on the bird app on Jan 1, 2021, he reprimanded people for traveling to the East during Christmas time, calling it primitive behaviour.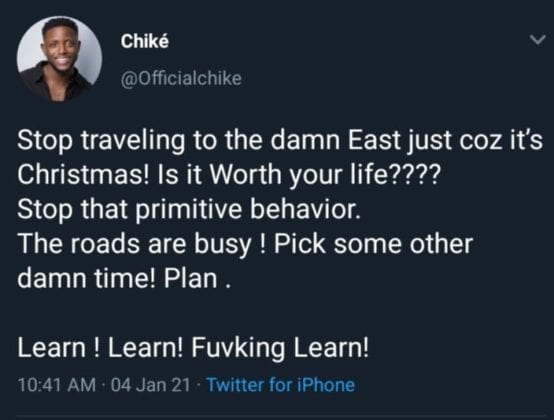 ALSO READ: Chike's Debut Positions Him As Nigeria's Heart-throb | Interview
After getting some backlash from hot-blooded users of the app, Chike has now retracted his statement and apologised for it as well on January 4,  2021. In his apology, he admitted that he was emotional and had just lost two friends to a road accident while returning from the village. 
I believe my now-deleted tweet was misunderstood as it was an emotional one .

This morning, 2 friends died on their road trip back from the village .

I think the roads are too risky for everyone to be headed home & back.

If you have been hurt, I sincerely apologize.

— Chiké (@Officialchike) January 4, 2021
What do you think about Chike's thoughts on traveling, especially to the East during the festive period?