Banky W and Wife, Adesua Announce The Birth Of Their Son!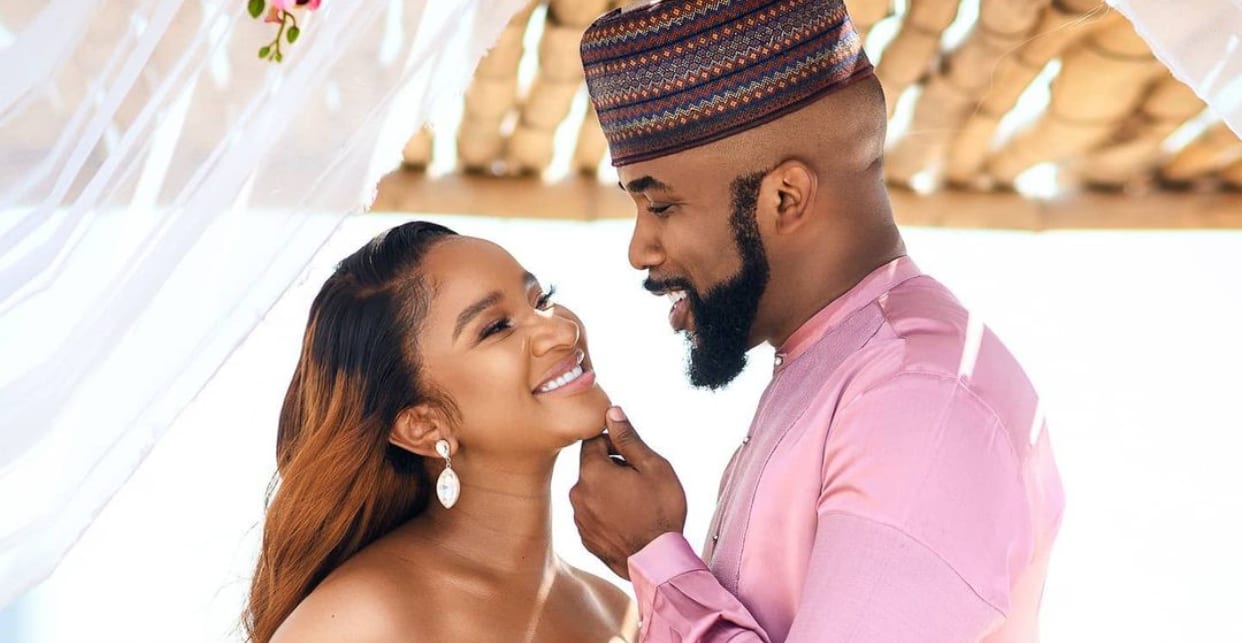 Banky W and wife, Adesua have announced the birth of their first child; a baby boy via their social handles.
An excited Banky W took to his social media page to announce the birth of his son while celebrating and gushing over his beautiful wife, Adesua on her birthday as she turns 33 on the 22nd of February 2021. The musician talked about how strong she is and words can't properly describe what he feels for her. He wrote;
"Happy birthday to my lady, my love and Purpose Partner,
My world, my wife and Baby Mama.
I didn't think it was possible for you to be more beautiful than you already were... but I was wrong.
Because you're not just beautiful, you're strong.
You're grace and favour personified, and you're so much more.

Words cannot properly express how grateful I am for you, how much I love you, or what we've been through.
I'm thankful that you're mine
And that God made everything beautiful in His time
He turned our tears into triumph, and our loss into laughter
He's changed our lives forever, here's to the next (and best) chapter
Nothing I can say or do can top what He gave us
My baby had a baby and he's everything we prayed for

@adesuaetomi
Happy birthday "Mama Zaiah"
I love you SCATTER.

?: @felixcrown
?: @tojufoyeh
?: @gblagos
?: @t.alamodebeauty
?‍♀️: @adefunkeee
Location: @thetruthbeachclub courtesy of my bro @seyi_barber
Final say artwork: @icree8media
"Final Say" song and video drops on the 26th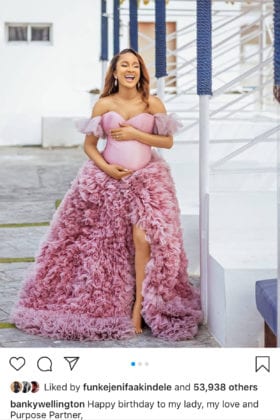 In the same vein, Adesua also revealed on the 22nd of February, that the couple welcomed their baby boy four weeks ago and referred to him as the best birthday gift ever as she also celebrates her birthday. She said;
"You have a track record of keeping your word. Ọlọrun agbaye o, you are mighty".

4 weeks ago I received the best birthday gift ever. Our Son.

1+1=3 ???

#Godisforeverthegreatest #mamaZ

Best team in the world.
Picture @felixcrown
Makeup @t.alamodebeauty
Dresses @tojufoyeh
Hair @adefunkeee
Location: @truthbeachclub courtesy of our bro @seyi_barber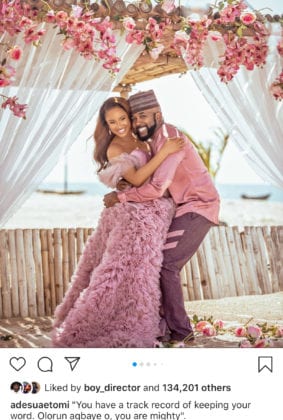 Judging from Banky W's post, the baby boy has been named Zaiah.
From all of us at Notjustok, we say a hearty congratulations to the Wellington's.