5 Take-aways From Victony On Flow With Korty EO | WATCH
January 27, 2022 | 4:23 PM
Fast rising superstar, Victony, appeared on the first episode for the second season of Korty EO's show, Flow, to share a few personal details about his life and plans for his music in an exclusive chat with the Youtuber.
For Victony, the new year 2022 can only be a year of unlimited possibilities, the Holy Father singer found 2021 as a year of ups and downs. He had the bad times but certainly got to enjoy the good times as well, some of which he shared with Korty EO in a chat on her show Flow.
In an interview with Korty EO that was uploaded on Saturday, January 22, 2022, Victony discussed key things he planned to focus on for the new year 2022 and how much he had learned from previous experiences.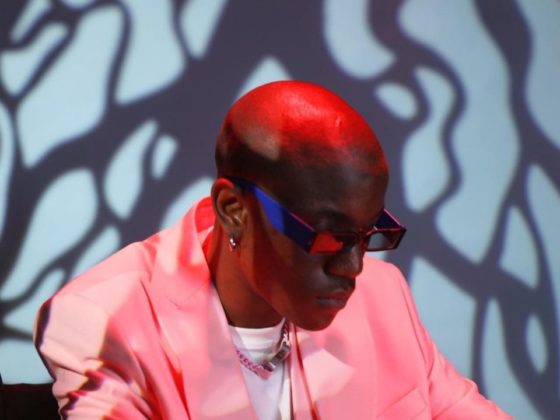 Here are key things we found rather motivating and insightful from the light-hearted conversation:
Accept what you can't control.
When asked about the accident, Victony mentioned that if he had been awake he might have been able to prevent it, but he then went on to recognize and accept the fact that he could not have predicted the accident and, as such, had no control over what had happened. This is important because we see that Victony actually recognizes the fact that this was something he had no power over, and we are glad he survived and pray that the late Doyin Lamina rests in peace.
He said:
Yeah, yeah, if I had stayed awake when they were driving probably I would have controlled the car. I guess it was out of my control at that point.
He Is Learning How To Walk Again.
Victony had spent some time in a wheelchair after a successful surgery following the accident before being able to walk with the assistance of a walking stick. Victony goes on to share with Korty EO how complicated it is to try to stay on his toes regardless of how painful it could get.
He said to Korty:
I am basically learning how to walk again, I am like a baby right now.

The thing is that my doctors told me whenever I am feeling pain I should not bend or anything.
READ MORE: Official Lyrics to "Holy Father" By Mayorkun
Victony Is Smart.
We were shocked to hear that Victony is actually an undergraduate in petroleum engineering and is currently doing his IT program with plans of returning to school to finish his course and graduate.
I am an intelligent guy

Victony on Flow season 2
The guy is very active and smart

David, Victony's friend speaking about him on Korty EO's Flow season 2
He is passionate about music.
Dafe, Victony's manager, and Hoodini, a music producer, could not stop talking about how gifted and talented he is as an artist. Dafe actually thinks he needs a hobby to keep him out of the studio.
Victony na the only artist wey be say you go just play one or two chords, him go just write full song.

Hoodini on Flow season 2
Room For Improvement:
He is focused on improving his music. Victony acknowledges the fact that there are so many talented people in the Nigerian music industry and mentions that he has to work hard to improve his sound and be a better artist.
Victony said:
I am just focused on making music and improving myself in my own lane.
Our major lesson from this interview however was how Victony took full control of his life and found happiness in the things he loved and comfort in his friends and family.
Get updates as they drop via Twitter and Facebook