'Things On Things' Lyrics by Shallipopi
SHARE
Shallipopi Lyrics
Shallipopi is back with another hit track with catchy lyrics titled, Things On Things, check out the song's lyrics below and sing along.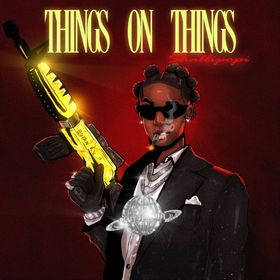 PLAY & LISTEN TO: Things On Things by Shallipopi
Shallipopi - Things On Things Lyrics
Intro
Ehhh
See dem!
Only one Pluto Presido
Beat!
Wait, wait, dem call me Shallipopi
Verse 1
When I fall in, squad dey coordinate
No evidence nor explain
I say when I fall in
Oh my God that is so unfortunate
Why you come dey hate?
Many dey para many dey para for president
You nor fit explain without evidence
when evidence dey then you making sense
Lesson learnt, is a lesson learnt
You nor fit insult my intelligence
Many people wan dey use me play
You put in your hand, you go kpekelemezz
Sayyy!!
Chorus
Things on things (things)
I dey on things on things
I dey on things on things
Things on things, things
I dey on things on things
I dey on things on things
Things on things na dey my body
Watch your mouth or e go bloody
E go bloody o
E go bloody
I dey on things on things
Things on things na dey my body
Watch your mouth or e go bloody
E go bloody o
E go bloody
Verse 2
Aho Evian oh wo to to (what's up)
Oh woto to to
You wan run?
The kind mouth you Dey make online, real life u fit talk?
You wan run (wahala )
Benin to London
O2 boy, elo lo lo
Shalli don come
Pluto presido
Only top boy in my area, call me citizen commando
But when I'm counting up I Dey miscalculate
When I fall in, squad Dey coordinate
No evidence nor explain
I say when I fall in
Oh my God that is so unfortunate
Why you come dey hate?
Many dey para many dey para for president
You nor fit explain without evidence
When evidence dey then you making sense
Lesson learnt, is a lesson learnt
You nor fit insult my intelligence
Many people wan dey use me play
You put in your hand, u go kpekelemezz sayyy
Chorus
Things on things (things)
I dey on things on things
I dey on things on things
Things on things, things
I dey on things on things
I dey on things on things
Things on things na dey my body
Watch your mouth or e go bloody
E go bloody o
E go bloody
I dey on things on things
Things on things na dey my body
Watch your mouth or e go bloody
E go bloody o
E go bloody
Aho Evian oh wo to to (what's up)
Oh woto to to
Check Lyrics of  Other Latest Naija Songs Here
Get Fresh updates as they drop via Twitter and Facebook