TomTom Storms Jos With 'Breathe For It' Summit 2.0, Features Jesse Jagz
SHARE
Encouraging young creatives to 'breathe' for their passions, reiterates their commitment to the growth of the Nigerian music industry
As part of its social mission to discover, nurture and showcase young creatives, TomTom, the leading menthol candy brand from Cadbury Nigeria Plc (a subsidiary of Mondelēz International), recently concluded the second edition of its flagship gathering of music industry experts and young creatives - "Breathe For It" Summit. 
The "Breathe For It" Summit 2.0, the second in the series and the first of the planned ones for this year took place in Jos, Plateau State, in recognition of the evolving music culture in that part of the country. It was themed "Bars and Beats: Rap and Afrobeat" and was attended by hundreds of young creatives from Plateau and neighbouring states.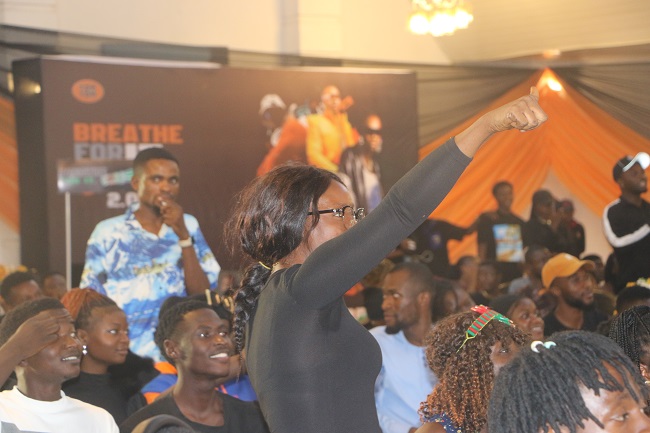 Panellists at the Jos summit included Jesse Jagz, songwriter, and rapper; Akinyemi Ayinoluwa, entertainment lawyer; Rosemary Ofoegbu, entertainment business consultant; Fiammari Zoaka, talent and events manager; and Tamunosaki Romeo, music business executive. The panellists discussed areas around the theme of the summit and the entertainment industry, such as songwriting, music promotion, performance and collaboration, copyrights and the legal aspect of the music business, artiste management, and music event management. They also provided relevant insights - challenges and opportunities - on the dynamics of the Nigerian music business market and answered questions from the attendees on specific areas of personal interest.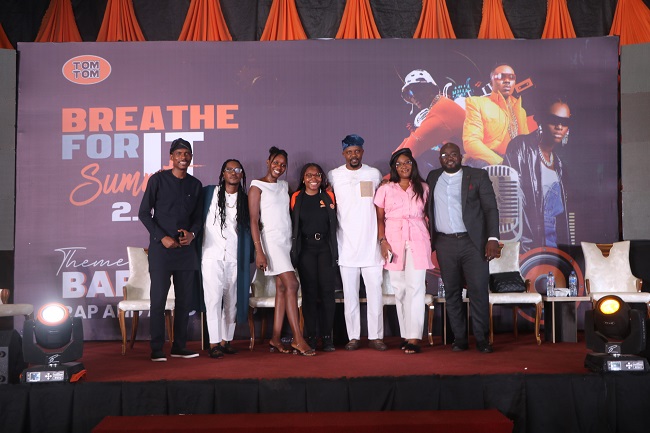 Brand Manager (Gum & Candy), Cadbury West Africa, Joan Odafe, who was present at the summit, said:
The Nigerian music industry is currently one of the most thriving entertainment sectors globally, with a lot of talented young creatives looking for opportunities to start or grow their careers. Through the summit, we can fulfil our social mission to nurture young creatives in the Nigerian music industry and provide a platform that supports their career growth. The theme "Bars and Beats: Rap and Afro Beats" was carefully chosen to recognise the giant strides of Nigerian Rap and Afrobeats artistes around the world.
A major highlight of the event was the freestyle rap battle and singing competition from which winners were rewarded with gifts courtesy of TomTom. Nigerian ace rapper, record producer and songwriter, Jesse Jagz, commended TomTom's decision to host the event in Jos. In his words:
Jos is a city full of potential superstars and talent. The work TomTom is doing to bring these talents closer to the knowledge that will elevate their journey is laudable. It not only recognises musical talent, but also opens the doors to a world of collaboration and partnerships for these creatives.
Entertainment lawyer, Akinyemi Ayinoluwa, reiterated the importance of a strong brand identity for upcoming artists.
The two most essential assets for a recording artiste or musical creative are the music you create and your identity. It is important to constantly work on those two assets and take advantage of opportunities that allow your assets shine through. This, in time, will draw your audience's attention to your craft and give room for people to invest in you.
The "Breathe For It" Summit is part of TomTom's efforts to nurture youth creativity across the country, in recognition of Nigeria's music export and a commitment to helping the youth thrive in their identified passion points. The summit is an integral component of TomTom's larger "Breathe for It" campaign, which was introduced in 2021 to help young creatives build capacity in a key passion area - music. 
About Mondelēz International (Cadbury Nigeria Plc.)
Mondelēz International helps people to snack right in over 150 countries across the world. With global net revenues of approximately $28.7 billion in 2021, it is one of the world's largest snack companies. They also make and sell gum & candies as well as various dairy & groceries and powdered beverage goods in select markets. It operates in over 80 countries and is present in West Africa (Nigeria and Ghana) as Cadbury Nigeria Plc. Makers of TomTom (Classic Menthol & Freshlime), Cadbury candies (Buttermint, Coffee & Caramel), Bournvita, Hot Chocolate 3in1 and Bournvita Biscuits.
About 'Breathe For It' Summit
The "Breathe For It" Summit is an annual gathering of music business professionals and young creatives, courtesy of TomTom, Nigeria's leading menthol candy brand. It is one of the initiatives of the brand's social mission to nurture young music creatives and enthusiasts in the music industry with the knowledge to thrive in their music career pursuits. The summit offers insights into the latest trends, best practices, and emerging technologies around the music industry.
Read the Latest Sizzling Music News, and Follow Notjustok on Twitter and Facebook