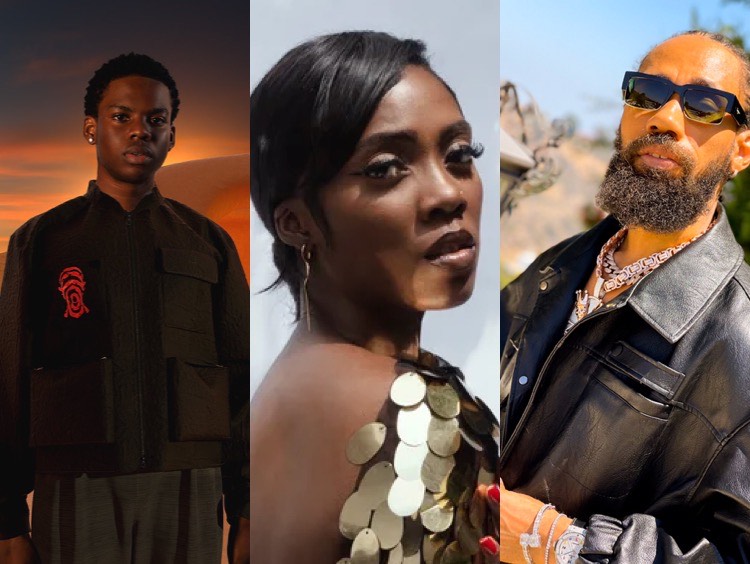 Every Nigerian musician's dream is to have a hit song in the country during our supposed summer season and then, in the Christmastime so that they can shut down shows and affirm their status as a show-stopping act. It's for this reason, activities pick up during the second half of the year.
Currently, 2021 is gearing to be an even hotter period due to this precedent and the fact that year before had had the entire industry on edge. While social media strategists call it the act of creating a buzz, artistes have cultivated the habit of giving hints and heads up to alert their fans and the general public of their coming project. In line with this, we've gotten quite the number of quips and pointers from several noteworthy artistes, broaching the fact that they'll be gracing the airwaves with a project in no time. Here is a list of Nigerian musicians set to drop a project in 2o21:
1. Tiwa Savage- Water & Garri EP
The last time Tiwa Savage had released an EP-- Sugarcane, she'd made quite the killing with it, garnering 4 hits out of the 6 tracks. Water & Gari, her forthcoming EP will be coming after her Celia album and is being heavily teased on social media, especially on Ms Savage's Instagram. In this vein, the EP has gotten raving reviews from Pharell Williams and members of the Nigerian press who have heard it. 
View this post on Instagram
Recently, a picture was put up on a Tiwa Savage fan page and it looked like she was on set for a music video. So it's safe to say that her EP will be coming sooner than later and we'll love to see the Queen of Afrobeats reinstate her spot on the throne with its release. 
2. Rema- Raves and Roses
Rema has attained a lot of heights with songs off his breakout EP making Barack Obama's cookout playlist. He is, however, yet to put out an album, so the release of Raves and Roses will mark his debut into the world of albums. 
We were intimated on the naming process of the album during one of Rema's Twitter monologues which he ended by stating that his sound is tagged 'Afrorave' and later tweeted about that his album would be named Raves and Roses. 
3. Runtown- Signs
Runtown's Signs would be coming some months after the release of his summer compilation project, Soundgod Fest Reloaded which was put out earlier this year. So far so good, Runtown has put out the tracklist to the album, with word that it is coming soon so he's definitely one Nigerian musician set to drop a project sooner than later.
View this post on Instagram
4. Ayra Starr- 19 & Dangerous
With a single off the album-- Bloody Samaritan. coming out on Friday the 30th, and the album itself on the 6th of August, it's obvious Ayra Starr isn't about to let off her grasp on her crown as the Gen Z pop music princess and is set on applying pressure on our ears and airwaves. 
5. Prettyboy D-O- Love is War
Not many Nigerian alté companies have been able to amass a fanbase loyal enough to be classified as a cult following. But Prettyboy D-O has and is set to expand his current catch in the fandom world with the release of his coming Love is War album. Already, he's put out the rousing Living in Bondage as his promotional single and has had fans in eager anticipation to get the rest of the album. 
6. Veeiye- Love is Reckless
A fan favourite from the previous version of the BB Naija reality TV show, the Nigerian entertainment world has come to know Vee not just as a public personality but also as a sultry singer. With her coming project, Young and Reckless, the stage has been set to see her take on that side of her full-on. 
7. Psycho YP- Euphoria EP
For young Nigerians who enjoy the new age of rap music in the country, they would probably list the times and periods in the nation with the rapper's doubly-occurring YP SZN making the count. Psycho YP has currently been speaking online about his coming Euphoria EP, with the similarly titled promotional single already making waves as one of the trap songs of the summer. 
8. Jaido P- Shopla EP
With another Olamide feature on his Survive single against the release of his forthcoming debut EP, Jaido P who is also known as Shopla, is on the path to securing his spot as one of the tastemakers of the new school of street hop. 
9. Liya- Alari EP
It's the year where female musicians stand up to take theirs and Liya is tagged as the first lady of DMW. The young starlet recently announced the postponement of her debut EP, which sees it move from the 20th of August to the 30th and fans and music lovers alike are keen to dig into her aural offerings. 
10. Santi- Subaru Boys
Santi's Subaru Boys album would make the list of the top ten most anticipated projects of 2021 for many music lovers and it's not number 10. Much talked about on his social media, especially Instagram, he's pulled back several curtains to show fans some behind the scenes on the project as well as collaborators on it such as American singer MIA, among others. Described by Santi himself as a "World building album", several fans have taken to camping out on his Instagram comments section to ask for when his album would be coming out.
View this post on Instagram
11. Yemi Alade- Queen Don Come
Without saying too much, the Nigerian-born Mama Africa, Yemi Alade has shared with with the world that her EP Queen Don Come is on its way. She'd taken to her Twitter to state; "My Ep #Queendoncome next week," and then added the assuring line "Music will flow" in a separate tweet.
ALSO READ: Yemi Alade Set To Release New EP 'Queen Don Come'| SEE DETAILS
Forthcoming Nigerians music projects to be announced: 
While some of our favourite musicians have fortified their hints and mentions with album behind the scenes videos of their upcoming projects as well as proposed titles and promises of release dates, some others haven't given concrete details other than hinting that an album is on the way. These acts include:
Burna Boy
Mr Eazi
Mayorkun
Buju
Phyno
Cheque
Niniola
Is your favourite Nigerian musician dropping a new project soon? And which of these upcoming projects are you looking forward to the most? Share with us in the comments section.