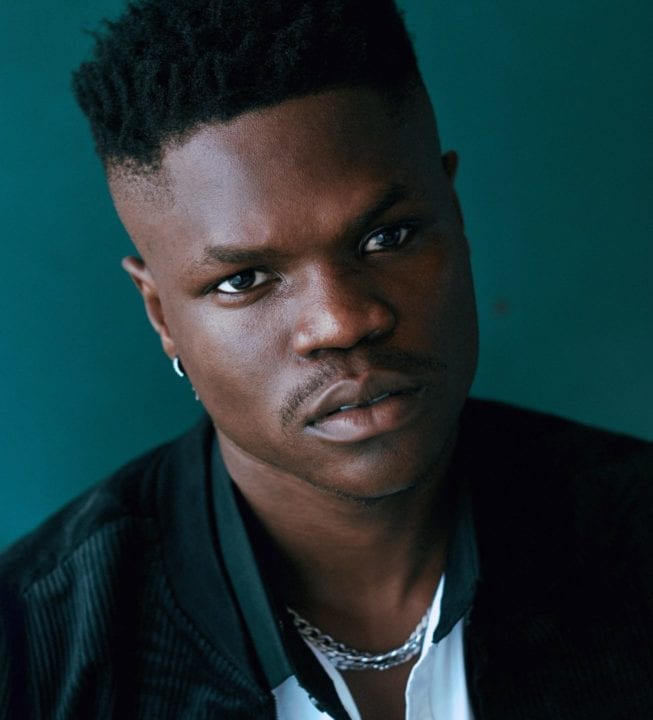 In pandemic-ridden 2020, one of the things Southwestern Nigerians have missed the most is the Owambe. Many on social media have shared images of their last Owambes, begging for a return to normalcy or a five-minute taste of it. Owambes are large gatherings that are usually beautified by attendees in similar colourful attires with a splendour of delicacies easing their way from the East to the West of the event centres, and the electric air is punctuated by a live band heaping praises on the notable people in attendance, and the notable people would, in turn, oblige by doling wads of different currencies on the lead singer. One of many live bands was Baba T International - a bubbly Tungba band with roots from Ikorodu. For Baba T International,  a young Olorunyomi Timileyin - aka Bad Boy Timz - was responsible for keeping custody of the money showered upon the lead singer - his father. It was his introduction to the many benefits that music offered.
"The band started before I was given birth to so I was basically born into music. Growing up, I used to listen to a lot of my dad, Asa, and Sound Sultan. I used to sing Asa's songs at birthday parties" Timz tells me from the comfort of his parents' house in Ikorodu. He had arrived there just two days prior. However, Timz's first experience with recording music in a studio would come through a musician neighbour of his in the adventurous streets of Ikorodu while in his second year of Secondary School. It was at this studio he learnt the rudiments of composing music.
"...Their managers had to come and check who was performing, that was when I realised this thing could actually become big.."
In the Afrobeats scene, Davido's 'If' is a cornerstone record. The song reinstated Davido among Afrobeats elite and three years after its release, the Tekno-produced ballad cemented its place amongst other songs taking Afrobeats into global prominence by being certified Gold in the USA. In Sango-Ota, the song was also a turning point for a young Bad Boy Timz, a Computer Engineering undergraduate in his sophomore year at the time.
"I did a freestyle video to Davido's 'If' that went viral on Facebook but people were like this song is mad, so I recorded the freestyle as a song. The first time I performed the song, Mayorkun and Dremo came to my school for a concert. They were backstage and when I stepped on stage, the crowd went wild. Their managers had to come and check who was performing, that was when I realised this thing could actually become big" he noted reminiscently.
Off the reception to that song, Timz released a couple of singles and began to grow his community of music consumers, amassing as much as three hundred thousand streams independently. His parents joined his increasing fan base after a family friend in the UK called to inform them that Timz had a video on a UK blog that had accumulated over a hundred thousand views. On the same night his parents heard about his foray into music, he won three awards for his music at his university. "I snapped the awards and sent to them that this is the beginning, and from there they started supporting me" he says proudly. It was poetry in motion.  
#OBOSIGNTIMZ@iam_davido @alhajitekno @iam_mayorkun @dremodrizzy @chairmanhkn @sirbanko@ceopmg @yondamusic@dmw_hq pic.twitter.com/8HBDNNsh5j

— BAD BOY TIMZ (@Badboytimz) March 23, 2017
Bad Boy Timz's drive reveals itself over the length of our conversation, he repeatedly guides me through his discography, hoping to put me onto some of his music that I might not have heard. He was wrong, I had listened to all of his music before the interview but Timz is vividly aware that many people might have never come across his music. Timz's A&R, Frank Nwafor - the owner of SoundGenie Distribution, mentions the same drive when I ask what it is like working with Timz. "He has that hunger and that drive, he actually does his own research. He is like my source of inspiration to my A&R and music distribution business." 
It was that same resilient spirit that got Timz a record deal in 2019. "A female friend of mine that I had been disturbing since 2015 to link me with anyone she knew that was willing to invest in music called me. She said I should reach out to a particular person and that was it", Timz tells me measuredly.
"...When he came back from school in December, he told me he had made a beat specifically for me, the name of the beat was Young Fela..."
Signed by Anonymous Music and backed by a devout listenership, it was time for the emergence of Bad Boy Timz.  Many artists have been known to splurge right after getting signed, some on expensive jewellery, others on automobiles and other material possessions. Determined to surpass his previous achievements, Timz learnt how to record himself immediately after getting signed. "I couldn't keep waiting on someone before I record. Once you don't grab the vibe when it comes, it is gone forever. I recorded Don't Go and Complete Me by myself".
In June 2019, Timz released his debut single backed by a record label, Check and Balance. The song gathered a million streams within a two-month bracket. Buoyed by the success of the song, Timz released a five-track self-titled EP, Timz, two months later with guest features from Zanku-pioneer Zlatan and promising talent, Barry Jhay. The debut EP did not register mainstream success.
"It was the reception after 'Check and Balance' that made us release the EP, and I had a lot of songs. You know there are some songs that the vibe goes away after some time so we were like let's give them an EP." He understands that the EP was not as successful as he had dreamed. "After the EP, I did a freestyle. My comeback freestyle. As soon as I did it, people started requesting for the song, that song was Complete Me. From that song, I started getting calls to perform at various concerts"
A lot of Afrobeats artists credit Fela for inspiring them to do music but many do not sound like the Afrobeat-pioneer and political activist in any way. Bad Boy Timz often refers to himself as Young Fela, and I wondered where the moniker came from. "It is just normal jonzing. I do not sample a lot of Fela but I learnt some key things from Fela. I also have a lot of conscious songs. There is a side of me that people are yet to see. Young Fela, the album, is coming. That one na next year sha, this year don chook," he joked.
The closest semblance of any similarity yet to the genre-defining icon would appear for the first time on his highest-charting single yet, MJ, where he let the Semzi-produced beat play for thirty-three seconds before introducing his vocals. "I had recorded on an earlier beat Semzi sent, then I told him I murdered his beat. When he came back from school in December, he told me he had made a beat specifically for me, the name of the beat was Young Fela,'' he tells me excitedly. "I already had the idea of 'can you dance like Michael Jackson' - sho le gbese bi ti Michael Jackson - in my head beforehand. The day after Naira Marley's concert in December, I called Semzi to come to the hotel room where I was and that was when I recorded my vibes on it. As soon as I laid that vibe, I knew it was a hit song."
After initially failing to get a fellow collaborator on the original MJ song due to some issues he refused to mention, Timz put the song without a feature. The song would go on to accumulate over 10 million streams across streaming platforms after eight weeks. Three months after the song's release, Timz now has two remixes of the song. One with DMW star, Mayorkun, and another with Billionaire-singer, Teni. His most commercially successful music offering yet has been supported with immense promotional strategies across social media platforms and there is a forthcoming video of the original song to provide his new fans with visual familiarity of the Bad Boy Timz brand. "If Corona didn't spoil plans, my face would have been too casted. I would have shot the video immediately after the original song was released but that was when Corona got serious and there was a national lockdown," he noted about the pandemic that altered normalcy for everybody.
"You are never too big for where you came from. You have to come back and catch your cruise"
For Timz, a lot of things are changing rapidly. No longer can he travel to his parents homestead in Ikorodu during the day, he has to sneak in at night for fear of being recognised, but he tells me frankly; "You are never too big for where you came from. You have to come back and catch your cruise." In Bells University where Timz is currently a final-year student, he has an army of loyal supporters that helped him get as much as five hundred thousand views on social video community, Triller, before the release of MJ, and he still holds ambitions of getting a Masters Degree in Sound Engineering, in an effort to improve his craft. For his next gambit, he is taking his time because he knows there is a weight of expectation bearing on him after putting out a song as big as MJ. "There are some songs that we used to think are great songs, but as soon as MJ dropped, we knew we had to do better than those songs. Since MJ dropped, I have been recording back to back. There is pressure but it is also controlled," he says candidly. 
With the people of Ikorodu dancing to his tunes and the strength of Bells University at his back, Bad Boy Timz has gone from the young child that collects money sprayed at Owambes to performing at gatherings and earning his stripes within the music industry. I ask Timz what he wants his legacy to be and he answers almost immediately like a battle-ready soldier waiting for his captain's command; "I want to be known for notable lyrics and the best instrumentals you can get anywhere." It might have taken Bad Boy Timz longer than he expected to get here, but he has finally arrived, and he has arrived in emphatic fashion.