In this interview with Young Jonn, Notjustok sits down with the producer as he transitions into a recording artiste set to release his debut EP, Love Is Not Enough.
In the mid-2010s, the tag 'Young Jonn the Wicked producer' had sprung up on the airwaves, and shortly after, had it in a chokehold with Olamide-bearing street jams which had spiralled past the traditionally structured airwaves, turning into viral sensations to become the people's favourites on the streets of different corners of the federation. Udomboso John Saviours, popularly known as Young Jonn; the man with the tag which was the harbinger of beats that made Olamide and YBNL hits such as Falila Ketan, Story for the Gods, Bobo, and more, had with this success been able to bridge the gap between producers and the music listeners who were wont to only pay homage to the frontend developers of the tracks they loved; the artistes. From that period on, Young Jonn's tag had blossomed into being a well-loved household one, with listeners conditioned to expect a jam whenever they heard said tag as a result of his formidable track record as a hit-making producer. Young Jonn was also instrumental in laying down a blueprint for producers to make a name for themselves, with beats that spoke of the intricacies of their minds, and a producer tag music listeners were able to guess identify without hearing it play. 
On the 18th of March 2022, armed with the belief that life itself is a journey and the burning conviction that everyone's role is a dynamism bound to the twists and turns of life, Young Jonn unveiled his secret weapon and ace-in-the-hole as he was unveiled by Chocolate City as a singer, off the back of his single, Dada. The precursor for his forthcoming EP, Love Is Not Enough, on Dada, Young Jonn exhibits skill and experience in creating sweet riddims and catchy tunes, hinting at the fact that while this facet of his musical journey may be new to us, this is not his first rodeo. 
To mark his transition from Young Jonn the Wicked Producer to Young Jonn the melodies weaver, Notjustok caught up with the sound maestro to discuss his new dispensation as a music producer and recording artiste, the factors that led to it, as well as the story and the process behind his soon-to-be-released Love Is Not Enough EP.   
We've known your producer tag "Young Jonn the Wicked Producer" for years, what's the story behind it?
Shout-out to Esther, an old-time friend, she's the one that voiced it. My friend had come up with the tag jokingly and we just attempted to record it and then it stuck.
ALSO READ: Oxlade is the Desert Rose Breaking the Mould with His Love-Torn Melodies
Some weeks ago you were unveiled as a recording artiste and released your first single, Dada, no one saw that coming though. Talk to us about the transitioning process. 
It felt good cause I've been recording and making music for a while and finally letting the cat out of the bag was a really good feeling and the acceptance of the song made me realise I should probably have done this earlier cause it was pretty good.
If you've been recording for a while, why did it take so long for us to hear it?
I don't exactly have an answer for that but I feel like everything happens at the right time.
So how did you decide that this was the right time?
I got to the point where I felt like I needed to take my music more seriously and step it up a notch and a lot of people heard my music and were like 'This is good stuff, you need to take it seriously and put it out.' And one thing has led to another to bring us to this point.
You once mentioned Pheelz being like a mentor to you, and he's someone who has made that transition from being a producer to being a recording artiste as well. Presently, he has a hit record with Finesse, would you say his journey has inspired you?
Pheelz and I have been friends for a long time and have spent a lot of time together producing. So the journey from being a producer to also being an artiste didn't begin today. We've both always been recording we just kept winging it. In fact, a few weeks to the release of Finesse, we were together, sharing our unreleased works but you never know when the big hit is coming and to an extent, we've rubbed off on each other and we're all on our individual journeys. 
It's been a common narrative that producers don't get proper recognition for their work like artistes do, was this in any way one of the inspirations behind putting your music recording skills out?
It's very true, I feel like producers still don't receive the kind of recognition and credit they deserve but that narrative has changed to an extent cause I can see producers doing big things and putting out number one records. Back then it was difficult for producers to make waves but these days it's easier for us to step up. And I always said to other producers that the revolution we want is not going to be handed to us, we need to step up ourselves, put out our own music, run collaborations and everything should correlate with the interest invested. We see all that artistes are doing; selling out shows so we all need to step up to the big picture. Once that happens everyone will definitely follow suit.
Would you say since the unveiling you've witnessed a different perspective on how artistes are treated in comparison to producers?
I won't lie, the acceptance and buzz has been crazy.
Will you still be working as a producer/ producing records?
Of course, I'm a music maker, I love to create things and make stuff out of nothing, it's not just about music. Creating stuff is a core part of who I am and I'm going to keep doing that.
While it seems one skill overshadows the other, you produced Dada. So are the other songs on your upcoming EP self-produced?
On Love Is Not Enough, there are 4 records and I produced two; Dada and Next To You. But the other two, one is produced by Type A and the other by Smiley. So I'm working with a lot of capable producers that are going hard.
But for production, I don't think I'm ever going to stop doing that, it's a very major part of who I am.
ALSO READ: Ayra Starr is the Aptly Named 19 & Dangerous Singer with A Melodic Message for Every Ear
Talk to us about the EP, Love Is Not Enough, what is the message behind the title?
I think it's self-explanatory; along the journey of life, I realised that love is really not enough for all the things we were told it's enough for. It's not just about a man or a woman. Like when we were taught as kids in school love was supposedly the answer to everything. It's supposed to make you feel good, provide for you and more but you realise that due to our human nature, other things have replaced the function of money in our lives and that's just what it is.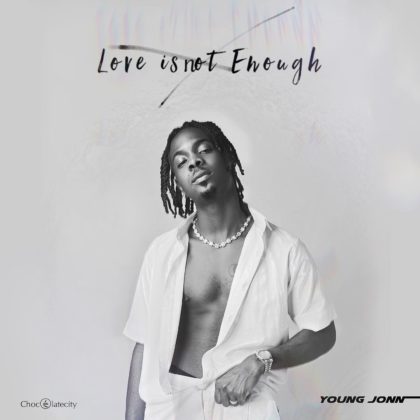 Is this a breakfast EP or simply your way of telling that love is beautiful but isn't enough?
Well, it's relatable to different aspects of love, if you just chop breakfast, you're definitely going to see it from that perspective. At the same time, it could be a family dysfunction because there are other relationships in life that are important apart from romantic love. And love is supposed to be the answer to these problems but in modern society, we see that love is not enough for any of these.
It sounds very close to your heart, are there any personal experiences that have inspired the EP?
Yes, it's very close to my heart; this explanation I just gave you is based on my life. I'm big on love and I'm just talking about the romantic form but every form of it. I'm a family person and I'm big on my friends and my baby girls but I realised love is not really sufficient these days. Like in the places we look for it, love is not there. It's a personal project for me.
On Dada, which is the promotional single for Love Is Not Enough, you served Afropop vibes and it's very catchy and rhythmic. Are the others similar or do we get other genres on the EP and what genre of music do you enjoy making?
I don't like to classify my works under any genre of music because I go with the flow. I always sing how I feel. That's probably why this project is titled Love Is Not Enough because at the point of creating it, that's where my mind was. Tomorrow, I fit go dey one place wey anoda thing dey my head. So whatever is in my head is what I put on a record. I don't like to classify my music, what you see is what you get.
What about the 4 songs on the EP, are there any features?
Yes, I have a collaboration with Vido. He's an American singer and songwriter. There's this record, Next To You, I really love it, I recorded it in the middle of the night and it captured how I felt at that time. Luckily for me, Vido connected to the song and it's a beautiful record, I can't wait for it to be out.
You were unveiled with Chocolate City, previously we've seen you aligned with YBNL and Hit Factory, so why did you decide to partner with them?
I believe life is a journey and at a particular time, certain things are suitable for a certain situation. I'm still affiliated with Hit Factory and YBNL but I'm currently at a point where I want people to see me as an artiste and working with Chocolate City is perfect for the situation. As I said, I've been recording since and coincidentally, we concluded all of these late last year. At that period I had so many people coming to me telling me my music is good and they'll like to work with me so I was really patient in making a decision. By the time I considered all factors, I concluded that Chocolate City was the best for me at this point. So far it's going really well and I hope it continues this way.
In the past, we were briefly entertained by songs from Maleek Berry, is Young Jonn the artiste here to stay or is it going to be a phase like that?
By the special grace of God, I'm going to be here for a long time. As a producer, I've been here for close to a decade and I always want more so I don't see myself stopping anytime soon. Shout-out to my team, they always work so hard, my manager and Chocolate City so I don't see us stopping anytime soon.
If you were to describe Love Is Not Enough to provide a taster on what to expect, what would it be?
They're going to have to listen but it's basically jams and 'gbedus'.
If you enjoyed this Young Jonn interview, get updates from Notjustok as they drop via Twitter and Facebook.