To say Migos are at the forefront of rap music would be a horrendous understatement. The Atlanta (via Gwinnett County aka Dat Way), Georgia trio, are deservingly at the apex of pop culture. All eyes are on them. Their latest project, Culture, debuted at number one on the Billboard chart. Migos are basking in their just due attention, but success did not come over night. They created their own wave with a distinct sound known as the triplet (syllable) flow. Often bulked in the mumble rap category, cynics of the trio are very far from the truth. Migos rap very articulately and perpetually exhibit an extensive vocabulary. Occasionally, they may create words like "discriminize," but only do so for shock value and the sake of rhyme pattern. Although Migos are three acts consolidated into one package, the lines never blur of who is who, thus making it easy to distinguish one from another. Quavo dons the nasally, cool delivery, whereas Takeoff gives off the more baritone, relentless, rapid, staccato flow, reminiscent of Krayzie Bone in his prime. Offset completes the trifecta with constant up-in-your-face, energetic bars and trap melodies.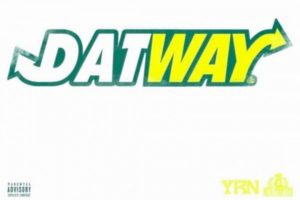 Migos have arrived at their defining moment. Their appearance on Donald Glover's television series, Atlanta, the latter's heavy cosign of the trio at the Golden Globe Awards, the success of Bad and Boujee, and popularizing the potato chip brand, Rap Snacks, evidences The Migos' importance to the culture. Further, there was even a petition for the group to replace Lady Gaga as the halftime show performer for Super Bowl LI. Migos' ability to influence the youth, music, and fearlessness to shift culture are their strengths, as indicated by their recent trip to Africa. Africa is still viewed as unexplored terrain and even as taboo for several Black American rappers and singers. In mid-December, Migos travelled to Nigeria to perform for a Christmas concert. This groundbreaking performance revealed there exists a powerful bond between African youth and Western rap. Below elaborates on the relationship as well as predicts what can be expected in the future.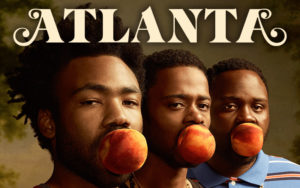 Migos' Performance in Nigeria:
The most accurate way to describe Migos' visit to Nigeria is as the bando meets New Africa. It was like two distant cousins meeting for the first time realizing how much they have in common. Instagram videos of Quavo flaunting Naira alongside Davido and Ycee alerted fans that the group was in Nigeria. This sparked so many questions! Why are they in Nigeria? Are we to expect collaborations? How are Nigerians going to react to Migos? Those questions seemed to have been answered once the footage of their floor shaking performance of Bad and Boujee, at Beat FM's Christmas party at the Federal Palace Hotel in Lagos, made its rounds all over the Internet.
This was the highlight of last night.

Still can't believe It happened in Lagos.

M I G O S. pic.twitter.com/x0h69AnXYf

— Cinderella Man (@Osi_Suave) December 21, 2016
Footage of that epic moment is forever immortalized in Migos' music video for the song, "Call Casting." In an interview with The Fader, Takeoff describes the experience as being "…so loud on stage it almost blew my eardrums out."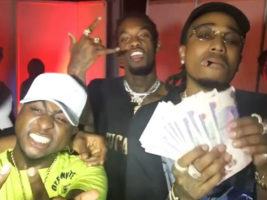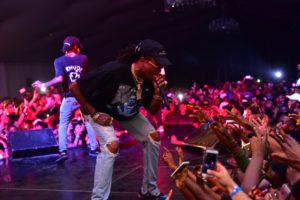 Nigerian Youth and Hip Hop:
There was a time when non-Western countries were out of tune with the rest of the world because they received media late. Today's youth of Nigeria are very cosmopolitan and up to speed with all entertainment news, both domestic and abroad. They are so current with global entertainment that their slang, clothing, cars, hairstyles, humor, and even aspirations are congruent to their Western counterparts. When watching a Nigerian music video, it is commonplace to hear artists use slang like swag, turnup, and twerk, and don clothing brands such as Supreme, Hood By Air, and Bathing Ape. With that being said, it should not have been such a surprise that Naija youths were so familiar with Migos.
Migos' Relationship with Davido:
Preceding Migos' arrival to Nigeria, Davido and his HKN crew were already amicable with the rap trio. All parties demonstrated their affiliation with each other via social media. On Migos' official Instagram account are posts of the squad in the club with Davido and Ycee, whom also shared posts of the rendezvous on their respective accounts. Davido's close cousins, B-Red and Sina Rambo also posted their experiences with Migos on social media as well. Davido took his support and demonstrated his friendship a step further by sharing the artwork for Culture as the release date neared. Davido very recently mentioned an upcoming collaboration with his American pals via Instagram. Davido is very strategic and gives away details when he feels the time is right. Fans of Davido and Migos will have to be patient until further notice.
The Significance of the Internet/Globalization:
Whether it be music, sports, or memes, the interconnectedness of the Internet allows everyone to have access to the same information simultaneously. For example, there is a Goodluck Jonathan meme of the former president sporting a confused grimace, that is used globally. People who use this meme that have an unfamiliarity with African politics probably have no idea who Goodluck Jonathan is. For this, we thank the Internet. The Internet also allows for a new African narrative and more accurate visual representation of the continent. It will no longer be as simple to propagandize Africa as a place of poverty and village huts. There are an abundance of videos on the Internet featuring African megacities, illustrious hotels, and gated community homes.
Moving Forward:
Although the youth may not possess the most power individually, collectively their voices are the loudest. They dictate the trends and hence influence the masses. With an assist from Migos, the youth have put a spotlight on Nigeria. The African sound has been making extreme pushes for international exposure since the earlier years of this decade, and may have finally hit the mark. The big international music collaborations with Drake, Meek Mill, Skepta, Tinashe, etc., the recent Sony deal signings, and now the Migos' stamp have boosted Africa's appeal and value. This major attention alludes to rappers expanding their tours to the Motherland, a greater demand for domestic and international rap music, more international collaborations, and perhaps a rise in tourism.
Now that Africa has the entertainment world's attention, hopefully they capitalize on the moment.