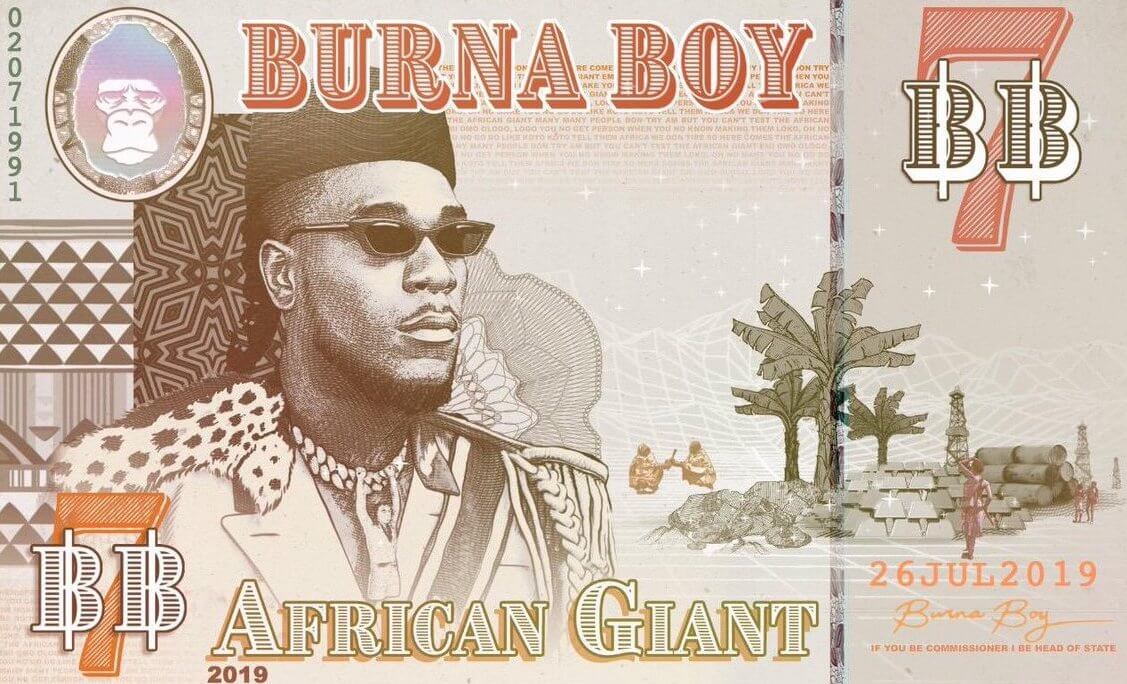 In the early hours of Friday, Burna Boy's African Giant dropped. Just as he promised, the Afro-fusion artist released his fourth studio album African Giant. The album features a lot of prominent artists including Damian Marley, Future, M.anifest, Jeremih, Angelique Kidjo, YG. I must confess, when I saw Damian Marley as one of the featured acts on the tracklist, I was taken aback. I didn't see it coming. Burna experiments (a lot) with different sounds on this project. It's a cohesive body of work, with each song smoothly sequencing into the next. I like how the tracks are arranged.
Listening to this album, I'm beating my chest with the assurance that Burna Boy is very likely the best artist out of Africa right now. He has maximum control of his sound and has reached a level musically where he can do no wrong. African Giant is proof to Burna's supercilious claims. It appears to be true that the man is, indeed, the African Giant. Burna Boy, and by extension, the African Giant album is a veritable representation of Afrobeats. You can also feel the influence of Fela's Afrobeat (which is usually mistaken for Afrobeats) on the album.
Damini Ogulu would have likely not believed two years back that he'll be the foster boy for Afrobeats. It's not that he never showed the potential, but rather didn't actively try to go international. Maybe that has been the reason for his rapid success. After all, Davido claimed that he began to gain prominence in the US when he moved back to focus on the Nigerian sound. The originality in his sound has been Burna Boy's major weapon and he has wielded it perfectly. In 2018, When Burna's Ye gained massive attention globally after Kanye dropped a project titled Ye, the Nigerian musician quickly became one of the most sought after Afrobeats sensations. He has since collaborated with various acts including Lily Allen, J Hus, Dave, and many others.
Releasing hits like Gbona, On The Low, Burna Boy closed 2018 with a massive jam Killin Dem. He collaborated with hottest street pop act Zlatan. Alongside Mr. Eazi, Wizkid, Davido, Tiwa Savage, Yemi Alade, Burna Boy has been steadily getting buzz in the international scene. A testament to his tremendous growth came in the form of a spot on Coachella. He has performed at concerts and festivals all around the US and Europe. His name resonated with many Afrobeats lovers when he won the BET award for Best International Act in 2019. He is at the forefront of African musicians trying to break into the global market.
Burna Boy scored himself a standalone track Ja Ara E on Beyonce's Lion King: The Gift album. He was named Apple Music's Up Next artist and a beautiful documentary followed. He also got an interview with Billboard, where he stated that the African Giant album is his most personal album so far. Our minds were blown away when the news came that Burna Boy was going on Jimmy Kimmel. That's huge, especially for an African artist. It's an indication that the US market is opening up to African stars. He also performed his hit track Anybody on Jimmy Kimmel live. The audience was seemingly entertained, cheering the African Giant on.
I sincerely hope that the African Giant album plays the role that is expected of it. Many of us are secretly (and openly) hoping that this album will be the one that genuinely carves a path for Afrobeats artists. The album sees international artists like Jorja Smith, Future, Jeremih, YG, jumping on Nigerian instrumentals. These are the kind of collaborations that strengthen the ties between Nigerian and US artists. Burna's African Giant is solid and it looks like it has the potential to become one of the Afropop projects that will find its way to the library of those (westerners) seeking the Nigerian sound.
Praises of the On The Low crooner are already being sung on Twitter and other social media platforms. It is believed by many that Burna is the most talented act in the country at the moment. And that can hardly be disputed. The evidence is glaring. Some have said that the African Giant album isn't all that. It's okay to have your preference, but it's also important to note that you, as a listener, are bound to feel that way on your first listen. And a 19-track album requires more than one listen before you can make such judgement. Again, everyone has their preference.
Burna Boy, Damian Marley and Angelique Kidjo recording 'differrent' in the studio#AfricanGiant pic.twitter.com/YNlDxlntcF

— SoundHouse? (@Bankole_Ocean) July 26, 2019
✭ Burna boy after He opening the gate of the studio for Jorja Smith to come in knowing the heat she's about to drop... pic.twitter.com/E6F5DS7qEU

— ✭ JustinUg (@Justiiin_Ug) July 25, 2019
As the weekend draws nearer, the appropriate thing for you to do is settle down and *allow* yourself enjoy the African Giant album. Burna Boy has been chosen to lead the wave and we can be sure that he won't let us down.