Album Review: Burna Boy's Twice As Tall: A Classic Or Just Good?
SHARE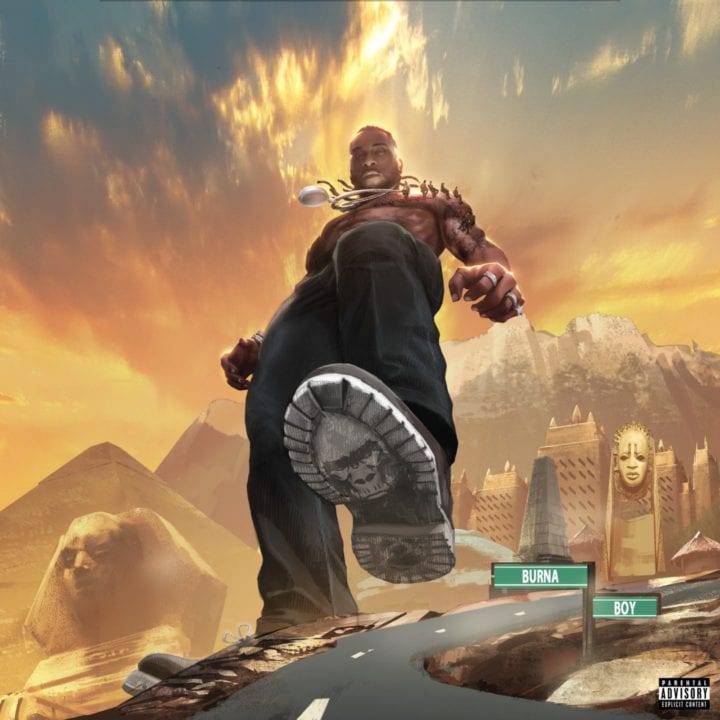 Four months ago, when Nigeria was just getting used to the changes effected by the COVID-19 pandemic, Burna Boy launched a scathing attack on Nigerians, going for their heads when many a people called for the prosecution of a popular Nigerian actress who flouted lockdown rules. '... If not, una go suffer,' the artist said, recommending 'the same energy' towards national matters.
In a country as conservative as Nigeria, ideas as Burna Boy's are widely considered dreamy. Nigeria is a big depressing hole, where the citizens, most illiterate and poor, would rather bear the brunt they're given. Politicians, caught in mega-dollar corruption scams, fall sick to adjourn court proceedings and faint when forced to appear; the Lagos government in the past few days have introduced a series of controversial taxes; some weeks before, citizens who marched for Revolution Now were assaulted and although pictures went around social media, in no time, it was quickly forgotten.
Mr. Damini Ogulu, whose Burna Boy persona has been founded on the themes of a glorious personhood and an actualized society, has been asked: What have you done? It's one thing to sing revolution from the safety of a secure home studio, luxuries afforded at your every call. They ask, who are you, really, to call us lazy? He's never been far away from that old word controversy, Burna Boy.  
The hypnotic action-ready African Giant bounded into the world in a similar fashion, a calculated attempt at Pan-African ideals, and offered itself among the year's bests. One of the greatest of its generation, I'd predicted its fortunes on a review, and barely months later, alongside Beninese legend Angelique Kidjo and other worthy musicians, the album was nominated in the Best World Music category. The country geared for the night of the GRAMMYS, hopeful, optimistic (a large number sure), that Burna Boy would bring the award back home. It's a dream of his, earnestly referenced throughout his discography, and now he was there, present with a project deemed good enough. He lost, however, to Ms. Kidjo's Celia, a dazzling effort in itself that paid homage to Celia Cruz's Latin style while patenting Kidjo's array of competent genres. Her dedicating the award to Burna Boy was a gesture as spiritual as it was political, given the conversations sparked by the events of that night.
Many artists and writers schooled in the tension between black art and white-dominated award spaces, engaged in writing and visual, the long history of demonstrating otherness from the latter group. According to the GRAMMYS, Burna Boy, who's been on a record with as many Popstars as the diamonds on his teeth, was a World artist, fitted into a category where their (the Recording Academy) preferences tilted away from his fusion style and towards the more 'African' Kidjo.
Here there is tension, obviously, between the person and the community –Burna Boy would have been very happy to clinch his first GRAMMYS but at the expense of a generation coming after him, what does it say, that Africans need to be extraordinary and relentless pursuers of dreams and devoid of sentimentality? That Blacks need to be twice as tall? Were a Feature ran on the Port Harcourt–born artist then, most would engage its pages with gusto, cracking to know where his head was. How did he take all this? If you've ever played at something competitively, come very close and then lose, you must have felt that gut punch, which makes one irate.
Burna Boy continued. Not that he wasn't expected to, but the fashion in which he did, putting out two singles which did considerably good, the latter "Wonderful" making the album. Owing to growing popularity with (considered by the uninitiated) sounds outside his usual range, the 29-year-old artist showed up on the remix of Master KG and Nomcebo Zikode's "Jerusalema," hopped on the star-studded "Sponono" off Kabza De Small's sprawling Amapiano tape, and recently, was tapped by British singer Sam Smith for "My Oasis," a balmy treatment of love tropes.
Much vocal about his desire to release albums, talks of Twice As Tall punctuated every new verse from the artist, typically spellbinding, spurring huge anticipation for his fifth album. The most prolific artist of his generation, Burna Boy seldom rests on his laurels and whenever he brings up his gargantuan wins as a validation of how well and far he's come on this journey, a communal ideal is never far away. The previous album ended on that note, and the new work continues so, engaging discourse into the person and also incisive takes on social and political issues. A balance is patented through delicate production and Burna, as he's been known to do, gives due to Pop's darling: hedonist pleasures.
Twice As Tall is a project which tightens Burna's grip on the happenings of, not just his life and career, but larger demography. It's the heft of his talent that ensures he does justice to these themes, never sounding overwhelmed, almost always displaying cocksure confidence in his abilities. One of TAT's moments of vulnerability, however, comes on the opener "Level Up," ushered by the monochrome voice of a 1959 film, Journey to the Center of the Earth. "Oh, I'd have to be twice as tall at least/ To feel better than I do," sings the voice. "If you're feeling like you can't level up/ Omo make you no stop at all/ Because right when you start feeling like you can't level up/ That's when you haffi shut the devil up," sings Burna Boy, adapting a rap-like cadence which supplies the calming effect of an epiphany to his lyrics. Set forth by the powerful hook by the legendary Yossou N'Dour, he explores the pain and greatness. "I remember when I couldn't level up/ 'Cause the Grammys had me feeling sick as fuck/ Throwing up and shit/ Asking questions like, 'Why it wasn't us?'/ Almost had a nigga feeling envious," he admits in the second verse, the essential story to what followed the days after that GRAMMYS night. Afterward running a slick rhyme scheme telling how he's twice as tall, the verse closes with the triumphant lyric: 'I'm a motherf**king legend and I say it proudly.'
This confidence in oneself is literally why motivational literature is an industry itself and Burna Boy, through his music, elicits the euphoria found in relative sentiments. "Way Too Big" is a boisterous anthem crafted for gatherings with flowing alcohol. "23" takes from the Michael Jordan jersey, Burna channeling the NBA great over a slow burner. Adapting a catchy flow, the calm assurance of his singing oozes the grace MJ demonstrated during his playing days. Revered for wearing his influences on his sleeve, Burna Boy however achieves a certain detachment on "23", entrancing listeners to his gravitas. "Time Flies," delivers the Soul as expected of a Sauti Sol and Burna Boy song, made triumphant with drums provided by Andre Harris, a dedicated member of America's R&B scene for over two decades. Alongside the verses delivered in Swahili, Burna Boy etches his narrative in the lines "Time flies like a thief in the night/ We all got a story to write." It's this constant reiteration of Destiny that pulls Burna Boy to make the songs he does, and Twice As Tall fancies no big deal in going for the 'big' topics. Say, politics?
"Monsters You Made" is a statement of Burna Boy's intense vision for TAT. Prophesying imminent doom on social and political oppressors is searing, and as much as lyrical dexterity goes, a watertight effort. Burna Boy spins the firebrand idea of his utopia, "where we create barricades [to] keep the opposition away," in line with his political philosophy of One Africa as he's told in interviews.
Rarely is music the effort of one camp, more so in 2020. Spaceship Records, the label imprint founded by Burna Boy, is also home to LeriQ, an old time affiliate, producer of all the tracks off the artist's debut album L.I.F.E. He returns on a Burna project with genius work for Twice As Tall. Along with the reach of Atlantic Records, Burna Boy pulls a purposeful community made of diverse communities.
Telz, a Nigerian producer who got his break earlier this year, co-produces a record with veteran American beatmaker Mario Winans ("Naughty By Nature"). Rexxie, in large responsible for the Zanku-driven production of "Killin' Dem," a great part of Burna's heroics on international stages, contributes to the TAT sound, scoring production credits on "Bebo" and "Comma," an offshoot of his popular subgenre. You get Mike Dean and Anderson Paak somewhere, and their trademark flourishes allow for a multifaceted cultural currency on the tape. Executive Producer Sean 'Diddy' Combs is present with his hackneyed Pro-Black lamba. New Jersey Hip Hop group Naughty By Nature make an appearance on the summery jam titled after their moniker, the chill party rap vibe they evoked in the late 80s and 90s laying the groundwork for impeccably rhymed verses and Burna Boy's interpolation of the 1999 hit record "Jamboree."
There is, however, a communal joy that hits different when Burna Boy dives into Nigerian music. "Onyeka" is earthy production that plucks modern Highlife percussion and horns, as Burna Boy carols romantic events charged with lady palaver typically attended to by celebrities. "No Fit Vex" is a soulful message reminiscent of the slew of communal songs released by 2Face in the mid-2000s. On "Wetin Dey Sup," an explicitly worded hook (which some might deem homophobic) renders the artist open for criticism but if you parlay the grit as part of the Burna package, the record fits right at home with the category of Burna records like "Yawa Dey" and "PH City Vibration," vignettes into street life happenings which many Nigerians (especially those in high activity areas such as Burna Boy's Port Harcourt) will surely appreciate. Gunshot and sirens float viscerally as Burna Boy sings matter-of-factly, uninterested in policing his views.
As with any project of this caliber, questions will be asked in both the short and long term. The former poses the question of quality, how good the first, second, and tenth listens; it also asks how well the project will do, where in the world right now are people listening to the album, and how well its success reflect on the charts? Very well, one says, with multi-million streams already clocked, and going number one in thirty-one countries.
where does this Twice As Tall Album rank in Burna Boy's discography?
I'd say highly, his second-best after Outside. Question his politics if you must, but Mr. Damini Ogulu is a top musician, hitting great form with a credible team on this effort. As his muscled character on the accompanying comic book 'The Secret Flame' said, "Hope is for the talentless," and years down the line, admirers might listen to this tape and transport to a higher level, the god-like level of ability found in anyone confident in his purpose on earth.
So gifted is this our Burna Boy, that even when he has to be twice as good to reap the dividends, he delivers. And he makes it damn hard not to pay attention! In the times we find ourselves, as this seems an impossible ask (the sustained attention of a very large fan base), Burna Boy shows it can be done. Perfecting the cracks of African Giant, he and Diddy maintain a minimalist approach to blending features which makes this album a fitter tape than the previous one. Where Burna Boy honors skewed philosophies (see: Comma), he elsewhere redeems himself by saying the right things with damnedest perfection, delivering an album that stakes his name on his claim to greatness. It'd be madness to think he isn't seated on those plush echelons at this moment.
Stream Burna Boy's 'Twice As Tall' here
Click to see the newest music releases of your Favorite Artist. Also, kindly follow Notjustok on Twitter and Facebook to get fresh updates as they drop.